Changi Airport in Singapore with its orchid and sunflower gardens was already special, as is their almost fully automated Terminal 4 - but now they have a new visitor experience called 'the Jewel' https://www.jewelchangiairport.com/
If you find yourself at the Traverse City, Michigan, airport, don't miss the easy-to-miss 4,770 year old Bristlecone Pine. Pretty sure it's from "Methuselah" a tree with one of the oldest confirmed ages in the world.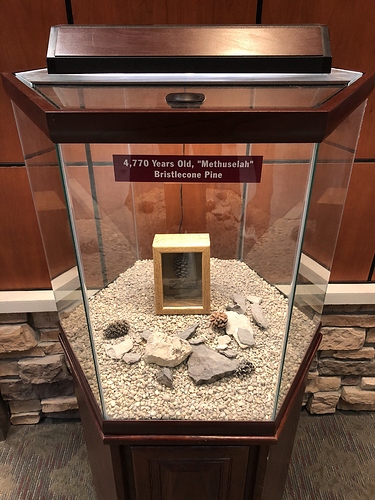 At the center of one of the terminals in the Minneapolis-St. Paul (MSP) Airport is this compass, encircled by mysterious (!) symbols. (I'm pretty sure the symbols are from air navigation charts… or Satan). Video by me.
And there's this: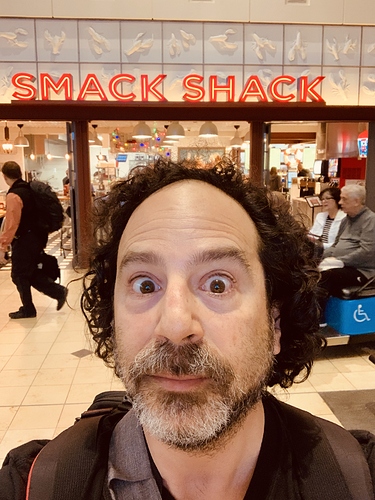 And then, after all that excitement, you can enjoy something I've never seen in any other airport, a "quiet seating area."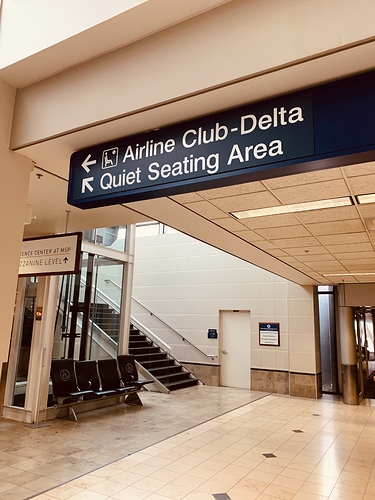 I wish I could find the picture, Vancouver Airport has a live jellyfish in a tank shaped like a bubble in one of its hallways. I remember thinking that it looked so realistic, because why would they have a live jellyfish, and it's real. I love the crazy hallways in O'Hare as well! I live in Denver and between Blucifer (the demon horse pictured above) and the conspiracy theories of mole people, the Masonics and Knights Templar stories, as well as the UFO conspiracies, I enjoy airports that have strange things that are TRUE.
The fountain in DTW terminal A is also very interesting. In a city known for Engineering, the fountain employs a few cool Engineering features. The water jets come from laminar flow nozzles, so it looks like "noodles" or little "hotdogs" of water jump across the fountain surface. Water flows over the entire edge of the circular fountain, but instead of having a sharp edge for the water to fall over, the fountain curves back underneath itself. Surface tension causes the water to cling to the surface, so it appears the water is defying gravity. I always chuckle when I see people leaning up against the fountain edge, only to walk away with a wet line across the front of their pants.
I've traveled a lot, but I would like to mention something we have locally that is pretty neat. The parking deck at Asheville (NC) Regional Airport is beautiful! When the new deck was needed, I was so happy that the powers that be decided to make it a beautiful one - at least from the outside. The walls of the deck are made of perforated aluminum sheets and picture our gorgeous Blue Ridge Mountains. Not sure how many folks can claim a parking garage as a favorite local landmark, but I can!

In the municipal airport in Kenai, Alaska is a very large brown bear taken by a prominent bush pilot who my father used to fly with. The photo is not great but should provide an idea of the scale.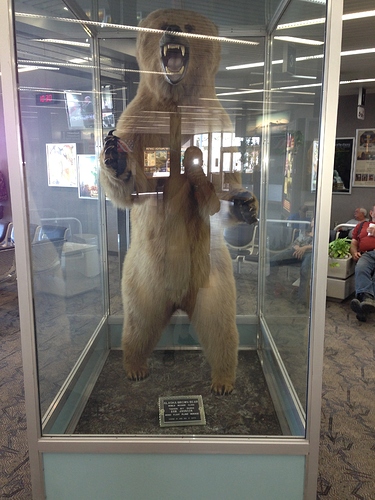 The LaGuardia Marine Air Terminal seems like a very functional mid-70s set of hallways and waiting areas, but if you take a right just after exiting security, you will find yourself in a stunning round lobby straight out of the 30's with a panoramic mosaic telling the story of transportation completely surrounding you. After a little research I found out that this was the original LaGuardia Terminal, built to service the Pan Am flying boats of the day. It's still there, but almost everyone hurries by without ever finding this gem.
The diminutive jewel box of the "Marine Air Terminal" at LaGuardia Airport, a relic of the 1930's when seaplanes (!) were a thing, sports all kinds of fascinating and historic details. Here a couple of the odder ones.
The frieze around the outside of the round building is comprised of flying fish.
And then there's the technological dinosaur
exhibit: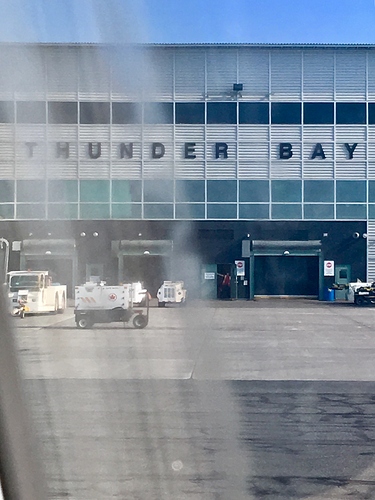 The super tiny airport in Thunder Bay Canada pretty much consists of a couple of rooms inside a single building. It's very charming, and features a cozy library reading area.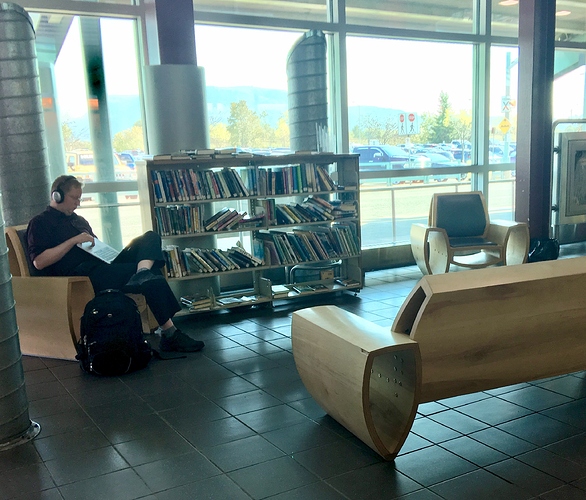 Outside of Will Rogers Airport in Oklahoma City are four 70' long steel arrows rusting in the sun. I smile every time I see them and envision giant cowboy and indian mecha stomping across the great plains. Add robotic mega cows and bison for flavor.

[Iron Feathers - Will Rogers World Airport - Oklahoma City, OK - Smithsonian Art Inventory Sculptures on Waymarking.com](http://Will Rogers World Airport, Oklahoma City)
At first I thought you were talking about O'Hare! It also has a tunnel, with moving walk ways, between terminals, that has rainbow colors, soothing music, and frosted glass.
Denver International Airport often has wonderful art displays. A recent addition, however, has everyone talking! Including the art!
![dia-birthday-gargoyle_frame_0|420x236]
(upload://bxY7N9PlcDDTYQolOTQXlahrvAP.jpeg)
We also have the Blue Mustang (or "Devil Horse" or "Blucifer" as locals call him) pictured here in your article, who you pass every time you arrive to DIA. Blucifer is full of local lore, some of which is even true. Like the fact the horse literally killed its maker.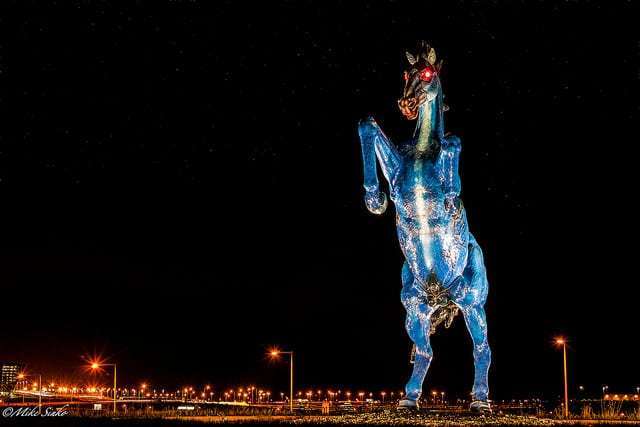 https://www.thedenverchannel.com/news/dia-sculptor-killed-by-own-sculpture
A favorite airport is Provincetown, MA (PVC) at the very tip of Cape Cod. It is a one runway airport nestled in the dunes of Cape Cod National Seashore surrounded on 3 sides by the Atlantic Ocean, where they routinely have to sweep sand off the runway. The 20 minute flight from Boston in a 9-passenger Cessna feels like it just barely skims Cape Cod Bay, and tall passengers like me are often seated in the co-pilot's seat. The view is breathtaking as the flight comes in over the beach with a view of the town, and you can often see whales and Harbor Seals in the water. Once at the airport, you can walk to Race Point Beach in 5 minutes, or take the shuttle bus or cab into town. The airport itself is tiny, basically a waiting room and the counter for Cape Air (the airline that the old sitcom Wings was based on), with only as much security as is needed for 9-person flights. There's not even a snack bar, but who needs it when so much great food is just a few minutes way in town?
My favorite airport sculpture, 'The Spirit of Haida Gwaii–The Jade Canoe," by Canadian artist Bill Reid, in the Vancouver airport international terminal. There's another version in the Canadian Embassy in DC, and it was on the Canadian $20 bill a few years ago too.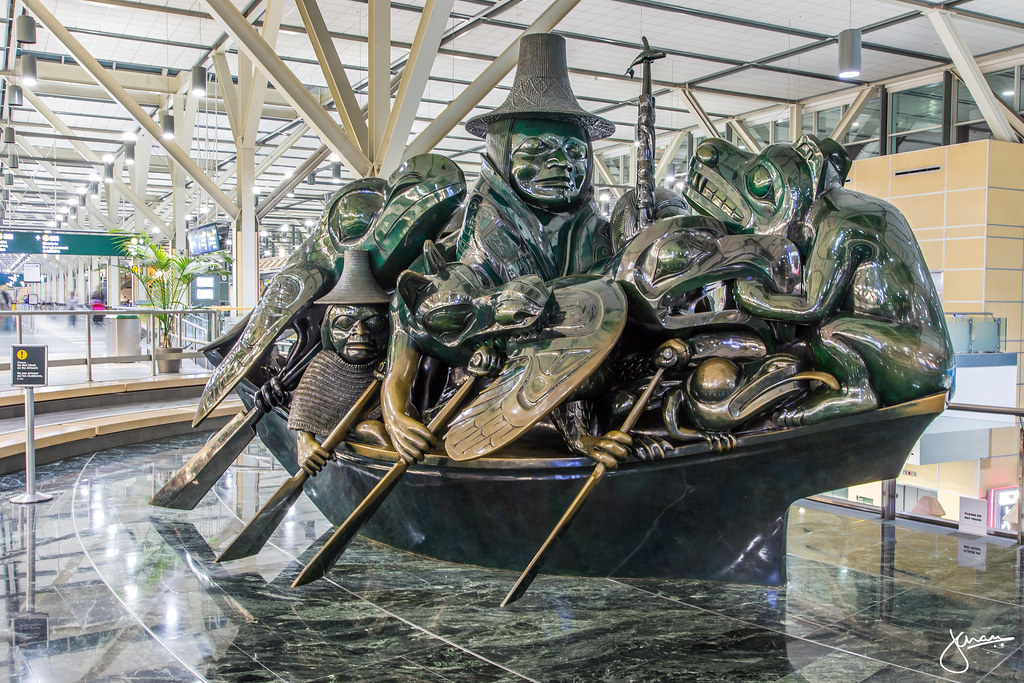 BWI in Baltimore has an indoor bathroom for service dogs.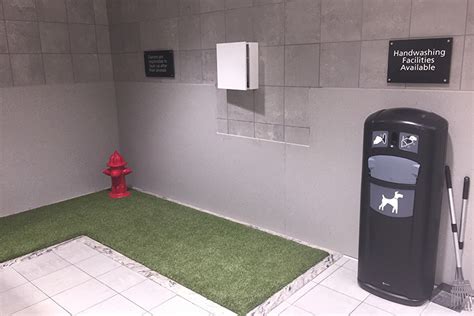 In Milwaukee, after you take off your shoes and belt to go through security, put yourself back together in the "Recombobulation Area".