Latourex I agree completely!! The first time I went through I thought the rainbow tunnel was so hokey… but after several passages through it's become this positive, short experience–almost like eating candy. Just something to look forward to! I wish every airport had something so harmlessly pleasant. Normally I just get to look forward to good old F Terminal in Philly
Fly into Toronto, Ontario's, Billy Bishop Airport and you land on an island on Lake Ontario. Get to downtown Toronto via a 90-second ferry ride!
It's a little eerie but I'm glad it's there. Jomo Kenyatta International Airport in Nairobi, Kenya, (along with many others in the region) has overhead closed-circuit TV monitors that show the heat print of each arriving passenger. You can look up and see your image in psychedelic colors and a number showing your temperature. It's a health check to screen passengers for fever who might therefore be possibly infected with the highly contagious Ebola virus. Keeping the world safe, one person at a time. Leaving JKIA, car passengers are treated to wildebeest sculptures in the median.
The Sunport in Albuquerque has a wall of tribute photos of all of the dogs that have worked at the airport. Makes me tear up every time I pass it.
The Changi Airport in Singapore is almost a destination in of itself. Here's picture of the butterfly hatchery in the butterfly garden, one of many gardens through out the airport. There's a water lily garden; sunflower garden on one of the roof tops where you can grab some snacks and watch planes among hundreds of sunflowers; a fantastic cactus garden; an orchid garden; an arrival garden…
Through out are major art works, some being interactive. Very social media friendly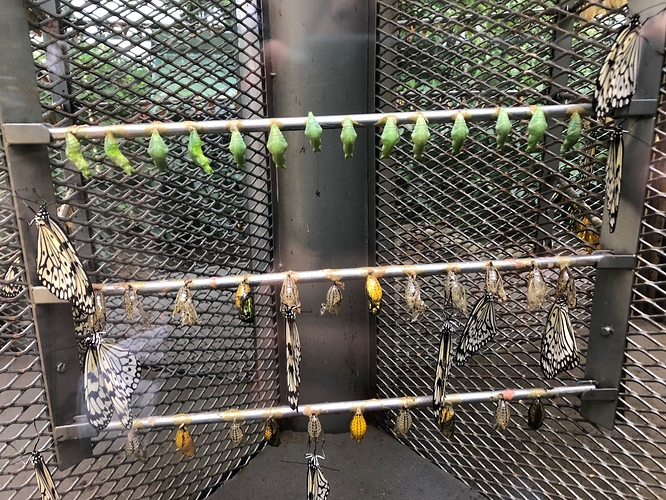 And no worries about getting hungry, many unique food vendors.
The "airport" In Diomede, Alaska consists of an airstrip carved into the frozen ocean with a bulldozer. If you're lucky, someone will meet you with a snow machine or a 4-wheeler. When the sea is not frozen, access to the village is by helicopter or boat only.
1111_iblock_902_xgaplus|690x466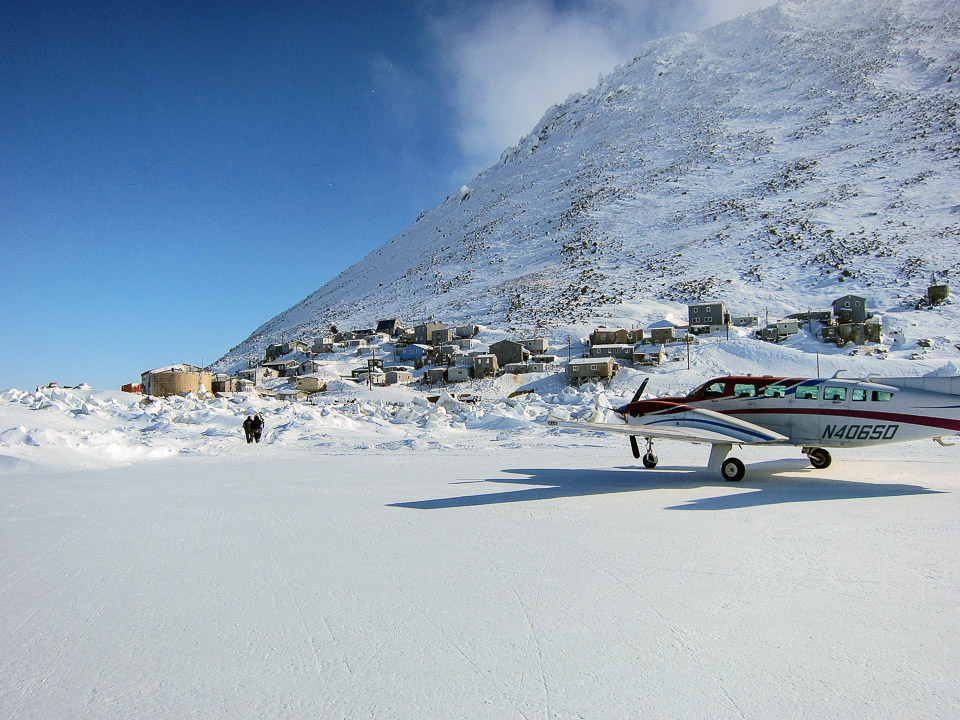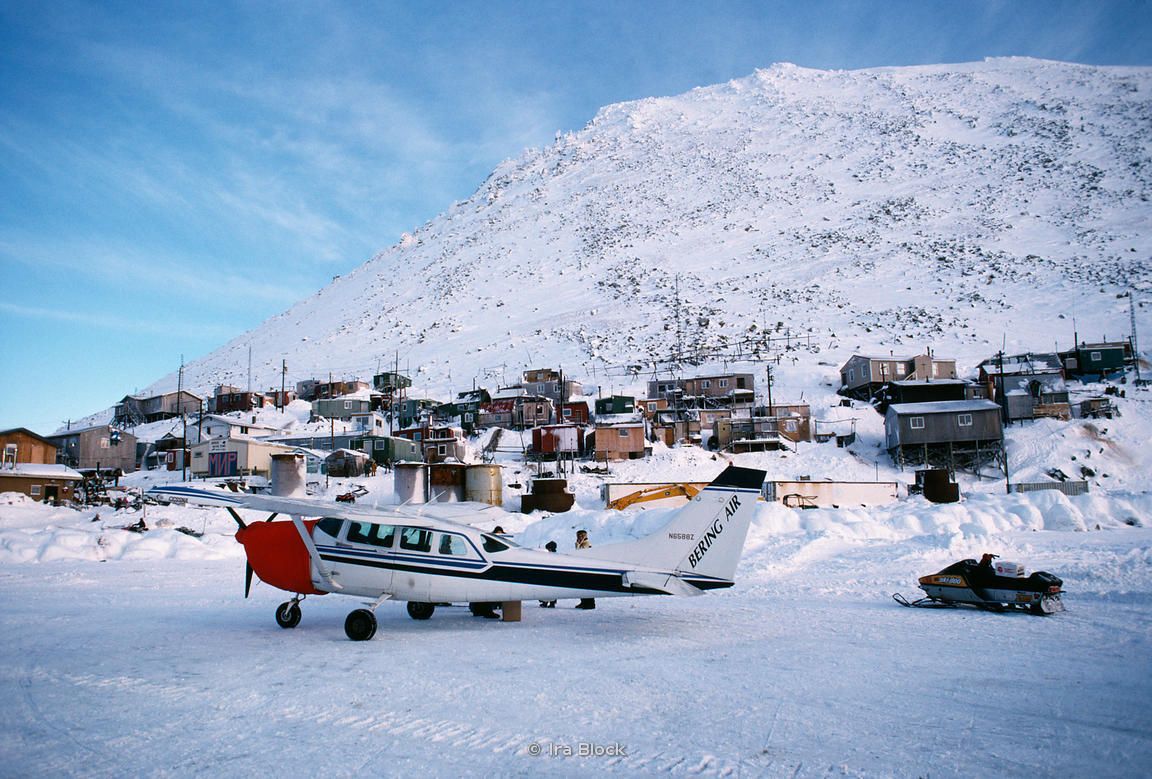 I particularly love this bamboo archway that welcomes you to the city of Salvador, right after you leave the airport (Deputado Luís Eduardo Magalhães International Airport). There's one road leading in and one leading out – and yes, they're both under individual bamboo arches. Took this picture last week from inside a moving car so… not the greatest quality!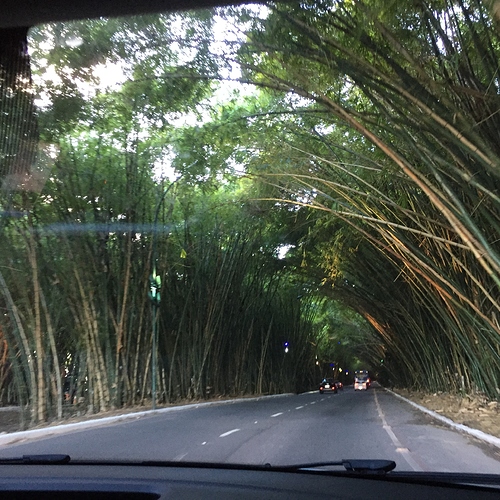 Oh wow! This airport sounds amazing!
# Berlin Tempelhof Airport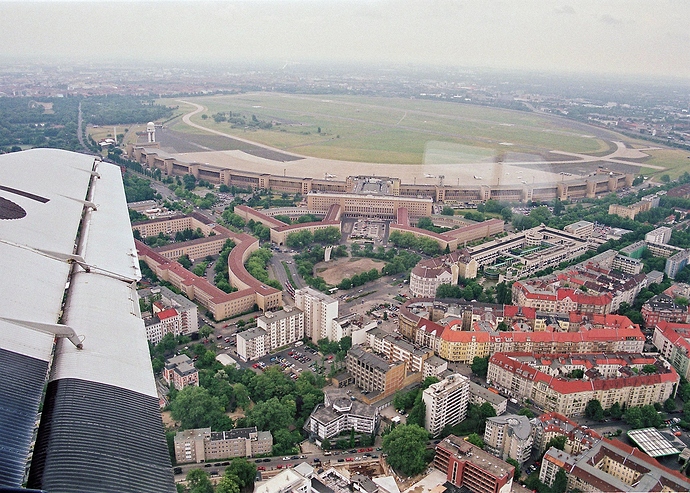 The original terminal was built in 1927 and officially closed in 2008. The airport itself has a pretty incredible history. The airfield and terminal sit on land originally occupied by the Knights Templar during the Medieval period, German WWII planes were built in the airport hangers and most recently emergency refugee shelters have been assembled on airport property. The runways are now a public park used for recreation, music festivals and the Berlin marathon.
Love Renaissance Books! I used to drive up from Racine just to shop there. Don't forget Mitchell's Recombobulation Area!
I was totally going to post that!
Thanks, Philip - I couldn't find my pics but I'm glad someone else knows about this wonder.
~Chip
This looks incredible! Thank you for sharing it!
About 15 years ago, I went on a business trip to Columbia, SC. Being a New Yorker, and therefore used to grubby LaGuardia and soulless JFK, I was astonished at the lovely entrance hall to the Columbia airport, with its skylights, greenery, gracious clock, and comfy rocking chairs. And the news/gift shop didn't just have trashy paperbacks. I picked up The Piano Shop on the Left Bank there. It took a bit of the sting out of having to wait there for 12 hours for a flight back to NYC, which was having a major storm that day.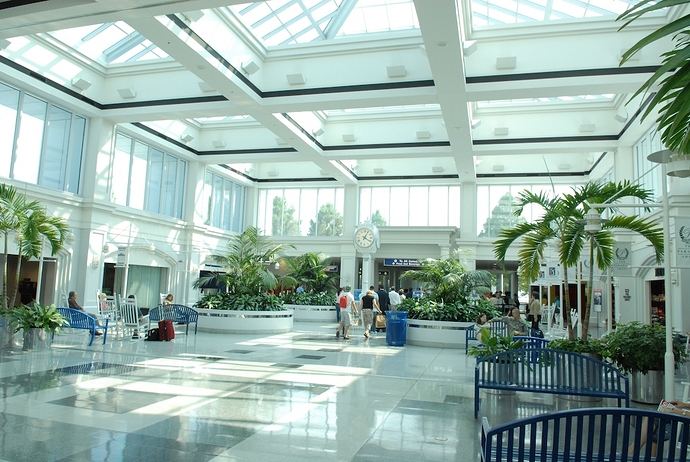 On Thanksgiving day in 2017, I traveled to Colorado Springs, Colorado by way of the Denver Airport. After I was picked up by my cousin who I was visiting for her 50th Wedding Anniversary, we left the airport, and I saw the strangest hotel I had ever seen. The hotel was shaped like wings of an airplane. It was attached at one end of the terminal. It reminded me of the winged badges pilots wore as on their uniforms. The hotel had the widest level of rooms at the top, then each level below was narrower and narrower. Very strange.
I dig the walk from gate to bag claim at Atlanta where you have this rain forest, a timeline of Atlanta's history, some sculptures by African artists and more. Skip the train ride and stretch your legs.