On Thanksgiving day in 2017, I traveled to Colorado Springs, Colorado by way of the Denver Airport. After I was picked up by my cousin who I was visiting for her 50th Wedding Anniversary, we left the airport, and I saw the strangest hotel I had ever seen. The hotel was shaped like wings of an airplane. It was attached at one end of the terminal. It reminded me of the winged badges pilots wore as on their uniforms. The hotel had the widest level of rooms at the top, then each level below was narrower and narrower. Very strange.
I dig the walk from gate to bag claim at Atlanta where you have this rain forest, a timeline of Atlanta's history, some sculptures by African artists and more. Skip the train ride and stretch your legs.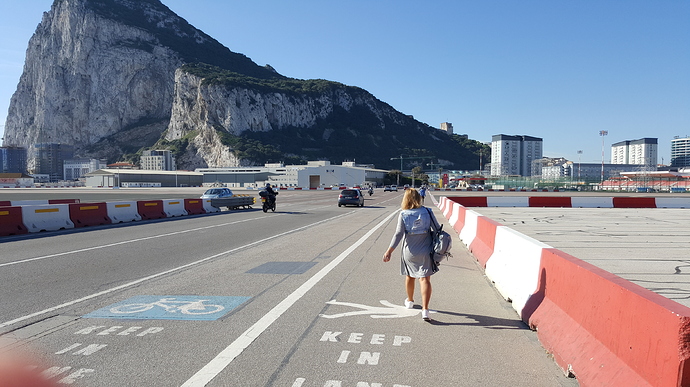 The most bizarre thing I've seen at an airport is in Gibtaltar. To enter or leave the country by foot, car, or airport transfer, you have to cross the runway. When a plane is preparing for landing or take off, the barriers go down, traffic stops, and the runway is cleared.
Lost and never reclaimed luggage??
Three others!
The Portland airport has a free microcinema that plays short films made by local filmmakers, the Hong Kong airport has free showers, and the Hartsfield-Jackson International Airport, Atlanta, Georgia has… the Corncorde.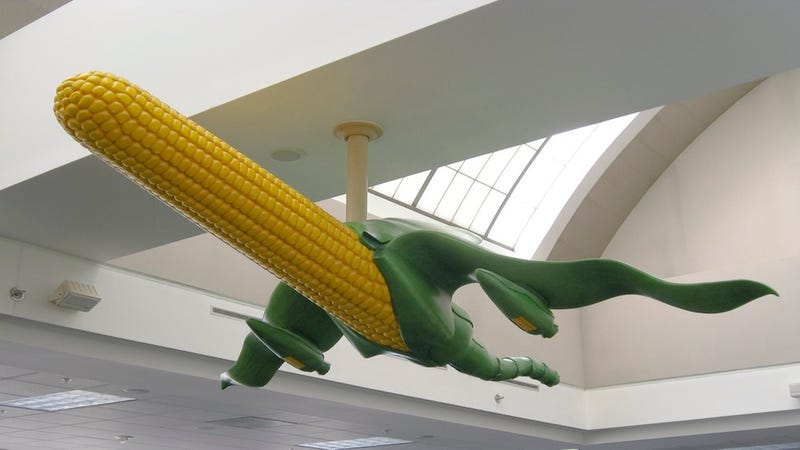 Impressive waterfalls behind the giant chrome elevators at the Dubai airport combine for an elegant and surreal scene.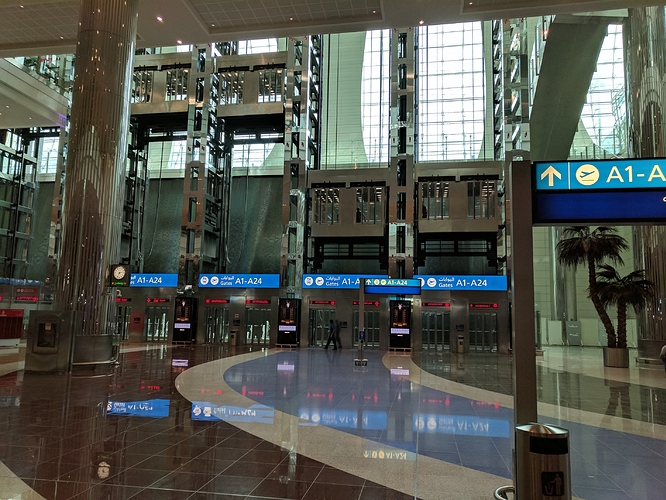 Brussels is a glorious experience for anyone who loves The Adventures of Tintin. Hergé's hero is everywhere (along with other Franco-Belgian comics icons like The Smurfs) and that extends to the airport. Before you blast off back home, admire the rocket from the Destination Moon and Explorers on the Moon albums…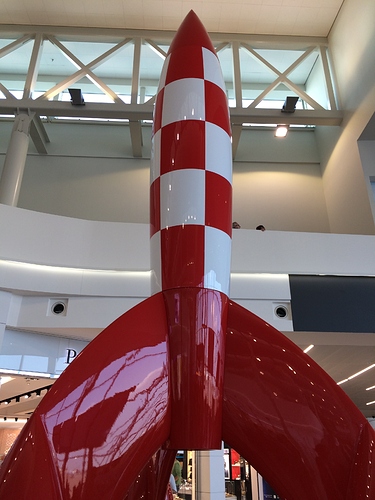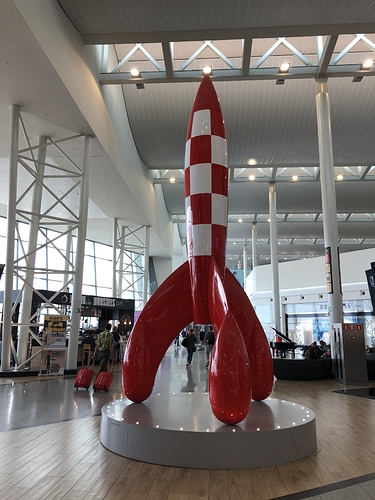 This is at London Gatwick. It's a photo mosaic of a bunch of individual pics that make up QE2's face.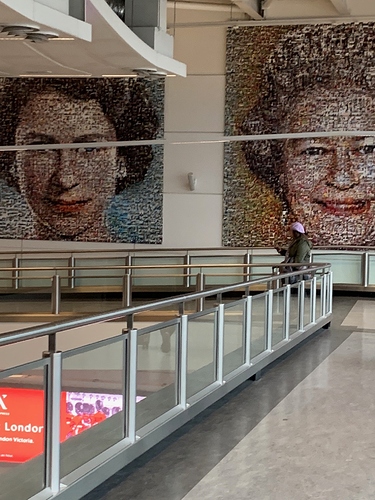 I've always avoided that airport
Now I have a reason to go! I love stuff like that!
Nothing interesting in the JFK airport terminal I'm in right now so this is all I have but it is important.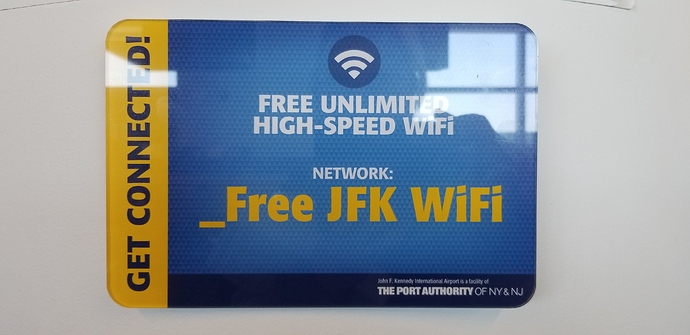 Pittsburghers love their local sports teams of note (no snark there or anything) so of course there's a statue of Franco Harris memorializing the "immaculate reception) on your way land side from the air side terminal.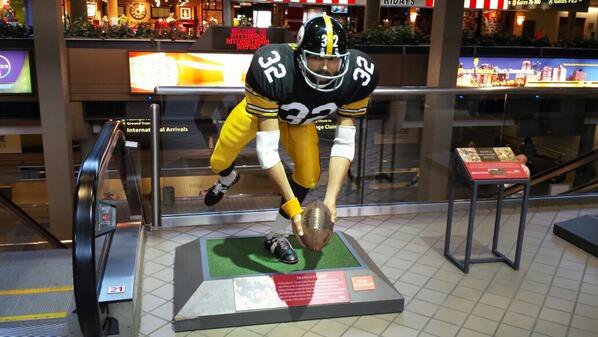 My husband will love this! I'm showing this to him asap!

Hamad International Airport in Doha, Qatar is one of the most modern and unique airports I've traveled through. The Arabizi word 3ajeeb! (ahh-jhee-b) meaning "strange in a strange way, cool in a cool way, and slightly weird in a slightly weird way. It's the perfect encapsulation of the airport. "Untitled Lamp Bear" by Swiss artist Urs Fischer. Anthropomorphic brass playgrounds. Massive pearls and animatronic dinosaurs. If you're flying through the Middle East, this airport is wild stopover especially if you're landing in the middle of the night.
As if anyone needed any more reasons to visit Iceland, I recently saw an Icelandic film called "Woman at War" (very good, btw) and in it I saw that Keflavik airport has some very interesting art around it.
Don't know what a Thai eggplant has to do with the country, but ok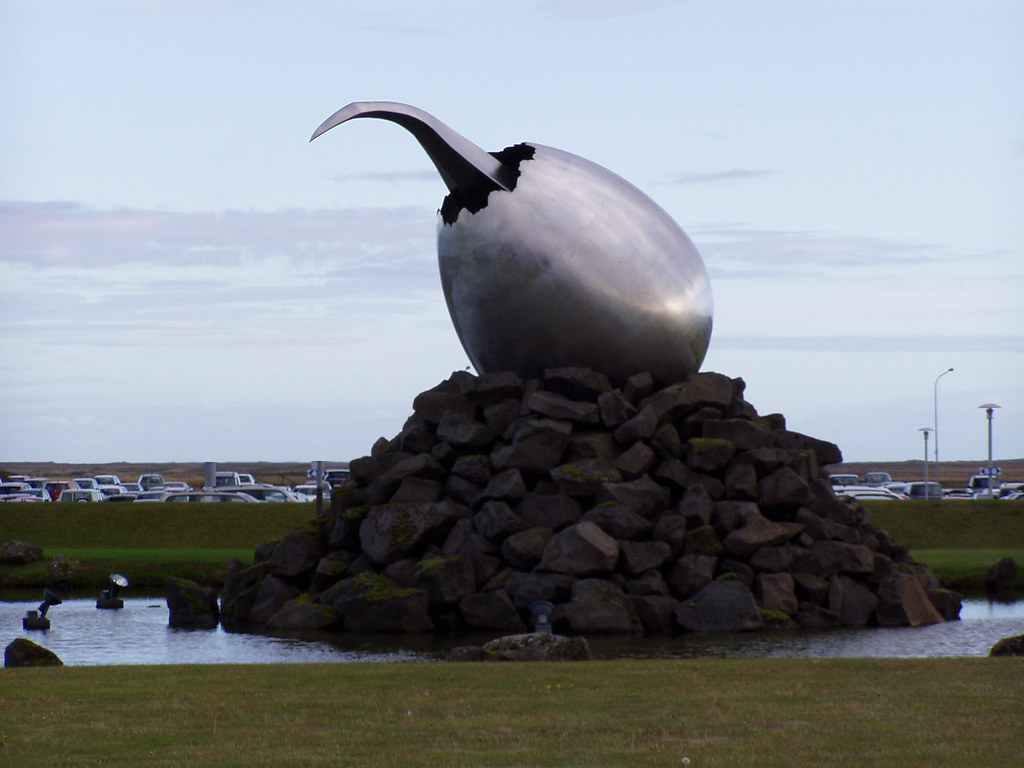 airport statue; Keflavik, Iceland by Bill, en Flickr
And now we know what's at the end of the rainbow (it's Iceland)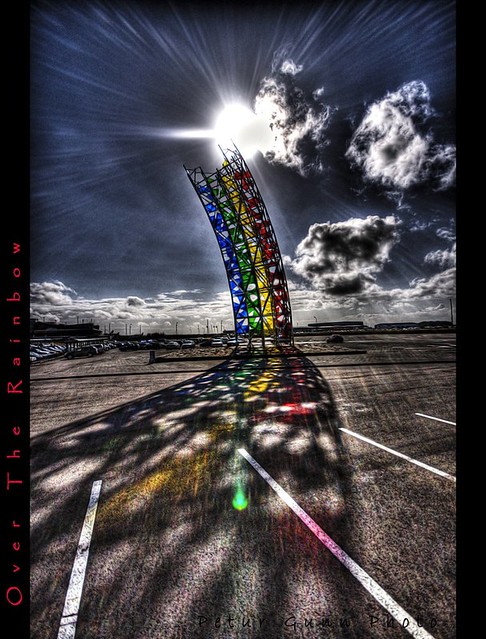 Over the Rainbow by Pétur Már Gunnarsson, en Flickr
Denver International Airport is an interesting place to visit. The roof/ceiling is an excellent example of how to make a beautiful view inside and out. Their are some bizarre conspiracy theorists about it, too - from buried buildings to secret tunnels. If you're headed out West, it's worth making DIA your destination.
No one's mentioned the Aviation Museum at Las Vegas McCarran airport? It certainly surprised me when I stumbled across it, and it's a better way to kill time before a flight than using one of the many slot machines arranged all over the airport.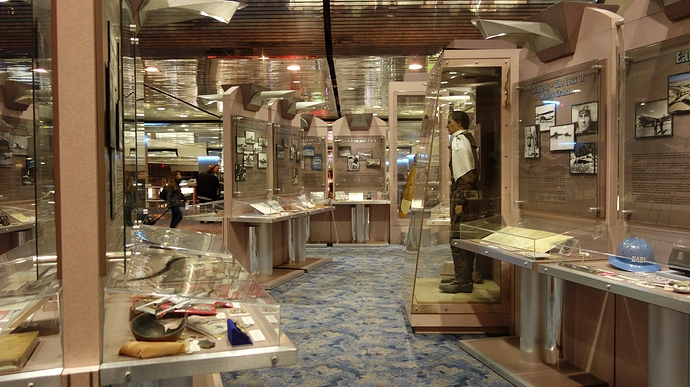 Whoa! I've been to McCarran tons of times, and didn't even know that was there!