Announcing the Conservation Storytelling Fellowship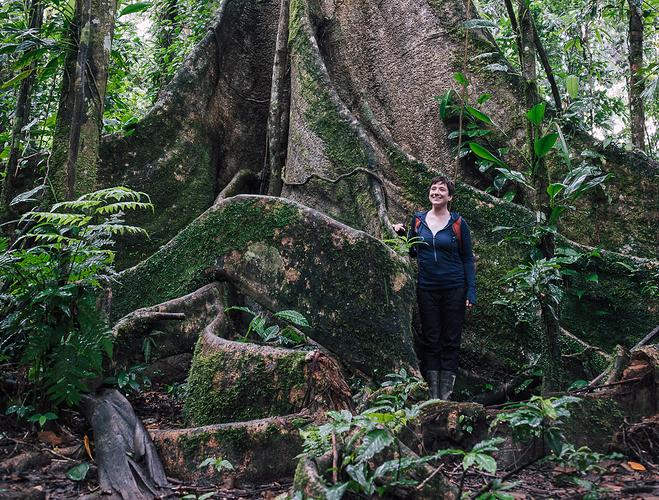 Atlas Obscura is searching for a student pursuing a degree in conservation, ecology, or science communication who is looking to advance their skills in science communication. This individual will have the opportunity to join our September 2019 Expedition Amazon trip for an immersive week in one of the planet's most incredible—and threatened—ecosystems, with the mentorship of scientific experts, and at a time when biodiversity conservation is more important than ever.
Alongside our two expert wildlife guides, science journalist Dr. Jason Goldman and big cat biologist Imogene Cancellare, and a small group of fellow travelers, you'll set out on sunrise boat rides and embark on muddy night hikes while staying in some of the most remote eco-lodges in the world. You'll get a living lesson in tropical conservation with a chance to discover and observe new species right up close, set and check camera traps, identify species and signs, and lots more—right alongside scientists who have made previous discoveries of their own and the indigenous communities who share these ecosystems with wildlife. A huge part of this program will be understanding and amplifying the indigenous voice, and examining how our policies in the U.S. can deeply affect the people of this region.
Through the Expedition Amazon Conservation Storytelling Fellowship, Atlas Obscura aims to support an ambitious individual in a critical scientific and environmental field. As part of the fellowship, the recipient will be expected to produce a written article (approx 1,500 words), photo essay, or short (4-6 minute) video showcasing the biodiversity of the Peruvian Amazon and the role of sustainable ecotourism in helping to conserve it. The resulting materials may be published on
atlasobscura.com
at the discretion of the editors. We encourage applicants of diverse backgrounds to apply.
What's Included:
Cost of the trip ($3,990 value).
Up to $700 for international airfare to/from Lima, Peru.
$200 stipend for appropriate clothing and gear.
Mentorship before, during, and after the trip from science journalist and wildlife reporter Jason Goldman, entomologist and television host Phil Torres, and wildlife biologist and PhD candidate Imogene Cancellare.
An incredible time in the rainforest where you'll see, document, and learn about some of the most extraordinary and fascinating species on Earth.
Eligibility:
You must be 18 or older at the time of application.
You must be currently enrolled in an undergraduate or graduate program or currently applying to a graduate program.
Strong preference will be given to those pursuing a field related to biology, ecology, conservation, journalism, or science communication.
You must be able to travel to Peru, and to acquire a tourist visa, if necessary.
You must be physically able to participate in all activities: Be prepared to walk up to five miles per day through thick, muddy jungle terrain (and we'll have fun doing it). Keep in mind this will be much more taxing than five miles of flat pavement. Throughout our time in the jungle, participants will be getting in and out of our boat, and climbing multiple sets of uneven stairs without handholds, depending on the height of the river.
How to Apply:
Create a one-minute video that explains what has driven your interest in tropical biology, ecology, or conservation, and how you hope to contribute to the field. How will this unique opportunity support your career goals? (Upload it to YouTube as an unlisted video and send us the link.)
Submit a resume or CV, including relevant social media handles.
Please include up to three examples (links are okay) of your previous science communication efforts aimed at a general audience, such as social media posts, blog posts, articles, op-eds, podcasts, videos, or presentations.
Application materials should be sent to: conservationfellowship@atlasobscura.com. Please include everything in one email.
Selection Criteria:
Demonstration of commitment to the field.
Ability and interest in communicating the importance of wildlife and wildlands conservation to a general audience.
Demonstrated ability to tell a story and produce a video, photographic, or written work based upon your experiences on the trip.
Applications will be accepted from April 15 until 11:59 p.m. on May 6. The final selection will be made by June 5.
Questions? Email conservationfellowship@atlasobscura.com or reach out to us on social media (@jgold85, @phil_torres, @biologistimogene, and @atlasobscura)