Traveling to Barcelona in the early spring…recommendations for offbeat things to see or do?
What are you interested in? I live in Barcelona.
Definitely check out the Joan Miró Foundation, and don't miss (or inhale at) the Calder Mercury Fountain.
We like creepy, obscure, odd. We will definitely go to the hearse museum. Are there any catacombs in Barcelona?
You might find some eerie places at the Gothic Quarter. Actually, when we were in Barcelona, I enjoyed going over to Mercat Santa Caterina, across Via Laitana from the Gothic Quarter, lots of locals, not so many tourists. Besides, we rented a scooter at Vesping Barcelona scooter rental so that we could see as much of the city as possible. And I recently learnt that you can also rent an electric car. A pretty interesting way to explore the city. Also, we visited neighbouring towns like Rupit and Besalu; it feels like time there froze and you are in medieval Spain. Here's an interesting discussion on all these towns and villages
Seeing Barcelona by scooter seems like an ideal way to experience the city!
Given your interests, I would definitely visit Montjuïc. In Catalan, the place name is literally "Mountain of the Jews" or "Jewish Mountain," so-called because a Jewish cemetery used to be located there. The views of the city are absolutely incredible (you can get a clear view of the Mediterranean), and there would be tons to do. There's parks, gardens, and it would seem that you would like the Montjuïc Castle and the Montjuïc Cemetery. The top of the hill can be reached by a funicular. Also, if you're interested, Montjuïc has a lot of the buildings and athletic facilities from when Barcelona hosted the 1992 Olympics. The Piscina Municipal de Montjuïc, which hosted the diving events, is now a public pool that is open in the summer months, and routinely gives the world iconic action shots such as this. All the best, I hope you enjoy your time there!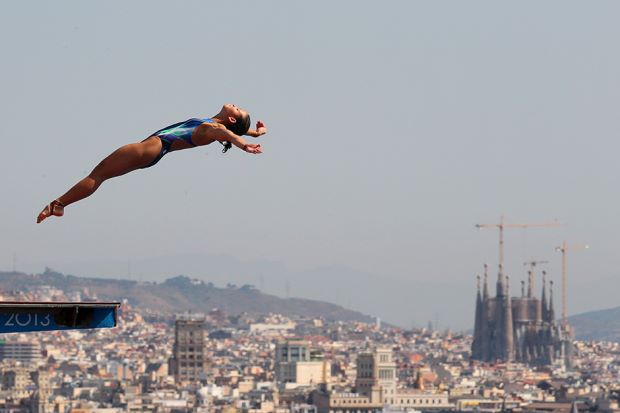 (Sorta-kinda hijacking this thread instead of creating another one…)
I'm heading to Barcelona next week and there are some really good tips here. I'm going to be seeking out as many AO sites as possible in my time there so don't really need recommendations for things to do, so much.
What I would like to know is if people have any practical advice for someone who's never been to Barcelona. Scootering aside, do people find that it's a very walkable city or is there a means of public transport that you'd incline towards? Any foodie recommendations? Also - a big thing - I've heard a lot about the city being notorious for pickpocketing and if anyone has any insight or extra security tips (neighbourhoods to avoid, safety guidance, etc.) I'd be very grateful!
Spain is one of my favorite places in the world and while I've seen probably 70% of the country at this point, I've only been to Barcelona twice. There's so much to do, and something new to see each visit. I'd say it's pretty walkable, but it is fairly spread out, so using the Metro to get to different neighborhoods will be useful. The light rail is also pretty easy and useful. I've actually never walked around Barcelona solo, so as far as safety, I don't have any tips there. My last visit was during the 2017 protests and even then I didn't feel in any danger. Like any large city, just stay vigilant. If you know any Spanish, don't be afraid to use it. Spaniards appreciate you trying. Brownie points if you try Catalan. Finally, food! So many great tapas places, especially near Las Ramblas in/near the Gothic Quarter. We mainly wandered, tried some places and kept going. The one reservation we made that I can't recommend enough is Ginette near the Arc de Triomph. Have so much fun!
Dear friends:
I am Felipe Trigo, historian and tour guide from Barcelona. I also organized the first Atlas Obscura trips to Barcelona (2018, 2019).
In my opinion, one of the most fascinating and mysterious locations is the church of Sant Just and Pastor. I wrote an article for Atlas Obscura, link here.
Don't forget to visit the cemetery of Poblenou, there are spectacular and sinister statues.
I can suggest three fantastic traditional restaurants in the historic district: La Vinatería del Call, Set Portes and Can Culleretes.
Feel free to ask anything! Best regards and enjoy your trip.
Thanks @alexaharrison, y gracias @FelipeTrigo!
All helpful information and tips. I appreciate it and if I think of anything I'll ask!
(My big issue at the moment is working out how to convince the people I'm travelling with to do some AO-ish stuff…)