Enchanted Forest near Baltimore. It closed but the entry gates are still there. Y'all did a story about it.
We've tried to hit all the Christmas themed parks in the USA and went this this one as a side trip to a Nashville vacation a few years back. It's really a great park with different holiday themed sections.
Yes! Have to echo Enchanted Forest— it's so wonderfully eerie and nostalgic to visit as it's a virtual unchanging time capsule. I have some great photos of it here:
Enchanted Forest – Unto Adoption
I loved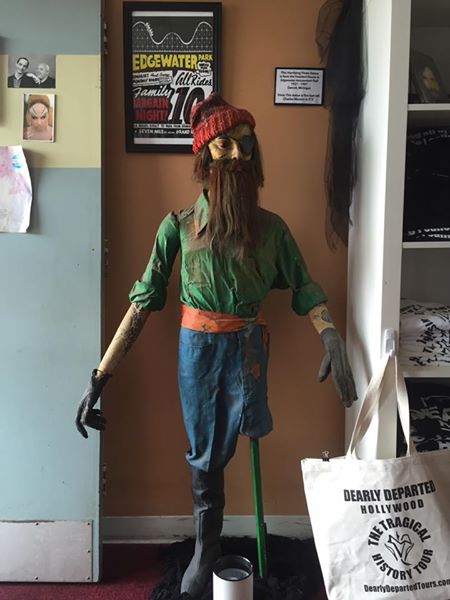 Edgewater Park in Detroit. I was able to acquire a pirate from the Haunted House which I display in my museum in Los Angeles.
Phantasialand, near Brühl, Germany. One of the scariest rides I've ever seen (didn't ride it) is the Talocan Topspin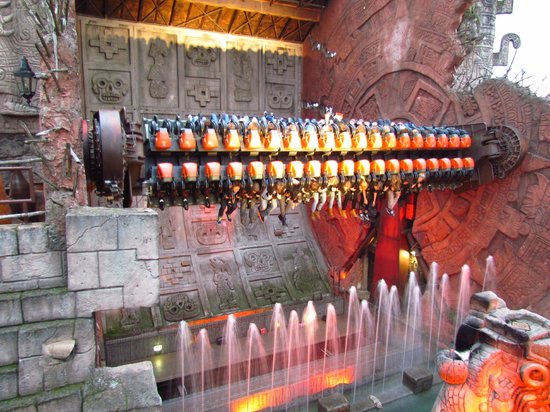 and a quieter children's section that's like a blend of Hobbitland and steampunk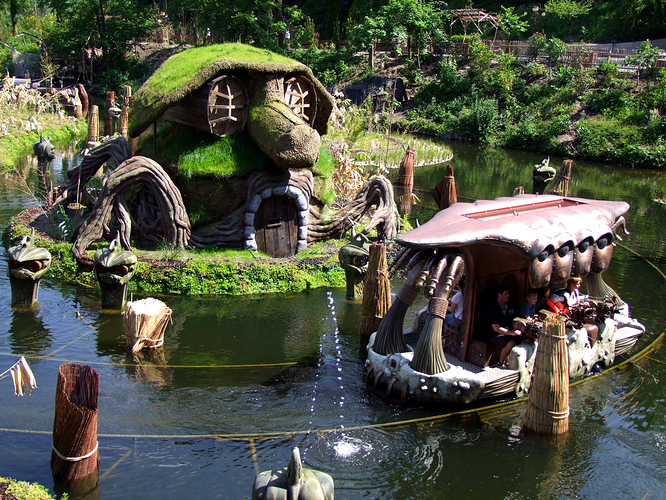 . Like something from a cool dream !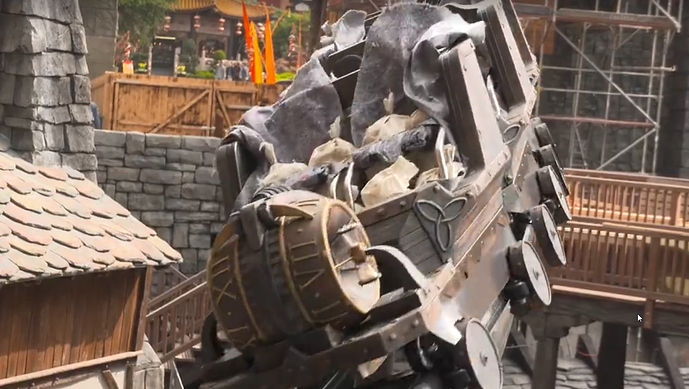 Thumbs up to Latourex. I try to make it to Knoebels at least once each summer. It's a nice 3 hour ride from Philadelphia on the motorcycle. Free admission, great food, wide assortment of rides (some are antique). The Flying Turns is something unique. Dan
Puy du Fou in France is fantastic.
And Efteling in The Netherlands is also pretty great.
Loved Enchanted Forest. I got to visit it when they were relocating things to the farm on Rt 108. It brought back loads of memories. It was featured on the TV show Mega Movers when they were moving the shoe to its new home. My Basenji TryTri can be seen riding in the truck cab.
Growing up, we took at least a couple of trips to Ghost Town in The Sky in Maggie Valley, NC. It was a wild-west theme park up on the top of a mountain. To get there, you had to either take a chairlift, or an incline.
Once there, you found a kitschy old west town with games, restaurants, shops, etc., along with rides, including the first roller coaster I ever rode: the Red Devil.
It's been closed for a little while, but apparently some folks are trying to bring it back.
https://www.romanticasheville.com/ghost_town.htm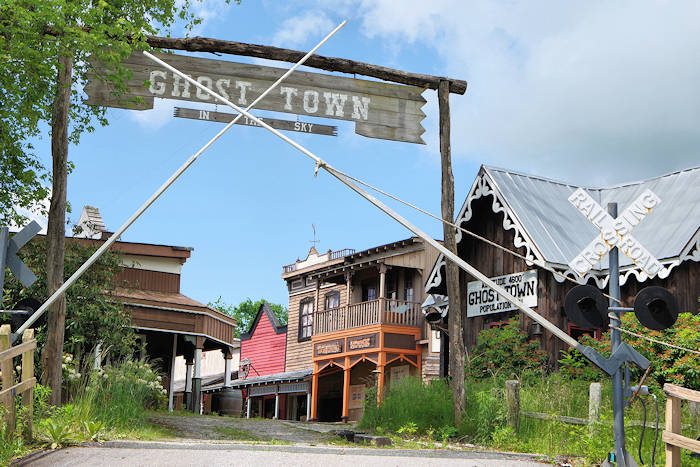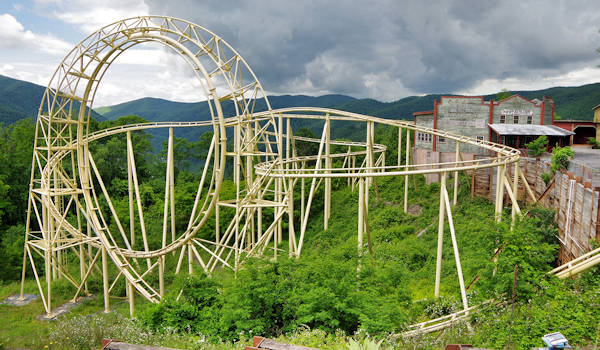 Silver Dollar City, near Branson, MO, literally started out as a hole in the ground. In the 1950s, the family operating the tours of Marvel Cave decided to reconstruct an 1880s mining town that had once stood near the cave entrance. The idea was to have something to occupy cave-goers while they waited for the next tour. A handful of shops that included a general store, a doll shop, an ice cream parlor, and a blacksmith shop opened in May of 1960 as Silver Dollar City and has grown from that humble beginning to one of the top-rated theme parks in the country.
A theme park I would visit all the time as a child was Storybook Land in Egg Harbor Township, New Jersey! It's intended for young kids, and most of the attractions and rides are based on stories. They have a maze that appears to be built of huge cards based on Alice in Wonderland, a (slightly creepy) animatronic retelling of Goldilocks and the 3 Bears, Snow White's House, Little Red Riding Hood, and Santa's Workshopshop with a "North Pole" which is just a tall, cold pole covered in ice (which is great in the summer). Some of the rides include a carousel, small ferris wheel, teacup ride, a small rollercoaster featuring a dragon who blows bubbles, a "drop" ride, and much more. The park is intended for kids, so the most "extreme" ride is the small roller coaster. It's not much a visit if you don't have young kids, but I have fond memories of going at least once a year. They've been open since 1955 and do maintain the park with renovations so although it is a classic, it is up to date.
This wasn't a theme park but at the New Orleans Jazz and Heritage Festival each year they have a cultural pavilion celebrating one of the many nations that influence our city. One year they paid homage to Haiti and had a wooden carousel that was powered by people and had a band in the middle playing music as you spun around. It was pretty awesome. I think they're bringing it back this year!
Kiddieland in Chicago. It closed in 2009 and is now a sad Costco. My dad and his family grew up in Chicago, so this was a staple for them, and therefore for me. We always went with his family who would share stories about their visits and tell tales on each other! There were some awesome rides, too: a classic wooden coaster called the Little Dipper, a log flume, a train that went around the whole park (with a very enthusiastic conductor), and a funny-lookin' tilt-a-whirl modeled after an octopus (I think it was called The Polyp, if memory serves). The best part was the vibe: everyone, especially the employees, seemed genuinely happy to be there, and not in an over-the-top forced customer service way. May it rest in peace!
Holiday World is Indiana's best-kept secret. We go here every year for their enthusiasts-only weekend, where attendees get the entire park to themselves at night for "exclusive ride time". The Voyage is the best wooden roller coaster in the world (I'd argue best wooden roller coaster period, wooden or otherwise). It's a beautiful park in a valley, very family-friendly and affordable, with an exceptional waterpark as well. We camp at Lake Rudolph next to the park and you can walk right up to the entrance from your campsite. It's an hour from Louisville so you can pair it with a trip along the bourbon trail. It's truly my favorite weekend of the year!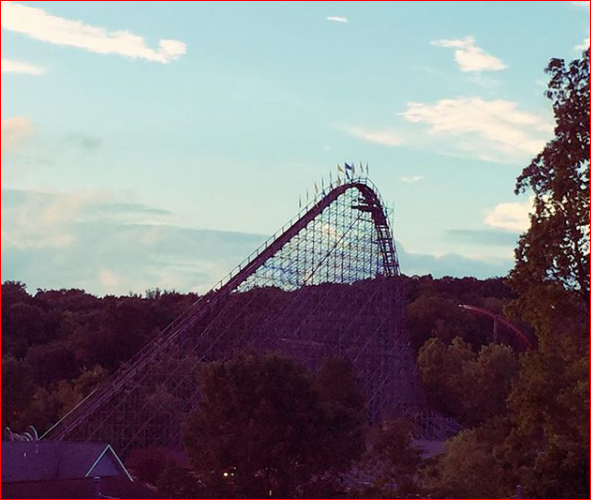 The Voyage hill.
I'll 2nd Lagoon
They also had all the big names in music back in the day( A little before my time). Brubeck, Ray Charles The Doors , Stones , Hendrix…
Jimi Hendrix, Janis Joplin, and Lagoon's bygone era of incredible concerts | Deseret News
Astroworld built a venue for music shows as well, I saw the Dead there in the 85 or 86
tcincebox - the Calypso ride from Americana lives on at Holiday World in Indiana. It's called Firecracker now, and it is my 6 year old son's favorite ride!
Chippawa Lake Park in Medina, Ohio. The Park is no longer there only some pieces of the old rides and the buildings that housed the main attractions. It is so sad because every summer when I was kid was spent in the at park. The happiest times of my life.
Dandelion Park on Muskego Beach, Waukesha County WI was THE destination. Here is a YouTube of a home movie. Starts slow, but shows more rides later on.
I love a classic fairytale forest!