I'm currently camping in one of the national parks from this afternoon to Sunday. With a very weak cellular service signal, I'm about to put my phone on maximum power saving to conserve the battery and make it last till we leave. It's an annual tent camping trip for three (me, husband and a friend) that we've done for several years now, just to get back to nature, indulge in our pyromaniac sides, knock off a few beers (the two guys more than me) and cook on a campfire (me).
Anyone else on AO who loves to camp? I'm thinking of going to the Shenandoah this summer with a few friends and do some backpacking and hiking as well as camping.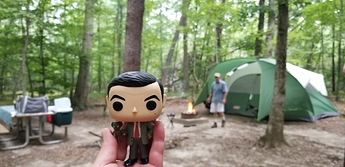 Mr. Bean is also a "happy camper." Which is an impossibility, according to
Jim Gaffigan
.