I recently took a road trip that followed the path of Scott and Zelda Fitzgerald in the book The Cruise of the Rolling Junk. I learned about the book from AO's amazing interactive map of literary road trips. (https://www.atlasobscura.com/articles/the-obsessively-detailed-map-of-american-literatures-most-epic-road-trips)
The Rolling Junk is a delightful collection of essays, short stories, and frequently snobby observations of the Fitzgeralds' spontaneous trip from their home in Westport, CT to Zelda's birthplace in Montgomery, AL, apparently all in search of good biscuits and some peaches.
I took the trip in reverse. I started at the F. Scott and Zelda Fitzgerald Museum in Montgomery, followed the path they took in 1920, and ended at my birthplace, (near) Westport, CT. The trip was largely about the Fitzgeralds, but I also allowed my wanderlust to run a little wild and look for interesting tidbits along the way.
Here's the path I took.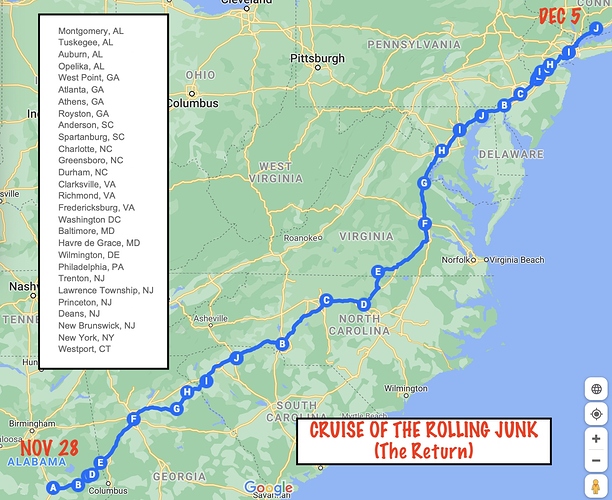 Anybody else followed a literary path? Or taken a trip inspired by a book or film?