If there's one thing I'm glad still exists from the Dark Ages, it's the traditional tavern sign. Suspended out over the sidewalk, usually emblazoned with the name and symbol of the bar it's advertising, there's just something wonderful and welcoming about a classic tavern sign, like beacons of warmth and conviviality. While they're traditionally associated with historic English pubs, tavern signs can be found all over the world, and we want to see your favorite tavern sign from your area.
Here in New York we have our fair share of tavern signs hanging out over the sidewalks, calling out some of the many, many bars crammed onto each block. While most of them are much more modern than the signage across the pond, they share some of the same charm. Probably one of the most famous tavern signs in the city is the aging neon sign over the White Horse Tavern. The well-known watering hole was a favorite of Bohemian writers such as Dylan Thomas in the mid-20th century, and it looks much the same way today as it always has. The sign is an important part of that look.
Now we want to see your favorite tavern sign! Whether it's an English pub classic or a more modern addition to the canon of lovely tavern signage, post a picture of your favorite tavern sign in the comments below, tell us where it's located, and why you love it. Your comment might be featured in an upcoming round-up on Atlas Obscura. Let's raise a glass for the signs that got us to the bar in the first place.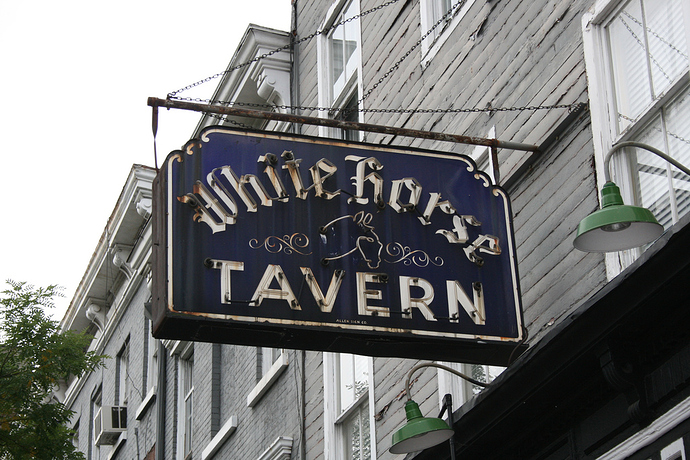 (Image: Paul Simpson/CC BY 2.0)