Oh my goodness, where was this "Gaper" statuette?
Oh god, that's so creepy.
Although not nearly as strange, my partner and I sometimes physically stand out depending on where we are, because he is very tall and very, very blonde. When we were in Barcelona walking on the Ramblas, we would often hear "Rubio, rubio!" which means "blonde" in Spanish.
Y'all… I have a new one.
As I've mentioned on here before (probably too many times), I'm from Nashville, Tennessee but now live in Los Angeles. The other week I was in Chinatown, and noticed a huge line in one of the plazas, so long that it stretched outside of the plaza and spilled out onto the street. There may have been 80 to 100 people in the line. I was curious what it was for, so I asked someone, and they replied that it was for a new hot chicken restaurant. I walked to the beginning of the line, and sure enough, it was for "Howlin' Ray's NASHVILLE Hot Chicken." To me, it was absolutely a shock-- and hysterical. I'm glad this dish is gaining so much popularity!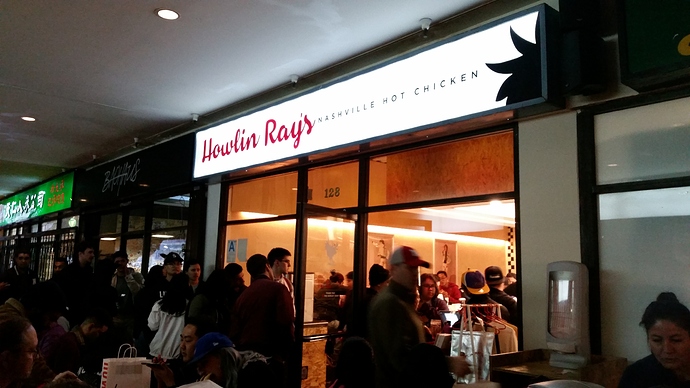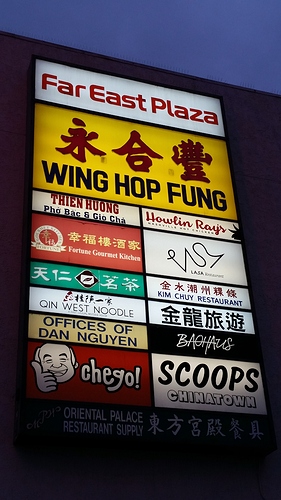 Amsterdam. My friends and I took a "Black Heritage" tour and learned about the slave trade, East India Trading Co. and other lesser known historic facts re: how slavery enriched that part of the world.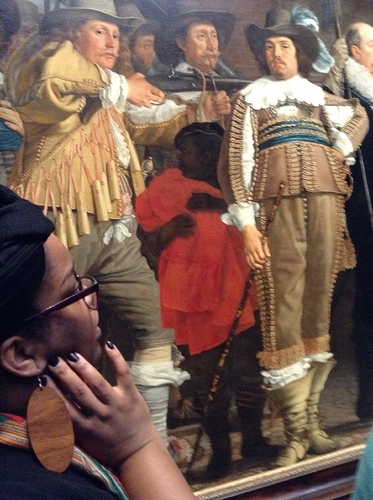 Wow, that sounds so interesting. That will be a must-do for me if I ever find myself in Amsterdam.
I don't know if it's a political statement or something else. And not being from the US, I don't even care. But I do find it funny.
Taken in Arusha, Tanzania.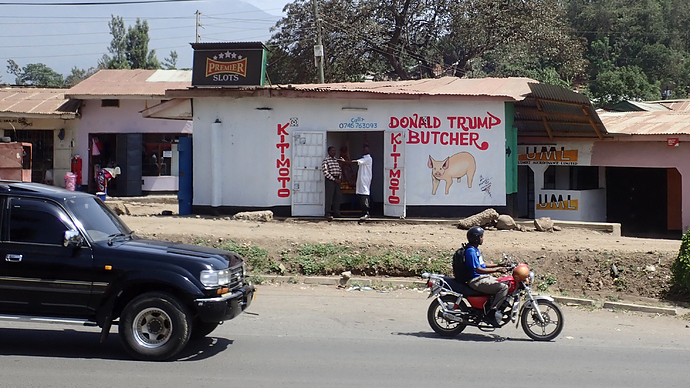 This is amazing. I had a similar experience in Barcelona, but it wasn't nearly as potentially humorous/political as this one! There was an Obama "British Africa" restaurant. Somewhat confusing.


tanks
I just now remembered that I had taken this video at a restaurant in Xi'an, China. They fashioned their noodle cutting machine into a dapper Noodlebot, and now I want one in my home.
When my train that was meant to terminate in Newcastle UK said it would terminate early in Kuala Lumpur when it was only meant to be a 2 hour train journey it confused our cabin for hours until we finally arrived in Newcastle safe and sound…
Oh, I've seen poop emoji pillows and plushies all over. In Mexico, the U.K. Never met anyone who bought one for any reason other than a joke, or anyone who owns one for any reason other than having gotten it as a joke.
Regardless, I'd say they are quite common throughout.
Can't come close to Nic Cage in Hungary, but finding Jennifer "Jenny From the Block" Lopez on a similar ride at the Highland Games in Crieff, Scotland sure was something.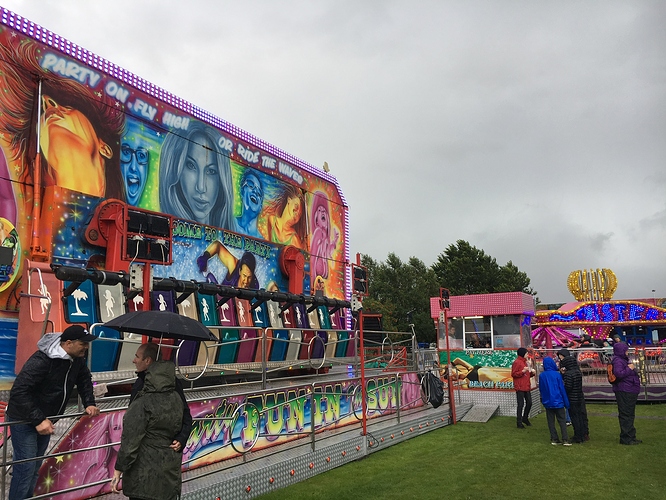 The Panda looks like it has lost the will to live and is contemplating ending it all with a brooding intensity
and wtf with the "toy" ? It looks like some kind of ancient Phoneician fertility amulet, hahaha , what is it supposed to do ? and where on earth did you get it? in a toy grabber claw thingy ?
The stuff of nightmares , hahaha
It is said that when André Breton visited Mexico he proclaimed that the country IS surrealism. Salvador Dalí claimed that not even his paintings could match what he saw happening in real life there. I sort of agree with the sentiment, even as a native Mexican I've seen some definite WTH-worthy stuff traveling around the country.
Bodyguard Jesus (Puebla):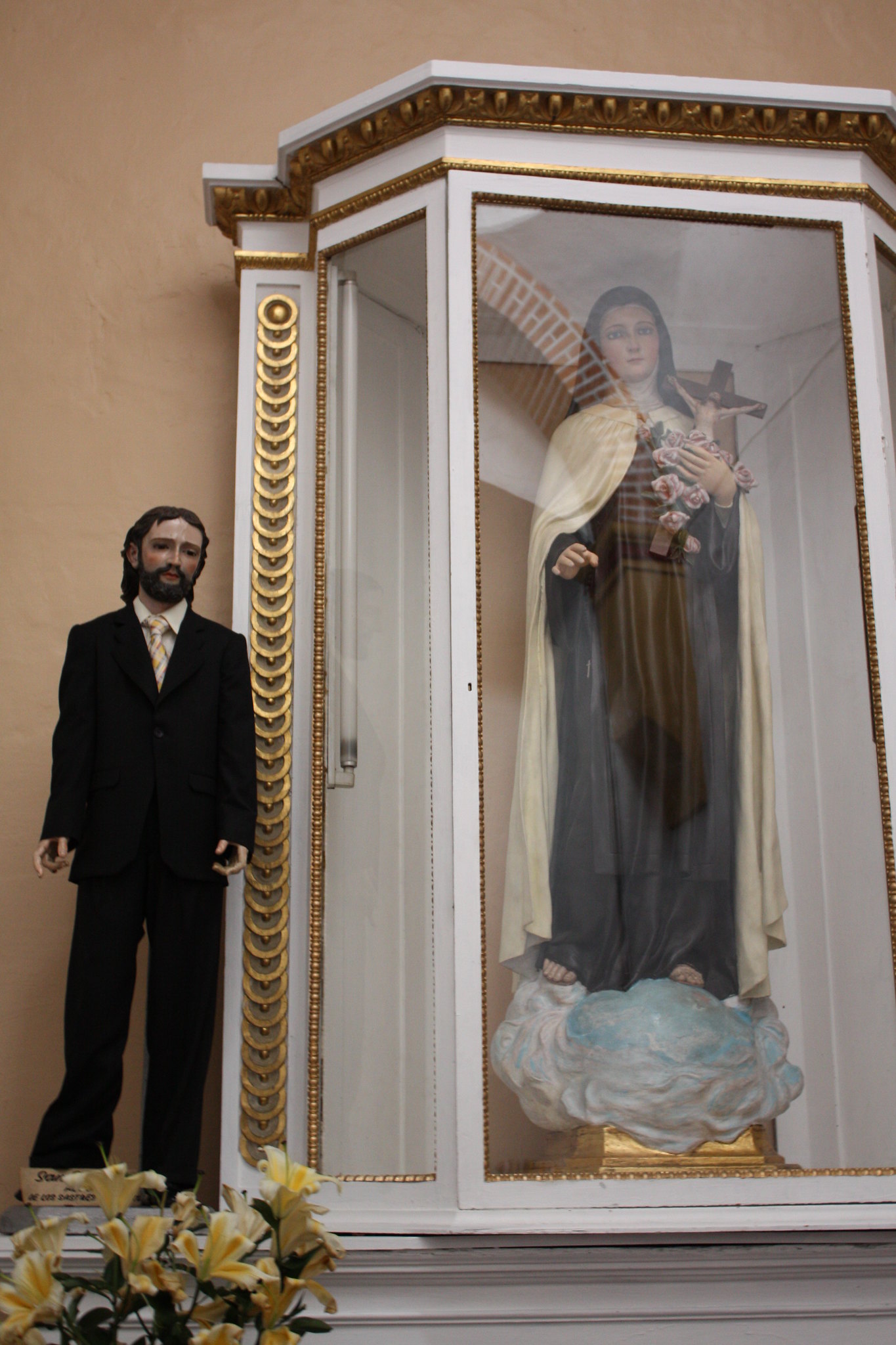 San Guarura by David Cabrera, en Flickr
A water gun used as an ornament (Zipolite):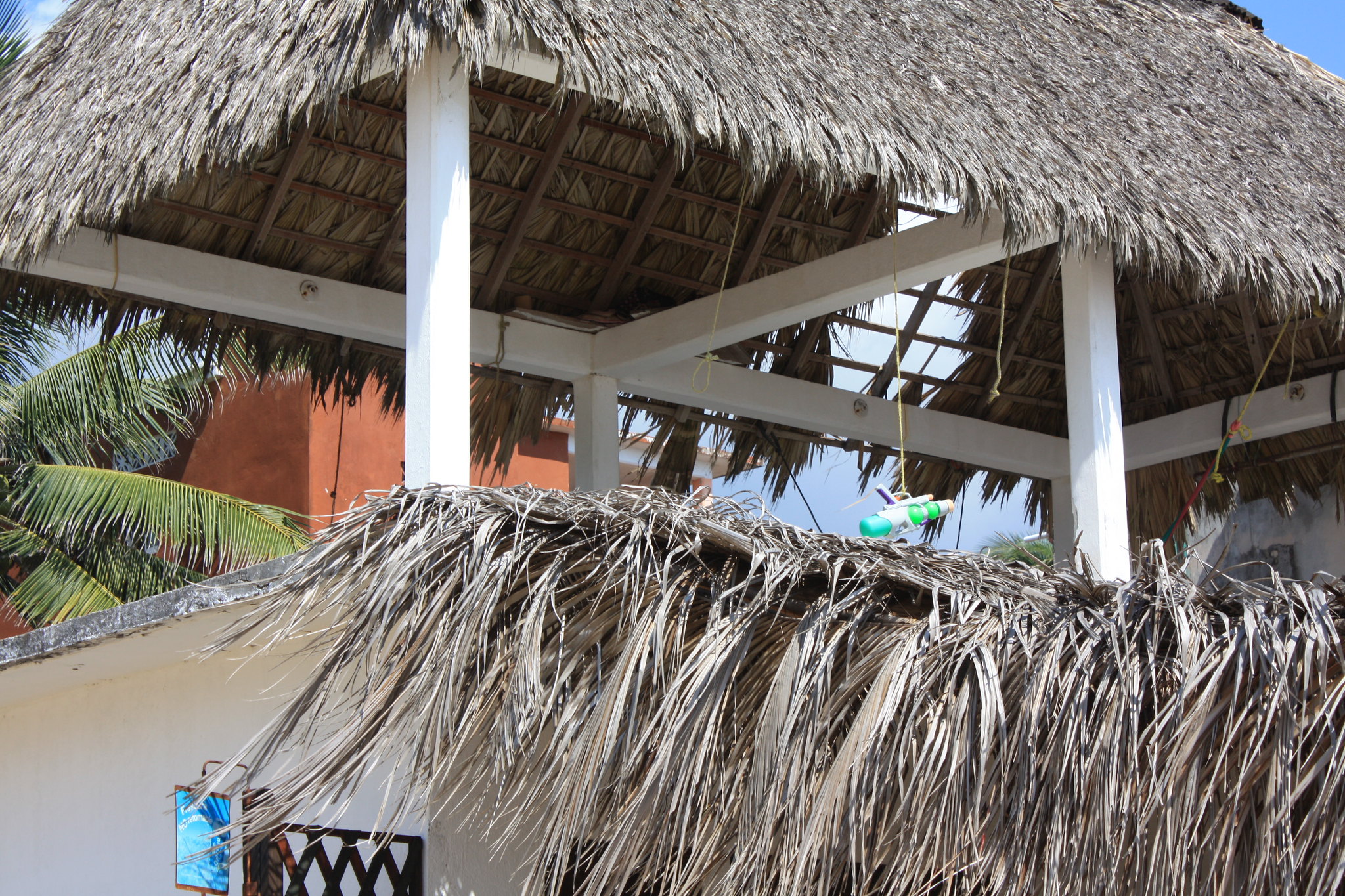 Super Soaker by David Cabrera, en Flickr
Good ol' heavy machinery decorations (Tilcajete):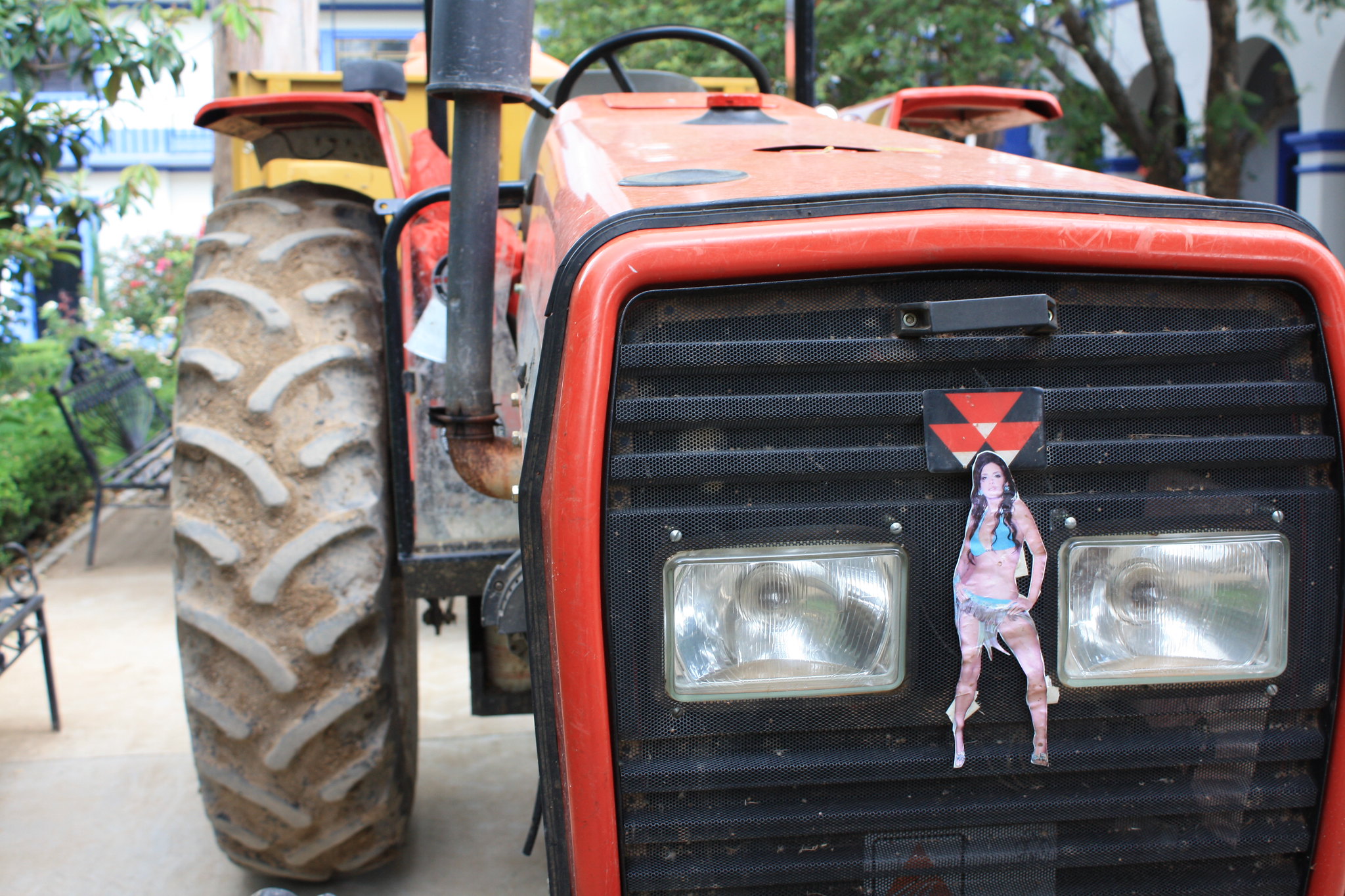 Buenota del Tractor by David Cabrera, en Flickr
A faceless zoot suit street performer who made me feel like I had walked into "The Mask" (Mexico City):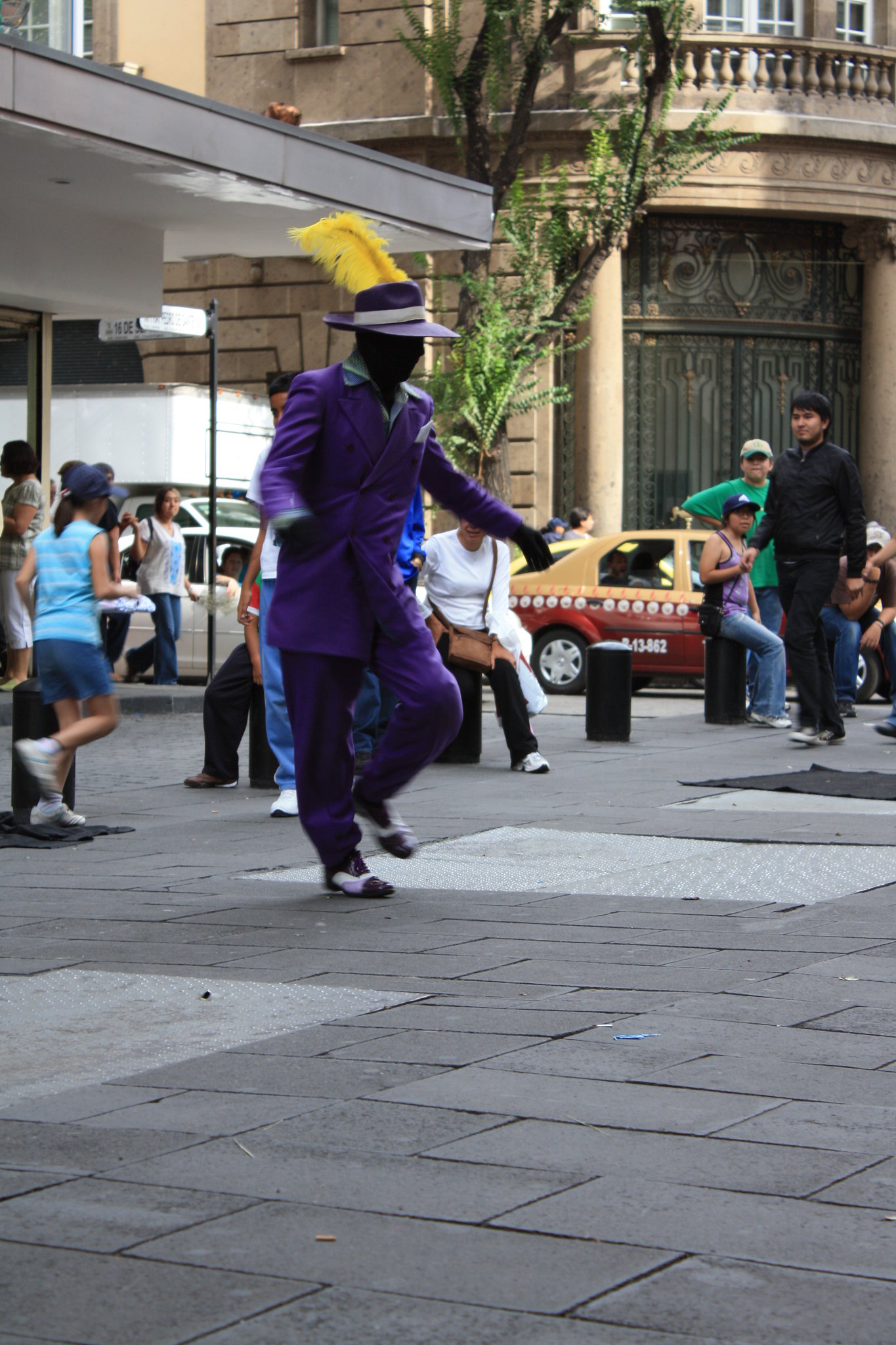 Pachuco Anónimo by David Cabrera, en Flickr
Disney's most epic crossover (Veracruz):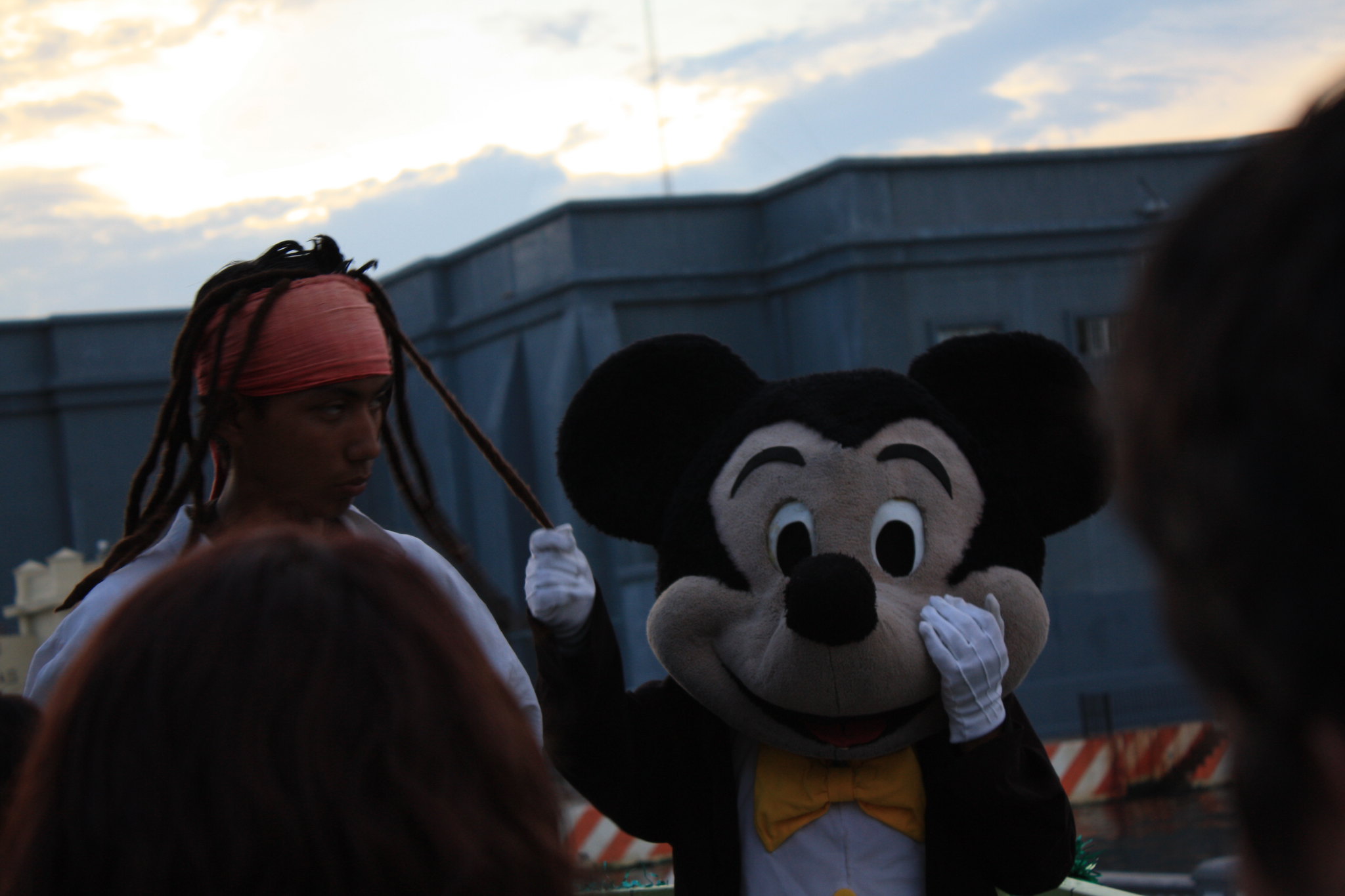 Déjale las Rastas by David Cabrera, en Flickr
An entire clothes-drying street (San Rafael Tlalmanalco):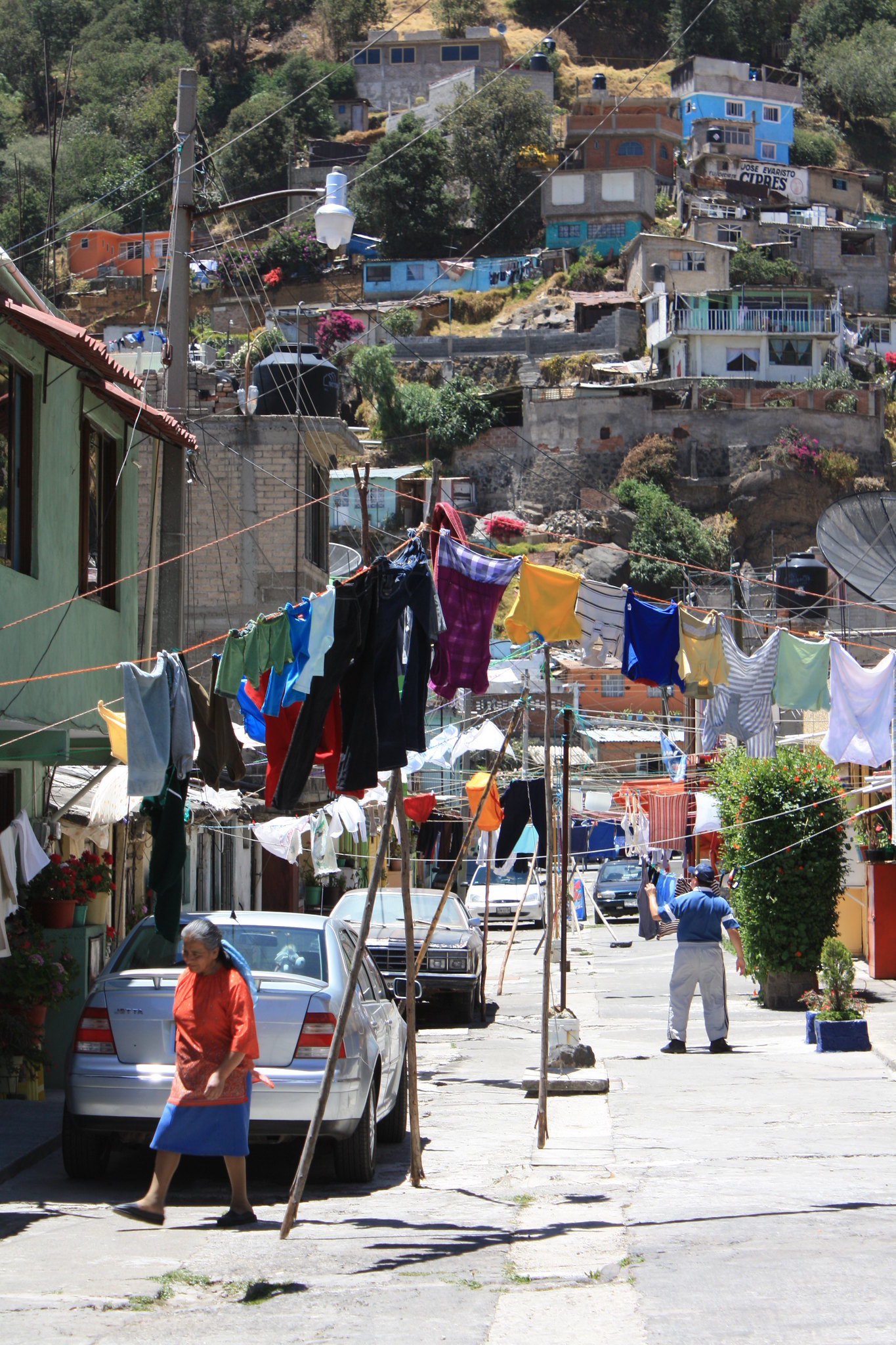 Tendederos Sanrafaelinos by David Cabrera, en Flickr
And finally, some truly inexplicable graffiti. In Oaxaca, I saw a tag that simply read "a**l s*x, try it at least once"… I don't think I can make any comment on that. In Chamula, someone pondered the eternal Shakespearean question: "museum or mouse"?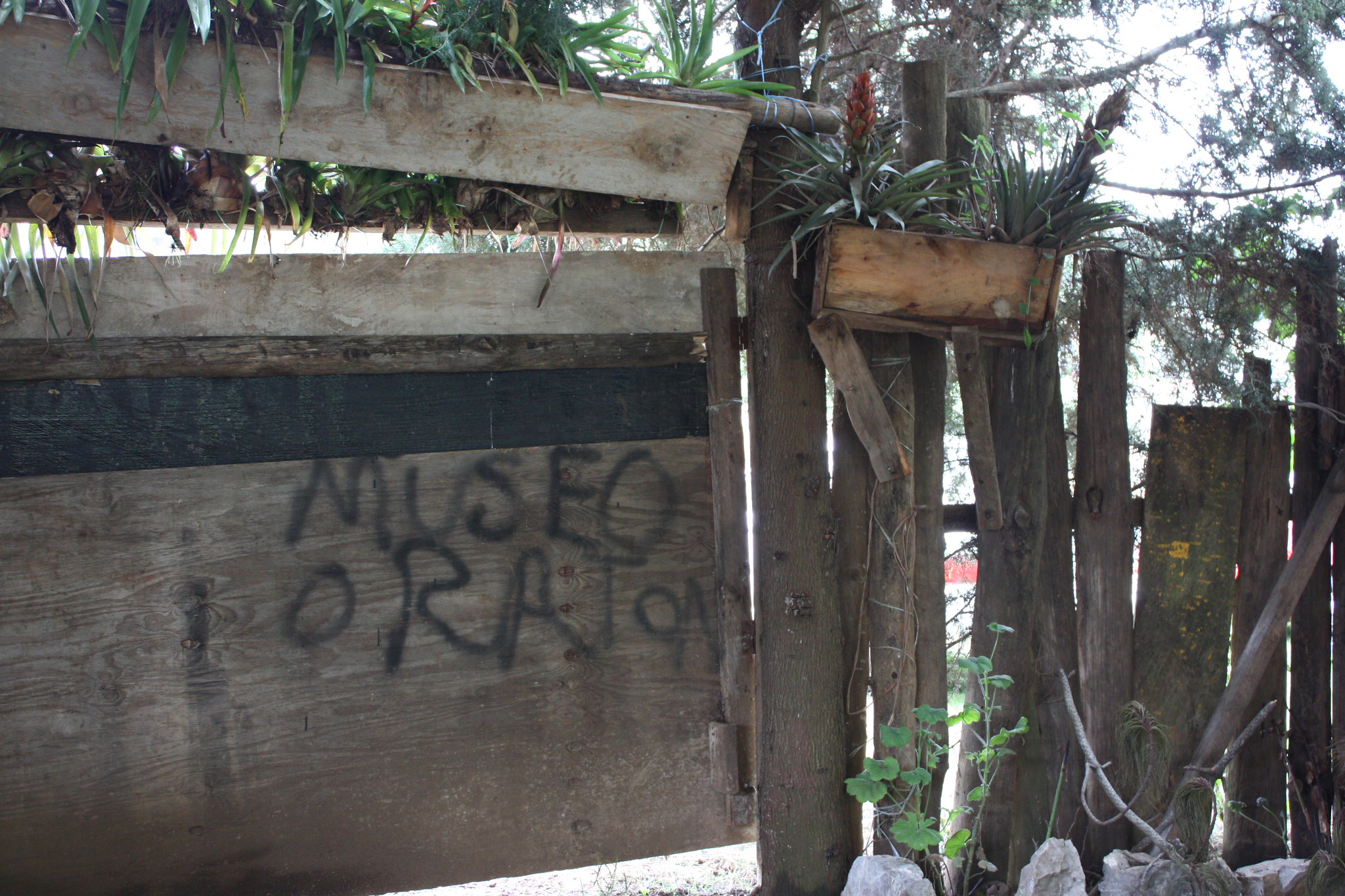 Museo o Ratón by David Cabrera, en Flickr
Obama is a fairly common surname in west central Africa. This restaurant was opened in 2009, which makes me think it was named after the president rather than the owner's name.
So, a bit of context. Early last November I was in San Miguel de Allende for the first time. I was impressed by just how BEAUTIFUL the city is. Definitely an idealized version of Mexico, partly realized by the many expats from further up North America.
I went to the Toy Museum and they have a great terrace on the top floor. As I admired the view and soaked in this unique place, I suddenly heard "chipmunk-ed" Christmas carols being played from a boombox somewhere. Then, around the corner comes this: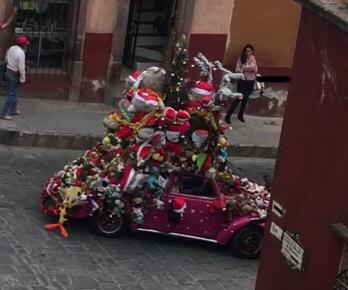 A red VW Beetle completely covered in festive plush toys, crowned with a lit-up plastic Christmas tree blasting these songs. I never managed to find out what was the deal with it but I love how that Mexican surrealism can still appear absolutely anywhere, anytime.
@bumblebarb The panda is in the Old City of Prague. (But not for much longer: the city council has decided to ban buskers whose acts "lack artistic merit". That includes pandas and "living statues" — but musicians will still be allowed.)
Prague, actually, there is a sidekick giant something, I forgot what right now, and they roam a few main tourist drags. They are there in the hottest of summer days, too, and I feel really bad for them.