One castle Id add is from WW2 movie Where Eagles Dare, set in Austria.
Classic, on DVD.
The Templar castle in Tomar, Portugal in incredible.
I think it would definitely count as a castle , and I totally agree , lots of very gruesome history in that place , have you read "In the Kingdom of this World" by Alejo Carpentier by any chance ? The castle features heavily in parts of that book
My impression is that you mean intact regal structures, is there room for ruins? I've explored dozens of ruins over the years, of all of those my hands down favorite has been Carrigogunnell in Ireland. Set out in a farmers field it has seen no modern renovation or attempts at commercialization but is still rich with spooky hallways, rooms and stairways. One tower has a single remaining step from its original spiral staircase 10 or 12 feet up. Well beyond that the stairs resume, in between there are openings to chambers that can no longer be accessed. With this the ruin both satisfies and teases the imagination. My wife and I spent 2 hours exploring its cavernous interior, which over the centuries nature has eroded into something between a man made structure and a cave.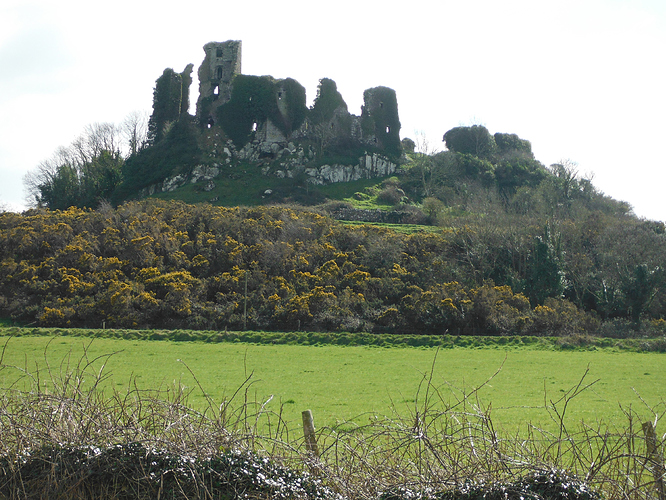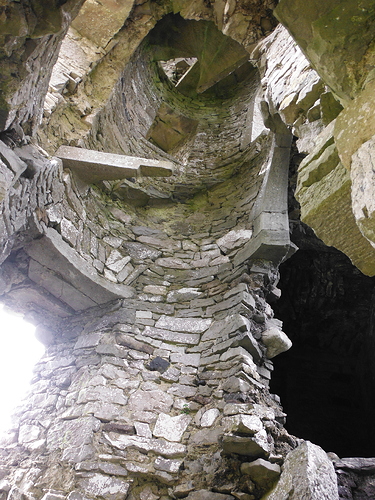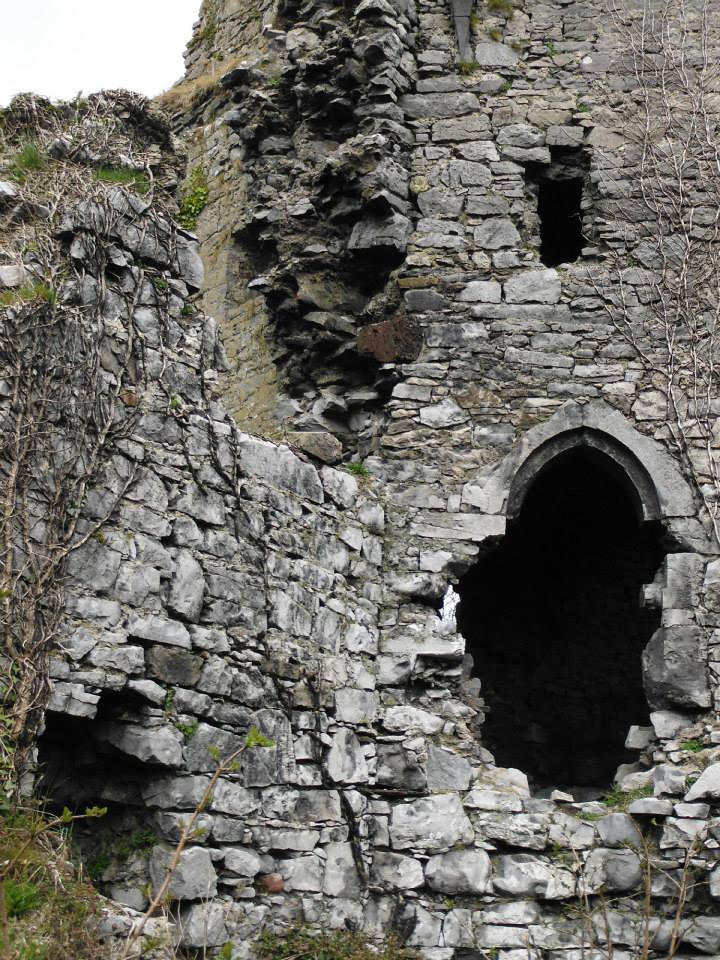 This is beautiful, and totally qualifies!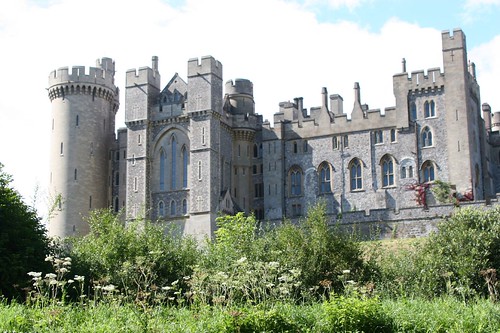 Photo by druss101 is licensed under CC BY-NC 2.0 at Creative Commons and Flickr.
Arundel castle can be found on the South coast of England in between Brighton and the Isle of Wight. When I was there, I felt the knights could come galloping around the corner any minute. I felt I was stepping back in time. Magical!
And, to not leave my own country out, I also like De Haar at Haarzuylens in the province of Utrecht in the center of the Netherlands:

Photo by by
LearningTour
is licensed under
CC BY-NC-SA 2.0
at Creative Commons and Flickr.
The image is a bit dark, but the castle is still lived in and it seems to be right out of a fairy tale. Images of princesses and knights easily come to mind walking around the building and visiting inside.
No one has mentioned the most famous castle in the world, Neuschwanstein Castle, in Bavaria, Germany. It was used as the model for the first Disney Castle in California.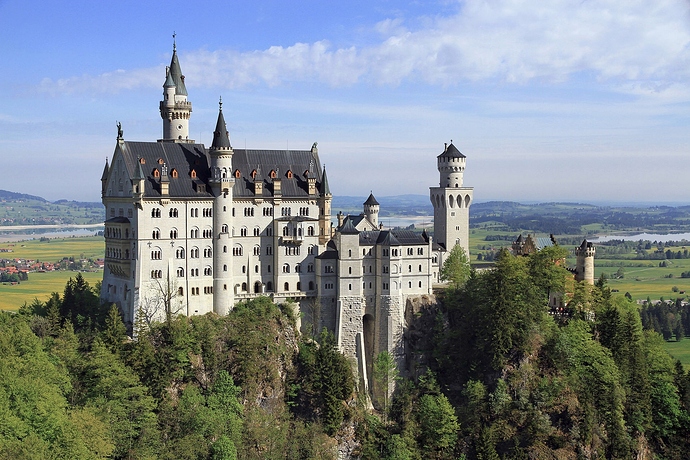 The Hiroshima Castle is not the grandest, but has an interesting history because it was destroyed by the first atomic bomb ever used in a war.
The castle was built in the late 1500's during Japan's feudal period.
It was declared a national treasure in 1930.
It was destroyed by the atomic bomb in 1945 which detonated about 1,000 meters away. At that time it also functioned as a military headquarter.
It was rebuilt in 1958. There are five stories, the top with quite wonderful views of surrounding Hiroshima. The other stories serve as a museum with interesting artifacts. There is a samurai sword which visitor can lift to feel the weight and get a sense of what it might be like to fight with one.
Picture is view from outside the moat, where there is a curious plaza with a European style sculpture.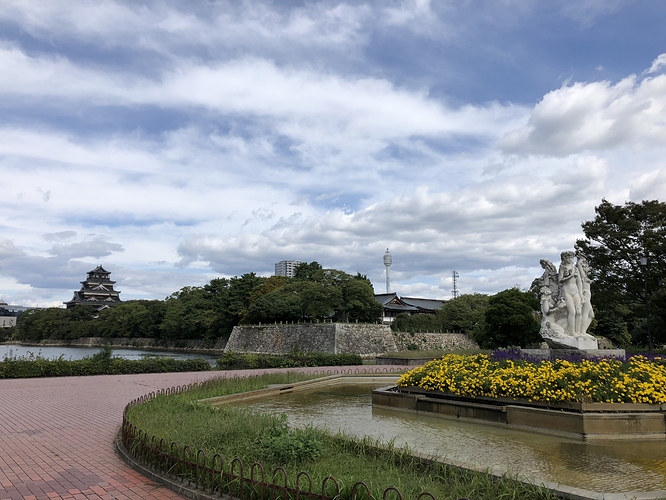 I had fun exploring the castle in Carcassonne, France, by myself. It was off-season (winter) and a misty morning. I went out first thing and had a lovely ramble by myself. It's a large castle with some tourist shops inside, took a good while to explore on foot.
I always remember this place - spent some time growing up in US and there was this wonderful place on the edge of Lexington, Kentucky. Story I was told at time was it had been built by rich couple, they'd divorced before it was finished and it was then used as a pig farm. Glad to see it has been repurposed into a fancy venue for weddings and special events. https://images.app.goo.gl/AJSaQwGu2dG87XT38 Just really to add that castles come in some really strange places.
Its been said that Queen Mary planted the Yew trees that are growing over the gentleman's head. Yew tree were known to contain medical, as well as mystical properties. looks as if you were blessed with a rare day of glorious sunshine.
If I had two castles/palaces to go to before I move into my own palace in the sky, it would definitely be both Neuschwanstein Castle and Seville Alcazar, Seville, Andalusia, Spain. I love the Moorish interior, and I'm sure there are other castles/palaces out there that might come close to these. If there are, I'm sure I am doing them injustice by forgetting them.
Sintra… my mystical home town
Tough choice, where I'm from we have more castles than we have Starbucks which would disappoint Daenerys. Have to give a shout out to the castles of Edward I, four incredible castles all within an hour of each other and considered the finest examples of medieval architecture
Harlech

Beaumaris
Its not my favourite castle of all time , but I'm quite fond of it as its my local castle and is about 15 minutes walk from where I live
All great choices. Been to Pena in Portugal and to many castles in England, Scotland, and France. All fascinating. All different.
I realize this may not count as a castle in the strict sense, so apologies beforehand, but my favorite and one of the most out of the way "pile of rocks" I have had the chance to visit is "The Great Zimbabwe".
The so called "Great Enclosure" is very interesting but it's the hill complex beside it that is the most fascinating. It's certainly not a castle in the strict sense of carefully piling worked stone on worked stone. It's more like they moved and rearranged, with some working of the stone, the jumble of rocks on top of the hill into effectively a "castle" with rooms and courtyards, etc. It's very organic. Very Frank Lloyd Wright in that way since it seems to grow out of the hilltop.
If I had to pick one in Scotland it would be Castle Urquhart on the shore of Loch Ness.
This thread has me on a google binge! So cool! I'll share tiny Henderson Castle in tiny Kalamazoo MI. It's not a castle in the sense that it was a military stronghold and it's not sprawling or grand in the traditional sense. What I love about it is that it was lovingly built for Mr. Henderson's wife and that it has become a beautiful and quirky part of the community. They've partnered with us for some events and host things like haunted dinners and illusionist shows. Very fun.
My favorite (only found because we were looking at AO during our trip) is Hammond Castle just a short trip east from Boston and Salem and dramatically overlooking the Atlantic Ocean. Though created from buildings shipped across the ocean it really was combined with excellent execution IMO.

OMG! No one has posted Castle Gwyn outside of Nashville?! I will have to remedy this very soon!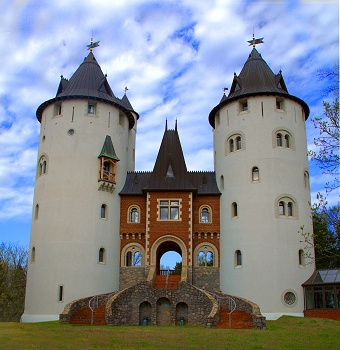 Story of Castle Gwynn is a Labor of Love
I'm looking forward to seeing some of the above castles next month touring the North Coast 500 leaving north out of Glasgow. Dunrobin is on our way back around. Thanks for mentioning Craigmillar, Linlithgow and Urguhart if time allows we will try to visit those. Eilean Donan on the little island looks promising