Across the ancient and modern world, one fantastic, yet tedious art form has persisted throughout history. Dating as far back as the Roman empire, grand murals have been crafted into the plaster of walls and ceilings depicting allegoric scenes of religion or daily life. Frescoes the world over have survived the test of time and have provided us with an insight into the past.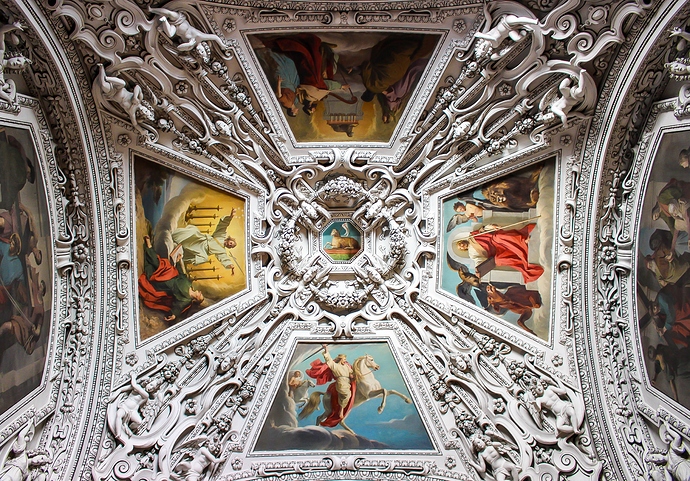 (Image: Daniel Posthuma/Public Domain)
While the frescoes that populated the walls and buildings of Pompeii are well documented, not far away, another lesser-known village and its murals were covered in ash. Despite being destroyed, Herculaneum was well-preserved and the beautiful frescoes that adorned the walls of homes are still visible today. Nestled among the mountains of Samovodene, Bulgaria resides a seemingly normal-looking monastery, until visitors get a closer gander at the exterior. The outside of the Transfiguration Monastery is one giant fresco, featuring religious symbols and an array of ghastly creatures. Inside, allegoric tales of death and the devil are told through frescos. Visitors to the Albi Cathedral in France won't need to get closer to notice the church's 200,000 square foot masterpiece. The cathedral is home to one of the oldest and largest collections of Renaissance frescoes. From churches and chapels to ancient homes, these are just a few of the amazing frescoes that have survived the test of time. They have given us indelible works of art to ponder over for generations. Now we'd like to add more to this small collection!
In the thread below, tell us about some of the most astonishing frescoes you have ever seen or have a burning desire to view. Where is it located, and what particular imagery stands out the most? What's the history behind its construction and design? Who designed the mural, and why did you find it particularly appealing? Be sure to include any pictures you might have as well, and drop in your Instagram handle. Your response and photo may be included in an upcoming round-up article on Atlas Obscura.