The world is a vastly different place than it was during the 14th-century, or the final days of the Roman empire. Today, temple and aqueduct construction projects have been replaced with highways and skyscrapers. Despite our modernization of the world, many ancient structures and artifacts still exist. However, many are now hiding in plain sight, lost amidst our modern world.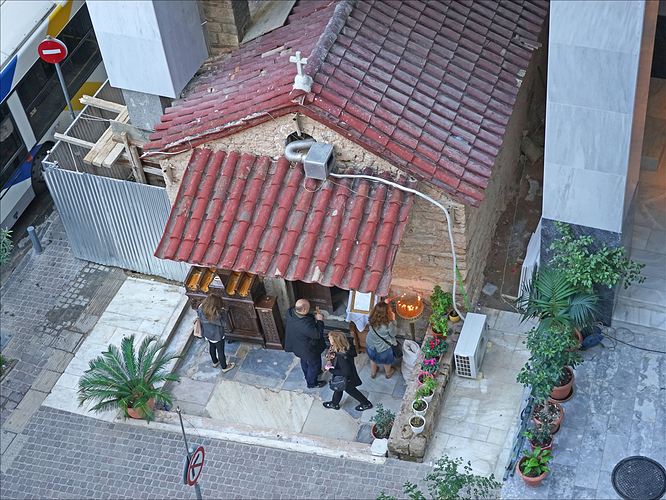 (
Image: Jean-Pierre Dalbéra/Public Domain
)
At the intersection of Metropoleos and Pentelis streets in Athens, Greece stands a modest-looking church surrounded by the traffic of a bustling metropolis. The Agia Dynami is a 16th-century Byzantine church dedicated to the Virgin Mary and was a shrine for pregnant women. During the 1950s, the Greek government attempted to obtain the land for development, however, the Greek Orthodox Church refused. Now, the church stands in stark contrast to its municipal surroundings. Upon entering the WSP office lobby in Enskede-Årsta-Vantör, Sweden, visitors come face to face with an incomplete 19th-century sconce. This small fortress was designed to protect the Swedish capital from invaders. However, as technology quickly advanced, the stone fort fell out of favor and was left incomplete. Eventually, one of its massive walls was integrated into a modern office space. Across the ocean in Mexico City, thousands of people bypass an ancient Aztec artifact probably without a second thought. On the corner between the streets of Pino Suárez and República del Salvador, a serpent-like sculpture helps support the base of a building. It's believed that the stone was taken from an Aztec pyramid by Spanish conquistadors as a sign of triumph. These are just a few locations from across the globe where history is hiding in plain sight amidst contemporary trappings. Now we'd like to know more!
In the thread below, tell us about your favorite ancient structure or artifact hiding in plain sight. Where is it located, were you able to visit, what was it like, and what's the history behind this place or object? How was it discovered and why is it still there? If you were able to visit, what did you take away from the trip? Be sure to include any pictures you might have as well, and drop in your Instagram handle. Your response and photo may be included in an upcoming round-up article on Atlas Obscura.