Throughout human history, entire societies have found or created unique places to worship. Across medieval Europe, fantastic churches were constructed with massive frescos and ornate architecture. Other places of worship around the world are much simpler, such as the Rimwood Chapel in Michigan, just large enough inside for a congregation of three. From monasteries that appear to float above the earth carved into cliffsides, to mosques that shimmer in the sunlight, here are a few of the world's most unique places of worship.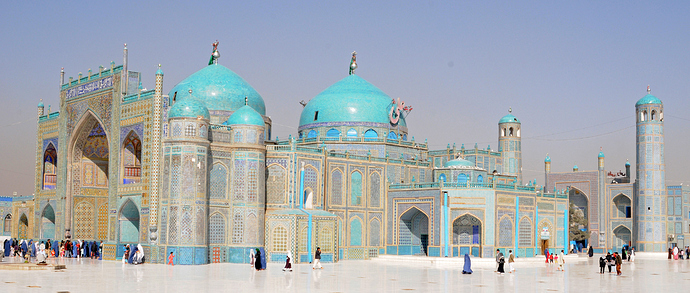 (Image: Sgt. Kimberly Lamb/Public Domain)
Wat Mongkoltepmunee is a magnificent Buddhist temple complete with intricate designs, while sporting a bold exterior adorned in red, gold, and white. However, you won't need to cross the ocean to visit this temple as it resides in the middle of the township of Bensalem, Pennslyvania. The temple plays a vital role in the area's thriving Thai community. Underneath the city of Lourdes, France resides the Basilica of St. Pius X, a massive Roman Catholic church comprised entirely of concrete. This giant place of worship is more commonly referred to as the Underground Basilica. In the Mazari Sharif region of Afghanistan is the spectacular Blue Mosque. The turquoise blue tiles reflect vibrantly in the sun, and surrounding the mosque, pure white clay tiles give off the appearance that the mosque is floating. For centuries, civilizations across the globe have been constructing wondrous and unique places of worship. This is just a microscopic snapshot of the brilliant places of worship around the globe, now we'd like to see more!
In the thread below, tell us about some of your favorite places of worship. Where is it and what's the history behind its existence. What did you find most intriguing about its design and existence? Did your visit move you, if so, how? Be sure to include any pictures you might have as well. Your response and photo may be included in an upcoming round-up article on Atlas Obscura!