Movies, books, and Halloween costumes helped to craft the comical images we conjure when we hear the word, witch. However, from the 15th through 18th centuries, being called a witch was anything but a laughing matter. Throughout this period thousands of seemingly normal people were put on trial and often executed for this reason. Historians continue to ponder over this bizarre period of history, as dozens of artifacts and places have immortalized these bizarre happenings.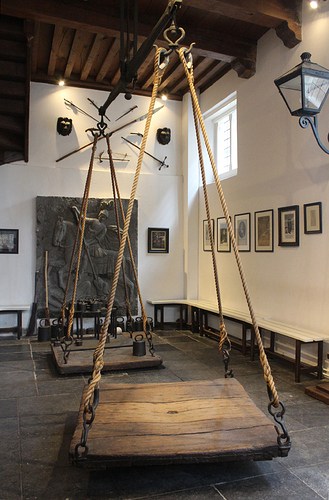 In the small town of Oudewater, Netherlands sits an
innocuous-looking brick building,
very similar to others around town. Inside this 17th-century weigh house, scales were used to weigh crops, livestock, and accused witches. If the accused weighed a certain amount (often on rigged scales) they were found guilty. Just outside the entrance to the Edinburgh Castle sits
a small fountain
accompanied by a plaque. The plaque commemorates the more than 4,000 people executed across Scotland during the satanic panic that was swept across Europe. It's believed more people were put to death at the site of the well than anywhere else in Scotland. In Salem, Massachusettes, site of the most infamous witch trials,
one building still remains
with ties to that history. The Witch House belonged to Jonathan Corwin, a local leader and magistrate who sent 19 accused witches to the gallows. These are just a few of the places and artifacts that harken back to a time where mass hysteria hurled entire societies into chaos. A history that should never be forgotten.
In the thread below, tell us about some of the places or things dedicated to the history of witches and the witch hunts that you found unforgettable. Where is it located and what was it used for? What's the history behind the place or object? Be sure to include any pictures you might have as well, and drop in your Instagram handle. Your response and photo may be included in an upcoming round-up article on Atlas Obscura.