During the winter months, the weather can become outright brutal in certain parts of the world. Stepping outside here in NYC can often feel like venturing out for an Arctic expedition. However, across the globe exist wondrous and extravagant places that you'll only get to experience by braving the cold.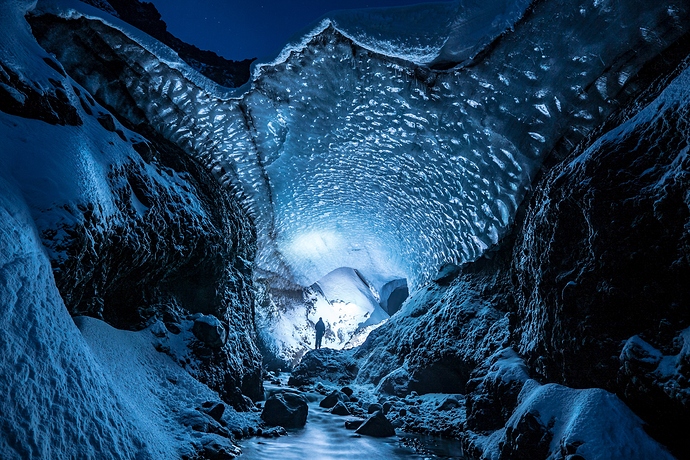 (Image: Jonatan Pie/ Public Domain)
Each year less than 100 miles from the Arctic Circle, in the Kemi region of Finland, a castle that appears to be plucked from the pages of a fantasy novel is created. Every January, various artists and designers craft a massive snow castle, complete with a 12-foot high wall, hotel, and chapel for guests who want a wintery wedding. For an even grander display of ice artistry and a shivering good time, look no further than the Harbin Ice and Snow Festival that takes place in Harbin, China. One of the world's largest ice and snow festivals, the event has been ongoing since 1963 and features teams from across the globe competing in design and sculpting competitions. If you happen to be in Juneau, Alaska and are feeling adventurous, then kayak over to the Mendenhall Ice Caves. Inside the 12-mile long Mendenhall Glacier is a gorgeous, fluorescent blue ice cave that feels as though you've entered another realm drenched in beauty. These are just a few of the amazing places around the world that require a couple of layers to enjoy, but are nonetheless marvelous. Now we'd like to see more!
In the thread below, tell us about some of your favorite places that require dealing with frigid temperatures. Where is it located and what's its history? What did you find most intriguing and what prompted you to take this visit? From glacier parks and ice museums, to places that can only survive under frigid temperatures, such as the Svalbard Seed Bank, any of these chilly locations are fair game. Be sure to include any pictures you might have as well. Your response and photo may be included in an upcoming round-up article on Atlas Obscura!