True, though I prefer Chihuly in 'small doses.'
Los Cedros is an Arabian horse training/boarding facility in Carefree, Arizona that looks like it belongs in Saudi Arabia. It is open to the public. It's pretty amazing to be able to just walk in and see the facility (and the horses)!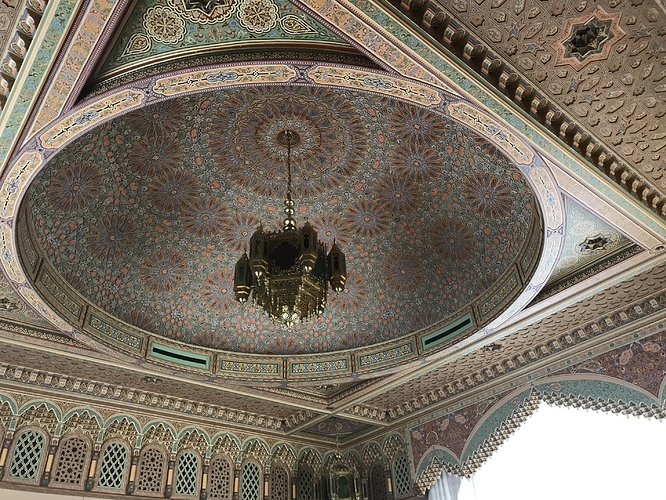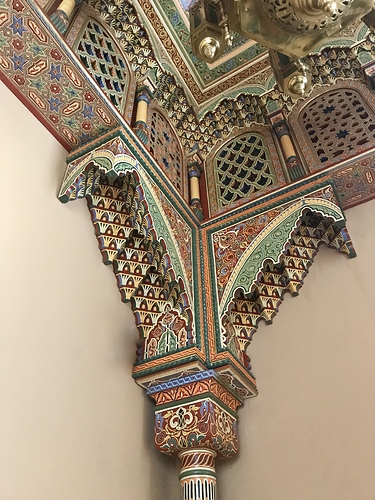 https://www.capa.com/venues/detail/ohio-theatre
The Ohio Theatre, Columbus, Ohio. A former movie palace (it still has the organ, which is used to accompany films during the summer movie series), which was restored and is now home to the Columbus Symphony and national tours of Broadway shows.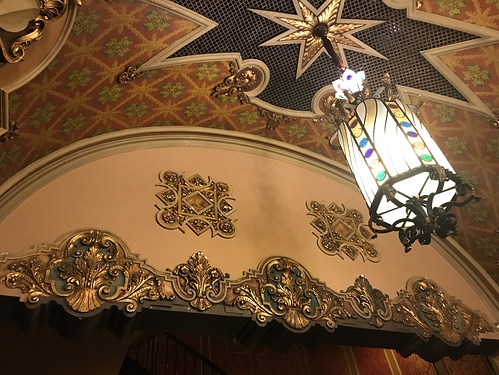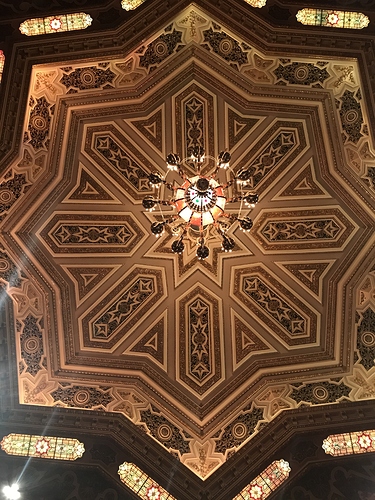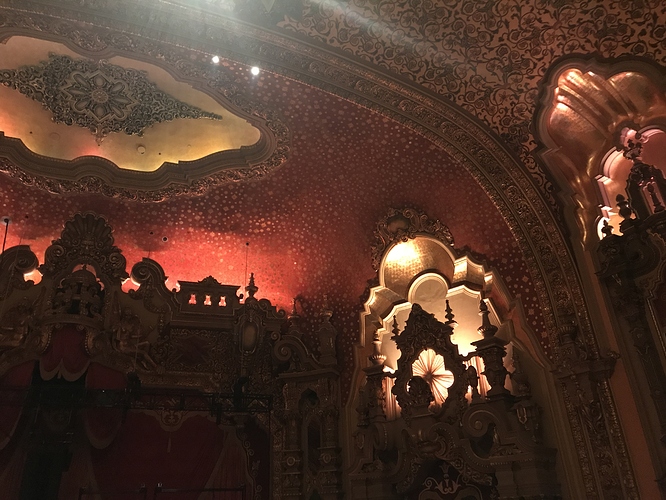 Saint Nicholas Cathedral, the Russian Orthodox cathedral in Washington, DC.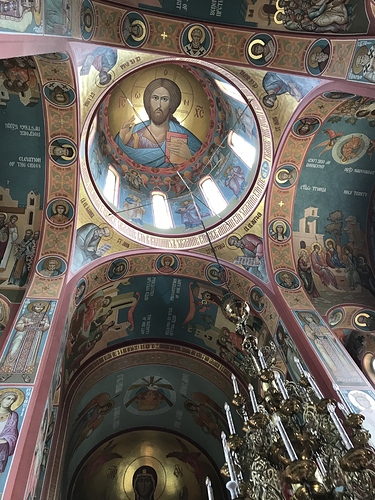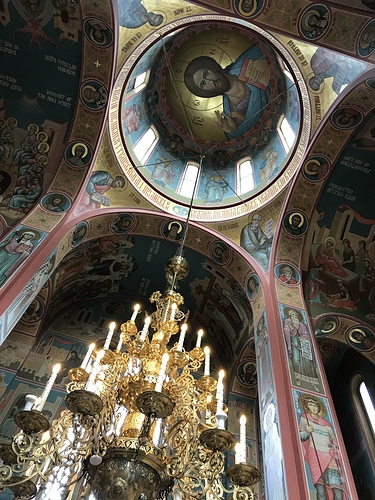 My favorite ceiling is in the Chiesa Santa Maria Dei Miracoli in Venice. Every painting in the coffered ceiling is different.

I was there! So beautiful!
I'm from Racine. Thanks for adding the FLW photos!
Yay! I love Racine. Fine architecture, lovely landscape, delicious pastry!
Kringle! BTW, if you are anywhere near a Trader Joe's, they have O&H Kringle from Racine every so often.
I don't have to go anywhere to see this incredible ceiling, except to my job : at Louis Sullivan's 1889 Auditorium Theatre of Roosevelt University, in Chicago, whose Historian I just happen to be. From the very first night we opened, we were praised as "the Parthenon of America", and Chicago zoomed to the top the pile, not only for our size – we were the biggest opera house in the world – but also, for our beauty, as well as for our acoustics, which allowed as un-amplified whisper to be heard in the highest, and therefore, the most inexpensive seats.
Here's a ceiling that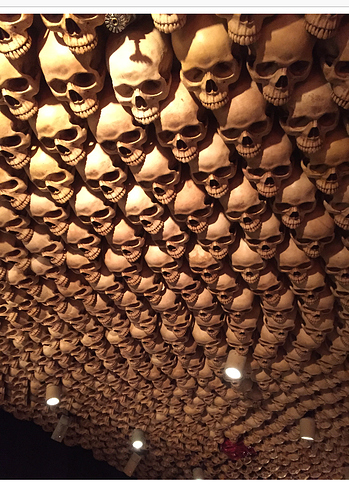 my friend worked on for quite a long time. It's at Lolita, a restaurant/bar in the Fort Point section of Boston, on Summer St.
That's incredible where is it located
Capela de Ossos Bone Chapel in Faro Portugal is covered in skulls, look up and the ceiling looks back! "Stop here and think of the fate that will befall you…"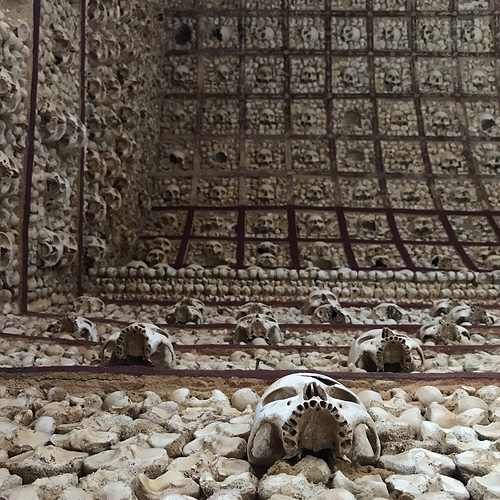 Grand Mosque of Oman was incredible - apologies for the poor quality photos; better ones can be found here: Sultan Qaboos Grand Mosque, Muscat: An Iconic Architectural Wonder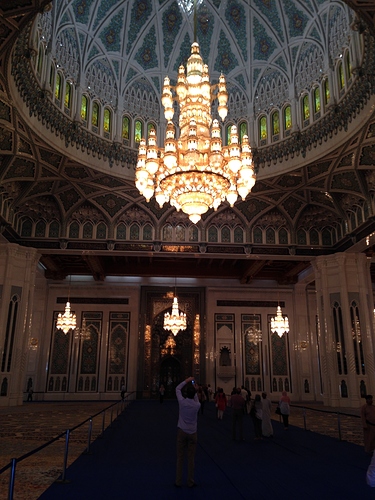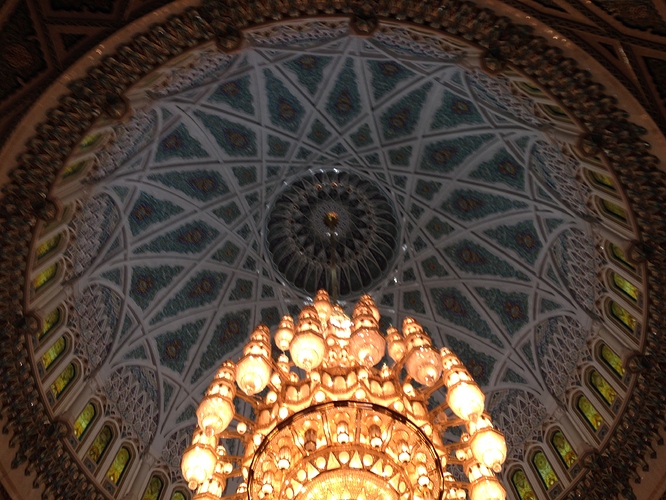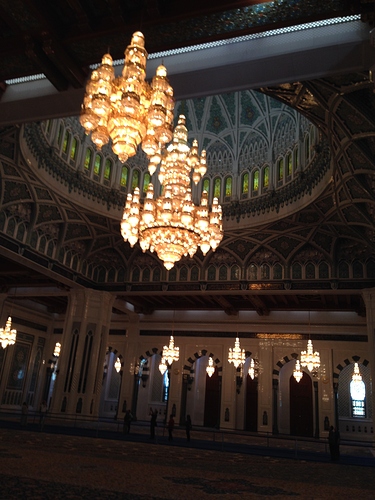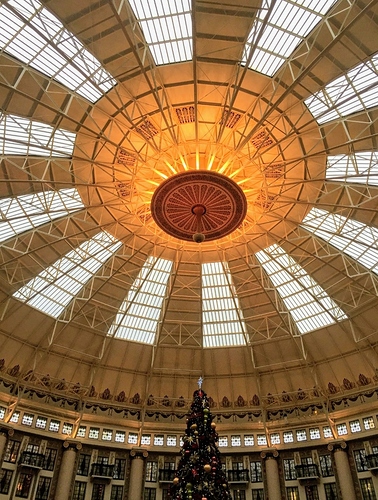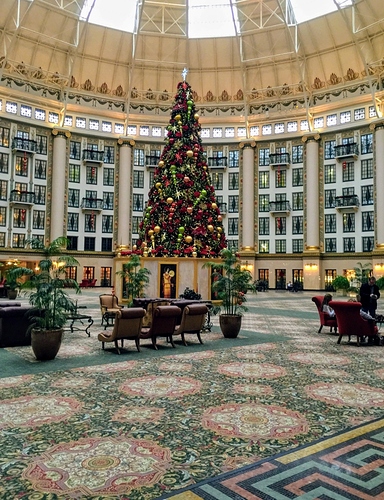 Unlikely location: West Baden Springs Hotel, West Baden, IN. Beautifully restored hotel brought back from ruins.
The Galleria Vittoria Emanuele II in Milan, Italy is a marvel of iron and glass soaring above intricately carved stone, connecting Piazza del Duomo and Piazza della Scala, creating a light-flooded public space below. There is so much detail in the facades, one forgets to look up and enjoy this stunning feat of Victorian architecture. Since visiting it, I have long wanted to use it as a subject matter for one painting, but was too daunted to tackle the complex subject matter until recently. I have used a palette of mostly burnt sienna combined with velvety black charcoal which echoes the "Milan Style" (a requirement of merchant signs to be made of gold lettering on black.) The detail is carefully rendered in watercolour and charcoal and I have tried to reflect the "lightness" of the glass, anchored by heavier stone.