2021-06-30T23:00:00Z → 2021-11-22T00:00:00Z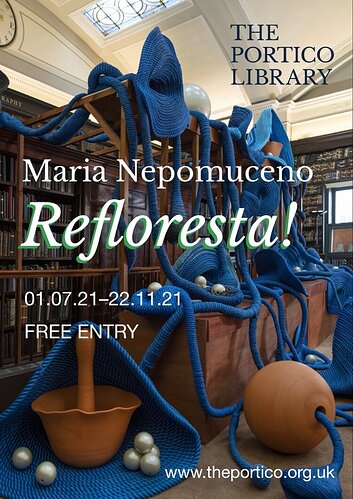 This summer, from 1st July, The Portico Library is helping to lead Manchester's cultural recovery, bringing a groundbreaking installation of immersive sculptural and textile works by world-renowned Brazilian artist Maria Nepomuceno to the city. Accompanying Maria's joyful, spectacular pieces, exhibited under the Library's 215-year-old original Regency-period glass dome, is an evolving display of Library visitors' own drawings created through posing and interacting with the original artworks.
As we emerge from a devastating pandemic, Maria Nepomuceno asks us to remember the emergency of our time. Her exhibition's title, Refloresta! , means 'reforest' in Brazilian Portuguese. It evokes the environment in which the artworks were conceived—Maria's studio among the towering fruit trees of Rio de Janeiro—and her wish for the world to come together to reverse the deforestation still ravaging the globe.
Maria Napomuceno's expansive sculptures combine fluid, organic forms with vivid colours and traditional rope-weaving and straw-braiding techniques. They are shown alongside natural history books and archive materials from the Library's 19th-century collection illustrating Manchester's international and colonial connections during the city's formative years. With spiral patterns evoking biological and spiritual themes, Maria's brightly-coloured artworks bring the vibrancy of the natural world into the Library's tranquil interior.
More information at: https://www.theportico.org.uk/refloresta
Visit us at: 57 Mosley St, Manchester M2 3HY
Contact us at: 0161 236 6785