hahaha This in incredible story. Thank you.
The campus of my alma mater, Twente University, features a piece of art (in quite a prominent location) that was a mystery for a long time: nobody knew where it came from when it appeared in april 1974. Only in 2013 were the makers revealed. All this time, the groundsmen of the University took care of it and even fixed it.
The Dutch-only Wikipedia page for this artwork has more details: Het ding (kunstwerk) - Wikipedia
One of my favorite places to visit is St. Augustine Florida. Flagler College is in the heart of the old city and has a marvelous tour that is guided by current students. On that tour you get to go to the dinning room that has original Tiffany Glass windows. They are stunning! The school started life as a winter hotel for the upper crust of the American industrial era. It has so many beautiful architectural features that I cannot begin to name them all. Highly recommend visiting Flagler College and the surrounding historic area.
Louis Comfort Tiffany at Flagler College
Each year, the graduating class at Meredith College designs and dedicates a doll to the private college. This tradition began in 1936. Each doll is dressed in popular fashions during their year of dedication and are on display in Johnson Hall. The true curiosity about Meredith College is that the college was chosen as the most haunted college campus because of the doll collection.
If you are curious, here is a link to the entire collection, which includes information about each doll: Year-by-Year Doll Listing
We have steam tunnels like this at Southern Illinois University in Carbondale, IL too. I think they're also under EIU. I work in the library and am on a committee that holds trainings but also fun things too. We did a behind the scenes, hidden secrets of Morris Library, and we peeked into one of the tunnels that connects to our building. Creepy looking! Of course there are the urban legends about students sneaking into them and dying etc lol! Pretty sure no one has actually died in one lol! I will look for the photo I took and links of these stories I've found before.
The view of Mt Ranier from the University of Washington Campus is spectacular. A long parkway framed by landscaping and educational buildings provide the sides. The Drumheller Fountain is in the forground.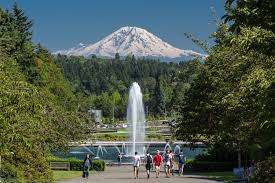 Apparently most colleges have them. I spent a fun few days exploring the ones under Indiana University. Some of the tunnels at St. Cloud State University in Minnesota were open to students, making a trip between buildings much nicer on a cold day.
Lots of people are familiar with the "Golden Dome" at the University of Notre Dame in South Bend Indiana. But how many have seen it from the inside?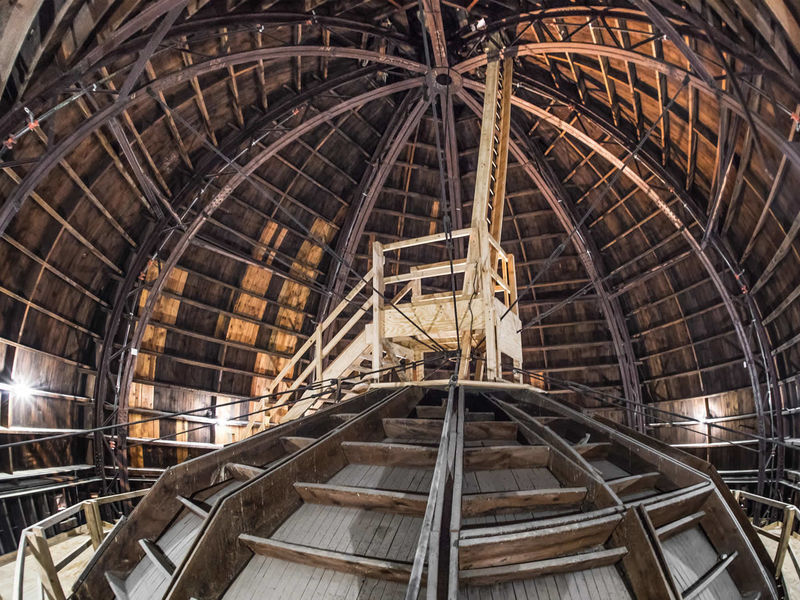 See more at https://dome.nd.edu/
I attended Flagler! That dining hall is gorgeous, with the gilded murals on the ceiling, Tiffany windows, and carved wooden goddesses and cherubs everywhere. I lived on the third floor of the main hotel-turned-dorms, and there were enough odd occurrences to convince me it's haunted. I did go exploring in the old service stairwells but got spooked when a metal spiral staircase covered in spiderwebs started swinging away from the wall while I was on it, so I didn't continue down to the tunnels below.
Capilano University in North Vancouver, BC, Canada, is situated in the middle of a forest close to the mountains. There are lots of cool trails to hike nearby, and we connected one of them with the campus to make the Cap U 50 Trail to commemorate our 50th anniversary. It's a short, 1.6 km trail that students, faculty, and staff can do to take a break from it all.
Nine years ago, I retired from Northwestern University and my wife, an architect, and I began traveling around the country photographing American collegiate architecture and started our business, University Icons. Since then we have visited over 600 campuses in the "lower 48." We have have encountered a lot of interesting and unusual things buildings and details, but among the most memorable was when I set up my camera in front of Old Main at the University of Arkansas. As I was looking in the viewfinder, fiddling with composition, focus, etc., when I noticed a hand appear. I looked up to find a guy climbing along the side of the building. We struck up a conversation and learned that he was simply practicing his rock climbing skills.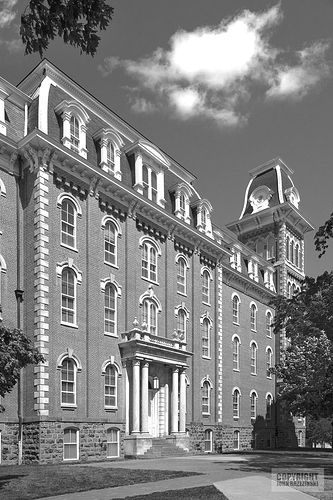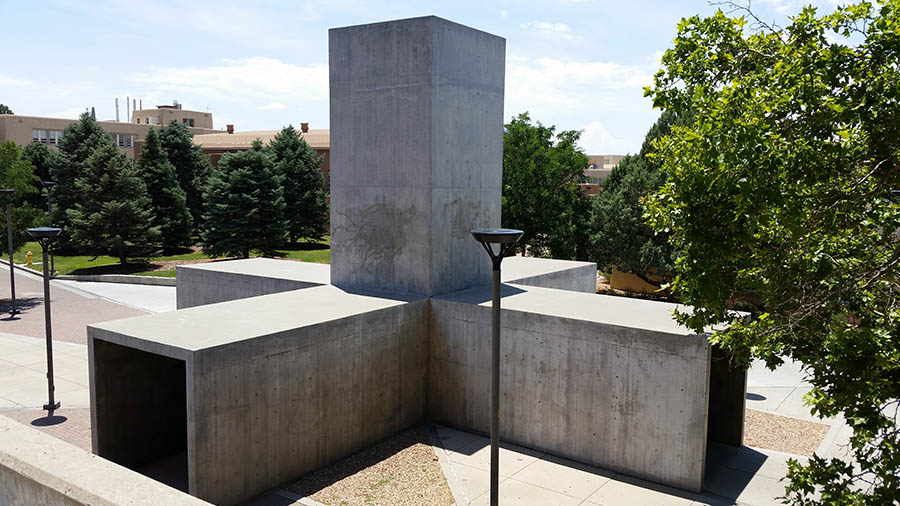 At the University of New Mexico, I was stunned to find an art installation modestly titled, The Center of the Universe.
The installation is a brutalist cement structure with no obvious purpose, effectively near the most populated area of campus.
360° view of Center of Universe
Quoted from the UNM Website - (requires searching - about 2/3 of the way down)
Bruce Nauman lives near Galisteo, New Mexico, and is represented by the Sperone Westwater Gallery in NYC. His "Center of the Universe" is a conceptual representation of the x-y-z axes of a Cartesian coordinate system. When the viewer stands in the center of the piece, they are located at the conceptual center of the universe. "The Center of the Universe" is an example of Conceptual Art, art in which concepts or ideas in the work are central, taking precedence over traditional aesthetic and material concerns.

LOCATION: Yale Mall, east of Mitchell Hall
MEDIUM:Poured concrete and sodium vapor lights
SIZE: 50' x 50' x 50'
DATE: 1988"
New College, originally designed to be 3 years of tutorials & yearly comprehensive exams, had its dorms built by world renown I.M. Pei. That was way back, 50 years ago. Now they are talking about tearing them down. The Sarasota Herald has an excellent article with photos. I.M. Pei left his mark on Sarasota's New College - News - Sarasota Herald-Tribune - Sarasota, FL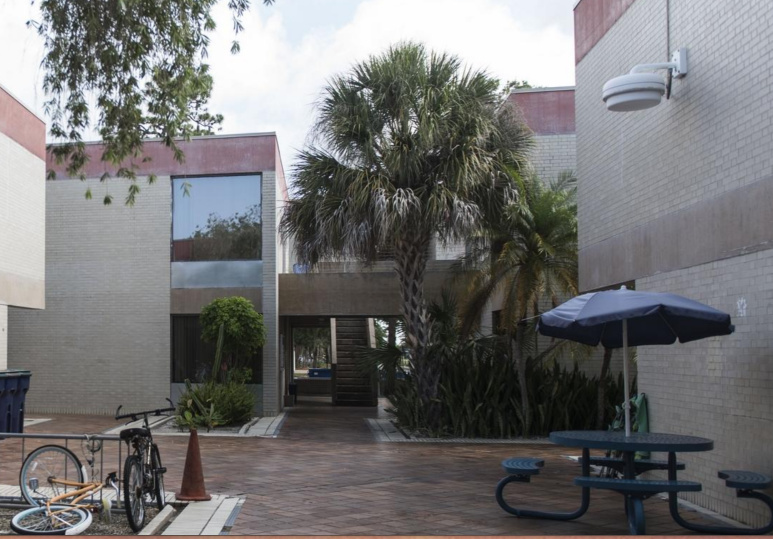 "Dividing the Light," a Skyspace by James Turrell, is the most recent and perhaps most glowing example of public art on the Pomona College campus. Opened in fall of 2007, the architectural installation heightens the viewer's awareness of light, sky and the activity of perception.
Link: https://www.pomona.edu/museum/collections/james-turrell-skyspace
Never knew what the inside looked like wow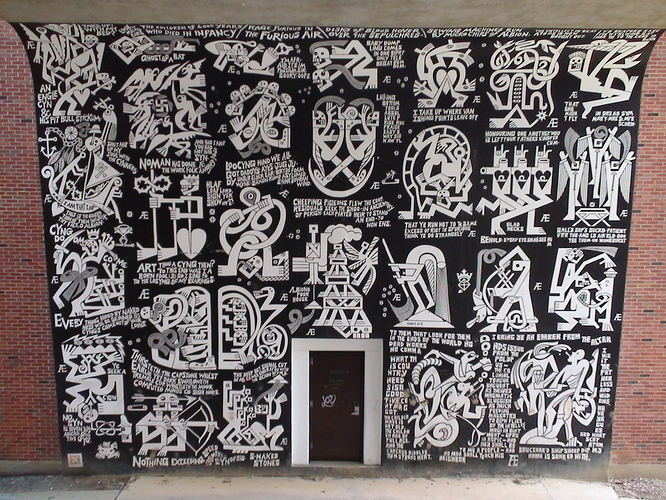 Æthelred Eldridge mural on the campus of Ohio University in Athens, OH
Eldrige was an associate professor of painting at Ohio University's School of Art and Design from 1958-2014. He's one of the few artists listed in the
Dictionary of the Avant-Gardes
by art critic Richard Kostelanetz. His work, which tended towards the esoteric, might be known most specifically in a regional sense by his 50-by-80-foot mural in the amphitheater of Siegfred Hall on Ohio University's campus.
Campus tunnels are definitely a recurring theme and most large campuses do seem to have them, at least where it is colder and the ground is suitable. I worked at a university for several years and actually went in, mostly out of curiosity but loosely it was related to my job in IT. This particular tunnel was a mile long IIRC right down the middle of campus and had a couple of branches. I wish I had a pic of the engineering map. It had been bored into the limestone around the 1980's and the main purpose was to deliver steam to the buildings for heat in the winter. But a 8-10 foot diameter tunnel reaching all the key buildings quickly becomes attractive for telephone, computer cables, TV cable, or any other physical need. We walked in at the low point but I also saw a couple of occasions where the telecom guys would drop down a long ladder shaft to work near one of the buildings on the hilly side of the university.
Being in limestone it was much like caves in the area, complete with water running through the bottom, some from ground water penetration but also from the steam pipes. The pipes had a lot of patches on them, seems they were not holding up well and blow-outs happen, when that happens all the fancy fiber optic and other stuff tends to get blasted with steam so a lot of patching goes on.
The coolest thing I found in there was some delicate gypsum like crystals in a deposit the tunnel struck, the second coolest thing I found was the way out. It's hot and humid in there and once you get over the wow-neato factor it's really all the same bland rack of bolted on pipes and wires for yards and yards.
So there is some danger in the service tunnels, some interesting stuff too but mainly nothing you'd want to risk getting in trouble to break gate locks and explore.
As an alum of Miami University (Oxford, Ohio), I always think of Upham Arch as an iconic landmark. It is where many marriage proposals occur. Another favorite is the 1 mile long Slant Walk and its symbols of learning, such as the armillary, university seal, library, historic buildings and more.
My undergrad library has a clock tower with a animatronic jester that appears allegedly at midnight to fanfare and does a recorded spiel about time. I say allegedly because when I was at East Carolina in the late aughts, there was many a late night at the library and I never saw this jester! But the Joyner Jester has an online presence! You can read about him at Clowning around at Joyner | News | theeastcarolinian.com or his Twitter @ ECUJoynerJester