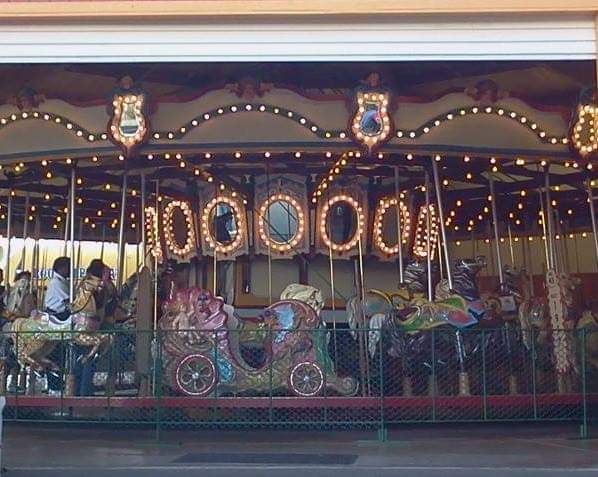 1917 Philadelphia Toboggan Company #43 portable merry-go-round. Last known operating one that was trailermounted. Puyallup, Washington.
The Gesa Carousel of Dreams in Kennewick, Washington. Not just because I'm one of the volunteer operators, but because it is simply one of the most stunningly beautiful carousels I have ever seen ! Antique horses and chariots restored to true museum quality, plus two newly carved figures (a husky dog and a cougar) set on a new frame and mechanism by Carousel Works.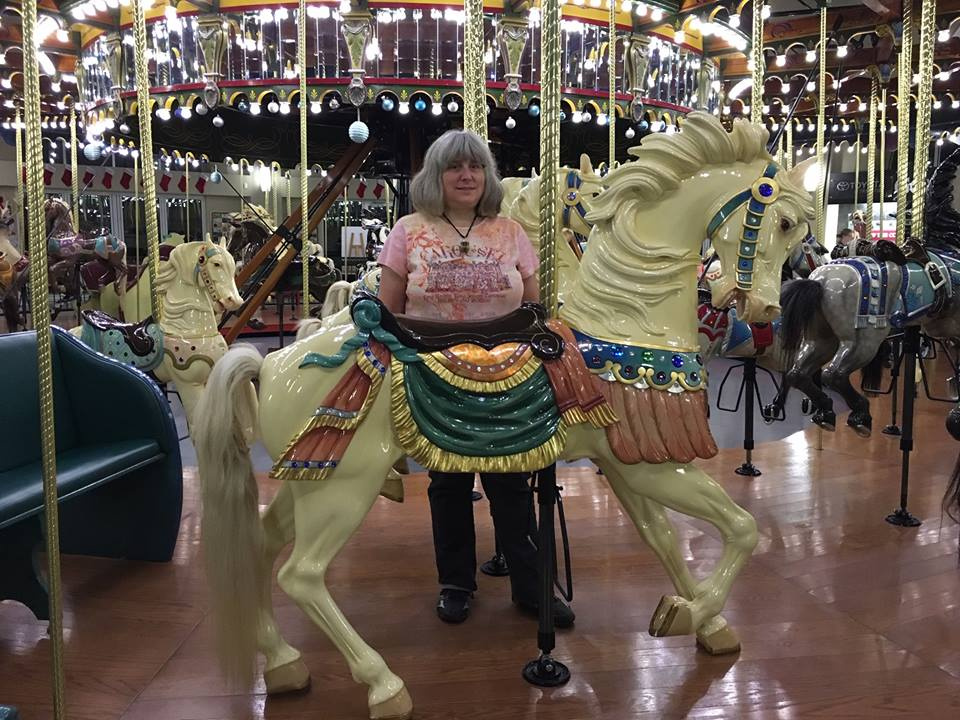 Thanks for the great info and for sharing !!
You are most welcome. Albany is a charming town and the carousel is a great symbol of their community spirit.
My husband and I travel to the Butchart Gardens in British Columbia, Canada, located near Victoria on Vancouver Island, for the prime reason of visiting their carousel, called the Rose Carousel.
It has two Great Pyrenees dogs and as owners of 3 Great Pyrenees's we had to make a trip to see it. I believe the only carousel out there to feature Great Pyrenees. It was beautiful and so were the gardens.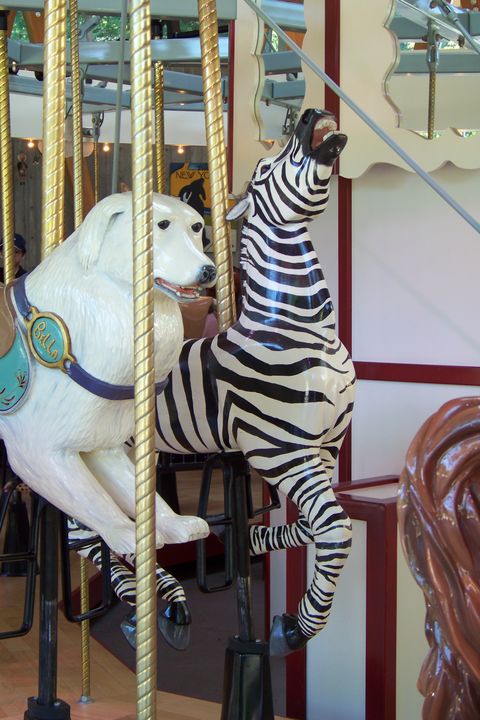 I have no idea if this carousel has any historic significance - I suspect that it doesn't - but the way we happened upon it was mystical. On one of our first nights in Rome, crossing the Tiber towards Castel Sant'Angelo, dusk was falling, it was threatening to rain, and we were quickly falling in love with this ancient, mysterious city. Walking across the bridge, we saw lights nearby, and went to investigate - and found a carousel. No one was around, no one was riding it, there only seemed to be one grim man in the small booth nearby, and we were all quite taken by the setting. I insisted that we ride it, as I had an overwhelming sense that if we boarded the carousel, we might be swept away into a magical parallel universe.
We weren't, but there was something so magical about being the only people to ride that carousel on the banks of the Tiber as night fell, rain fell, and the lights glowed in the darkening air.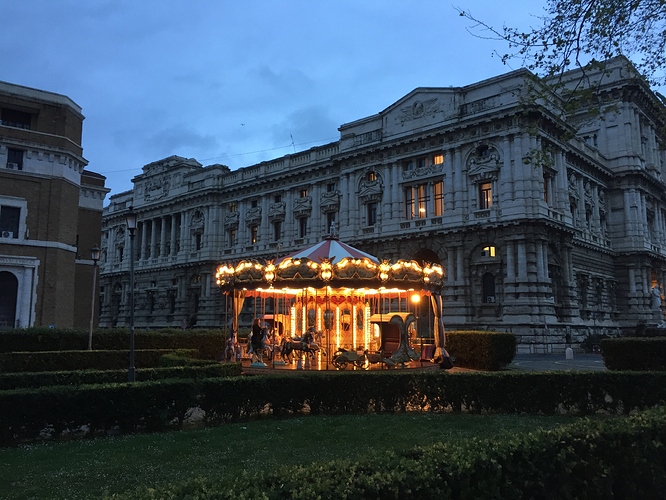 House on the Rock in Wisconsin has the world's largest carousel. The only catch is you can't actually ride it. But it's absolutely stunning.
Sea glass carousel in Battery Park NYC.
There are 2 double-decker carousels on both sides of the bridge by the Eiffel Tower in Paris.
jardin des tuileries carousel in Paris. Plays children's songs in French and if you go at a slow time (like a winter evening) they will let you go for a few more spins.
The Dodo carousel in Paris will only let children ride so beware of that if you are an adult enthusiast.
I was coming to post about the same thing! Also seen at the Brussels Christmas Market. Unfortunately, I only have night photos.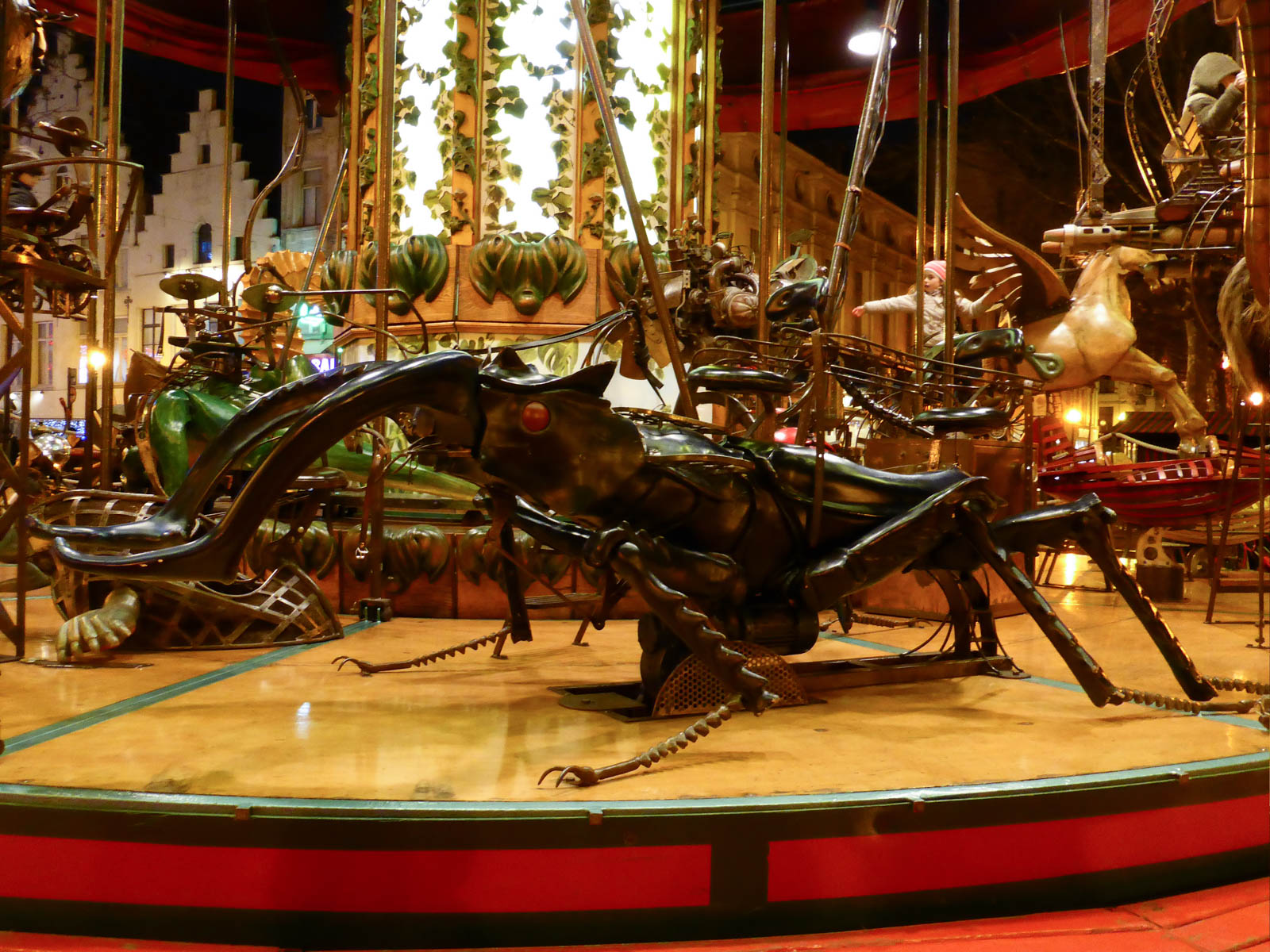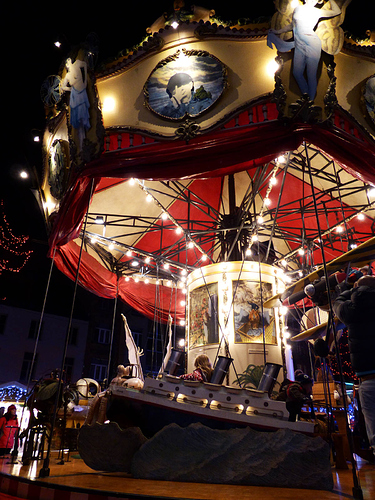 The Kneobels Grove Grand Carousel has been my long time favorite!
The Knoebels Grand Carousel was built in 1913 at North Beach, Long Island, where it operated with two other machines. The large four-abreast carousel was built by George Kremer, who bought the horses for his older Looff platform from wood-carver Charles Carmel. Carmel was born in Russia in 1865, immigrated to the United States in 1883, and carved carousel figures in his Brooklyn shop until his death in 1931.
Henry Knoebel, the park's founder, purchased the machine in 1941 from Riverside Park in Piscataway Township, New Jersey. Carrying 63 horses and three Looff chariots, the Knoebels Grand Carousel is one of the largest carousels in the world. In fact, it's one of the few carousels where you can still catch the brass ring for a free ride! Even if all you catch are steel rings, it's still great fun! In the 17-year history of the internationally acclaimed Golden Ticket Awards, Knoebels Grand Carousel has been voted #1 as the "Best of the Best" in the amusement industry.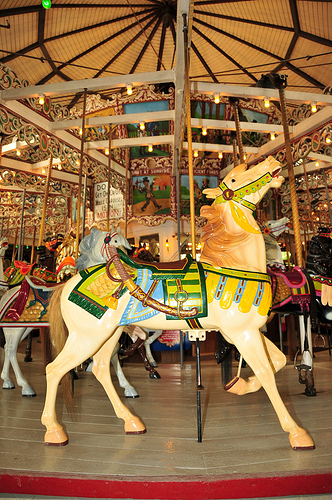 The Gesa Carousel of Dreams is a Charles Carmel carousel. Charles Carmel carved for Charles Looff before he went out on his own.
I have been there with my grandchildren. Good memories were made by all.
I'm sure that the creature in the centre of the picture is meant to be a domestic dog of some kind , maybe a corgi or whatever.
But it really looks to me like a canine animal called a "Dhole" , a red coloured wild dog from many parts of Asia which kills its prey by disembowelling it and eating it while its still alive. An unlikely addition to a carousel , but it would be awesome if it was meant to represent a dhole.
Love it !
Love the insect thing , is it a lobster? or locust? , reminds me of that giant critter from New Zealand , the Weta.
Who needs history when you have an amazing story like that?
I loved that museum! We were in Sandusky to go to Cedar Point, and stumbled across it. Easily spent 2 hours there, probably more.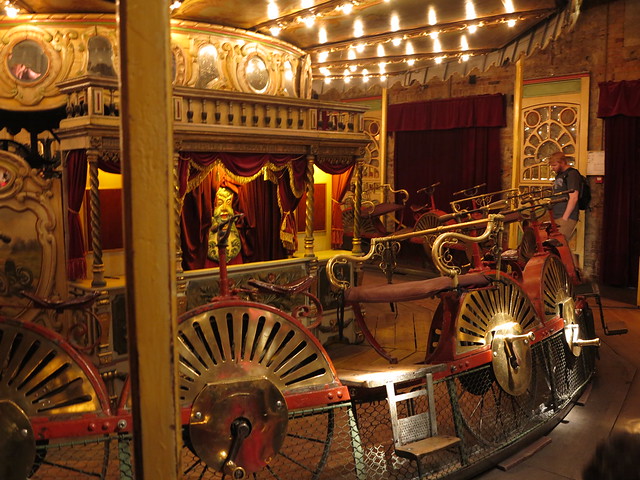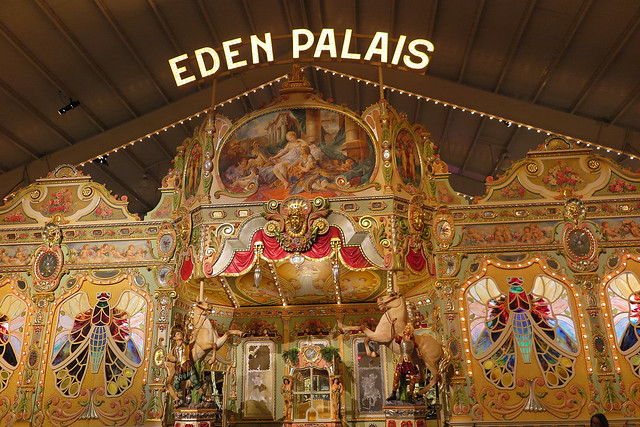 Bicycle Carousel Le Musée des Arts Forains in Paris and the Carousel at Sanfilippo Foundation outside of Chicago
This is PTC (Philadelphia Toboggan Company) #17 The Riverview Carousel. It has all the original animals, still in their original placement and is one of only three remaining five-abreast carousels known to exist. It was added to the National Register of Historic Places on January 27, 1995.
Every time my family went to Knoebel's Grove Amusement Park, I made it a point to ride the carousel numerous times. It is one of the few with the original brass ring dispenser and I grabbed as many as I could!
Hersheypark in Hershey, PA has a beautiful old carousel, too. I do not know the manufacturers of either of these works of art.
The city of Lancaster, PA has a lovely old carousel that was a fixture of Rocky Springs Park for many years. When the park closed down, the carousel spent time at Dollywood and another location. Through private donations, it was purchased and returned to Lancaster, where it has waited for years for a new home. Many residents would like to put it in a place of honor where it can be ridden again. I don't know what is holding it up. I believe it has been partially restored, if not completely. It too has a brass ring dispenser and has many happy memories for the locals. I hope it's soon moved to a good location and opened for business again!
It's gorgeous, isn't it! My son & I discovered it on a trip @Oz when he was 9 y.o. Along with the wooden sailor statues on the esplanade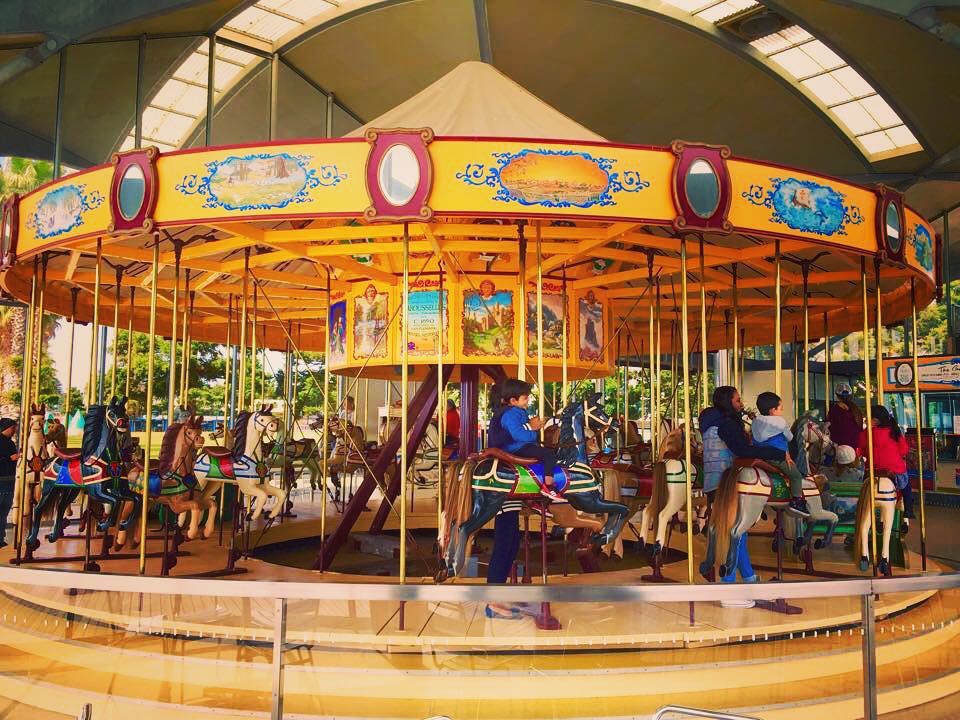 I've just returned - on this beautiful, sunny, blowy, breezy morning - from a walk along the Asbury Park, New Jersey, boardwalk. Things have certainly changed over the years for this NJ shore town - from its beginnings as a destination spot in the late 1800s, to my introduction to it as a fun amusement area when I was a little kid in the 1950s, to a depressed, drug infested mess in the 1980s, and now in its rebirth as a food/music/event destination, complete with a new, posh high-rise a block from the boardwalk. Convention hall is bustling with events and concerts, and the boardwalk restaurants and shops, as well as those along Cookman Avenue, are packed. However, there's a forgotten area in Asbury Park - the south end Casino and Carousel House. The bones are still there to support a spectacular revival, but I suppose the money and interest are not. Both structures are gloriously Victorian and would be magnificent if restored. Imagine a carousel back in the beautiful building originally built for one! What a draw not only for the city but for the whole north Jersey shore area. Back in the 1950s, one of the shops in the Casino was a Planter's Peanut roastery. The fragrance of the roasting peanuts was intoxicating, and we always stopped by to get a bag of hot peanuts to bring home. They also sold Mr. Peanut products, and I recall a set of little tin nut dishes we bought there. My memories of Asbury Park are precious, and I'd love to see its revival include a rebirth of the Casino.