I live in San Diego, and have ridden the carousel in Balboa Park for 65 years. It is one of the few that still lets you try to catch the brass ring to get another free ride. The 1910 carousel, adjacent to the San Diego Zoo, is a menagerie of animals and all but two pairs are original with hand-carved European craftsmanship. Originally built in NYC, and sent to Los Angeles, it was moved to Coronado in 1915, and then to Balboa Park in 1922. It is also one of the fastest carousels in the USA, clocking in at 13.5 MPH at top speed during the ride!
https://friendsofbalboapark.org/balboa-park-carousel/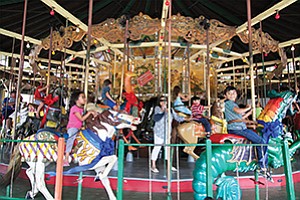 The one at Seaport Village, built in 1895, is also great, but it has only been in that location since 2004.