Ford's Greenfield Village has a Carousel by the same builder.
The Carrousel des Mondes Marins in Nantes, a three story steampunk style carousel themed around the marine life

The House on The Rock, Spring Green, Wisconsin has a magnificent carrousel in one of its galleries surrounded by Angels!
Atlas obscura has an entry in House on the Rock with pix. Seen in action on the American Gods tv show- beginning of season 2.
It is one of the biggest indoor carousels in the world, has many wonderful animals ( but no horses!)
Don't think it actually opens a hole in the universe into Asgard with Odin and the other Old Gods , like in the show.
But they don't allow rides , so who knows?
I live in Brooklyn, which has a lot of great carousels, but it's the one at the Miami Beach Faena Hotel that really stuck with me. It's an art installation of fur and glass creatures by Raúl de Nieves titled "When I look in to Your Eyes I See the Sun." Here's a phone video I took. You can learn more about it here.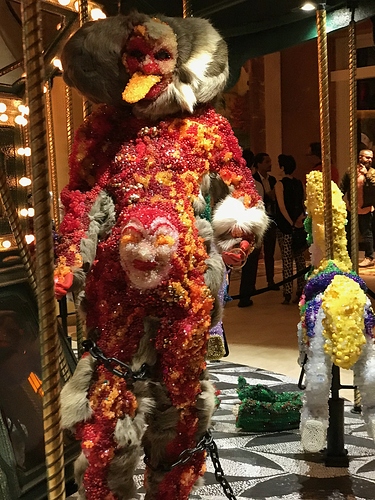 Just touring The House on the Rock is like a visit to another plane of existence. The over flowing mind of another. The carrousel is just one grand facet.
Spent some time in Meridian a few years ago, sad to have missed this! There is a gypsy graveyard there where the Queen of the Gypsies (I want to say from the 1950s) is buried. Her grave, like many of the other gypsy graves, is covered in little tokens of remembrance (coins, bottle caps, stones) and often features a bottle of liquor so that you can have a drink with the spirit of the dead, from what I understand.
I adore the Pullen Park Carousel in Raleigh, NC, which dates from about 1900, making it one the earliest Dentzels still in operation. It contains 52 hand-carved wooden animals (chief carver Salvatore Cernigliaro): 30 horses, as well as ostriches, cats, rabbits, pigs, a lion, a tiger and a goat. Music was originally was produced by a Wurlitzer band organ (wish it still was).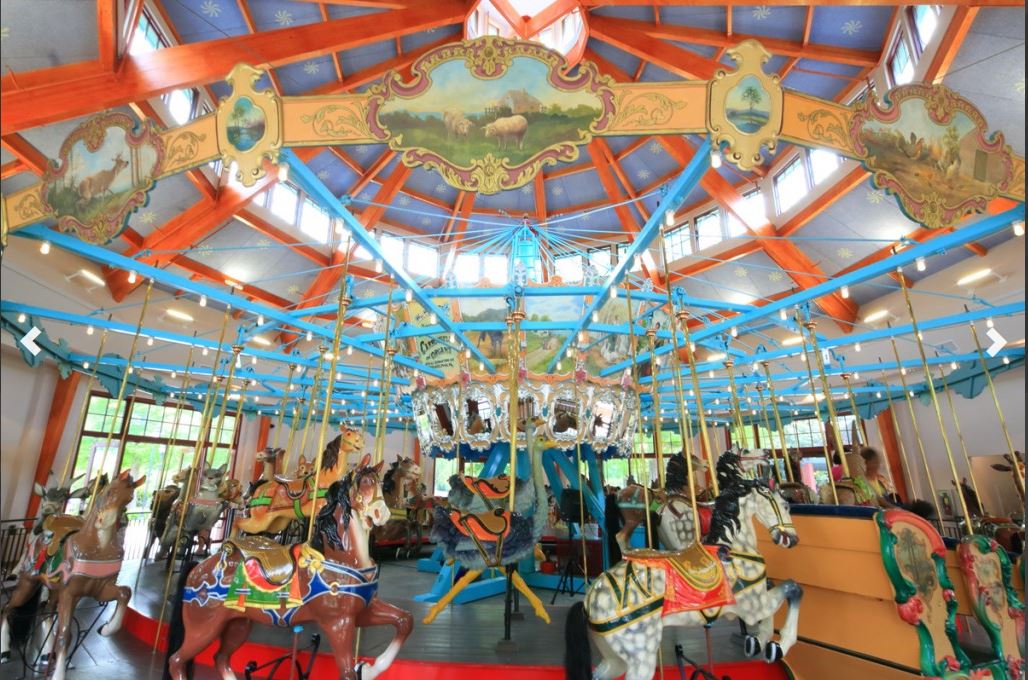 Have no pictures and don't know a whole lot about it, but in the small town of Hull, Massachusetts, on Nantasket Beach, there used to be a big amusement park called Paragon Park, with roller coaster and all kinds of rides and arcades. Some years ago, it was dismantled for condos, but they saved the carousel and it is still there, operating, across the street from Nantasket Beach. Wish I had a picture–there must be some people who have a picture?
The Carousel of Happiness, Nederland, CO, USA. https://www.carouselofhappiness.org Was constructed using framework and running gear of an 1910 carousel from Utah; animal carvings are all recent, carved by local Vietnam War vets. Indoor carousel, a great place to visit…truly a happy place!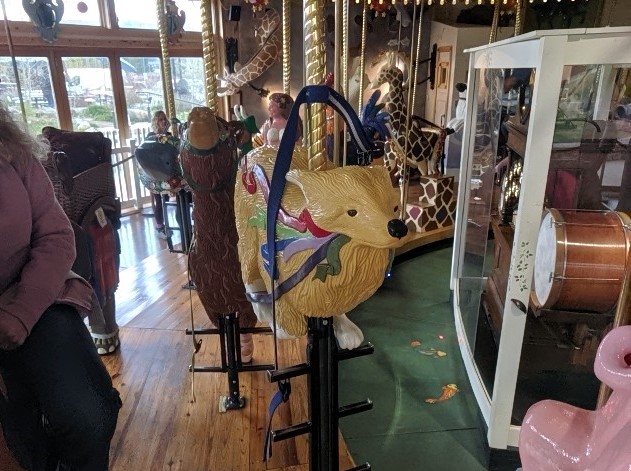 The Merry Go Round Museum in Sandusky OH USA was well worth a visit. They have an indoor classic carousel that you can ride for a nominal cost. My wife and I, and our two children (at the time 4 and 6 years old) loved it. Took about two hours to see everything, from what I remember.
The Children's Museum of Indianapolis has an original restored Dentzel menagerie carousel that still runs daily (except the last three weeks of September) to tunes from a 1919 Wurlitzer organ. (Free for members; $1 for nonmembers.) Dentzel carved the animals (horses, lions, tigers, giraffes, goats) before 1900, and they were first put in place in 1917 in a Mangels-Illions mechanism in the Broad Ripple Amusement Park in Indianapolis, Indiana. All but one of the animals on the restored ride are original. https://thehistory.childrensmuseum.org/collections/iconic-objects/carousel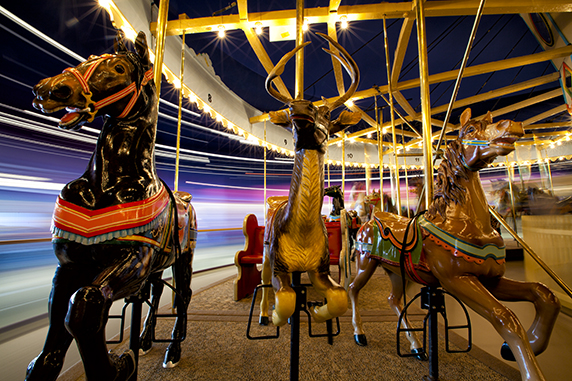 The enchanting Carousel of Happiness in the tiny mountain town of Nederland, Colorado! Hand-carved, whimsical rideable animals on a historic 1910 carousel chassis, with music from a 1913 Wurlitzer band organ. Creating the carousel was a decades-long labor of love by Nederland resident and Vietnam vet Scott Harrison. Carousel rides are $2. My favorite animal to ride is the chicken with a pearl necklace.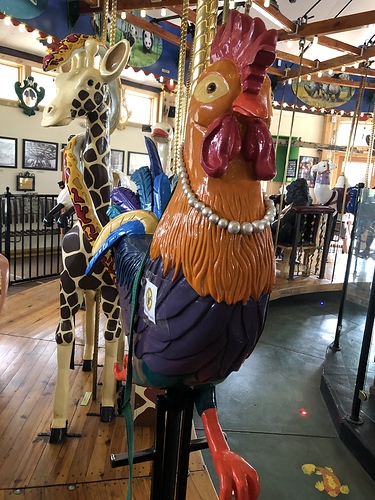 If I remember correctly, it's more than 200 animals and, as mentioned, not a single horse — but plenty of unicorns!
This photo of a burning carousel in Bergamo, Italy, made the rounds at reddit and social media. A lot of puns followed ("The end is neigh!" "The stuff of night mares.") It immediately brought to mind this old Todd Rundgren song.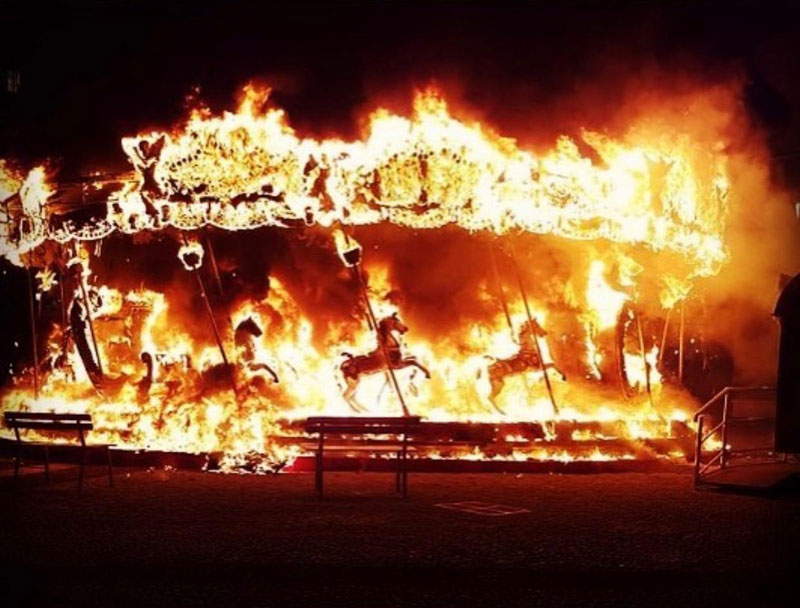 Hope I'm not repeating any story here, but the Silver Beach Carousel in St. Joseph, MI by the shores of Lake Michigan has quite a story and connection with carousel societies. Silver Beach Carousel - History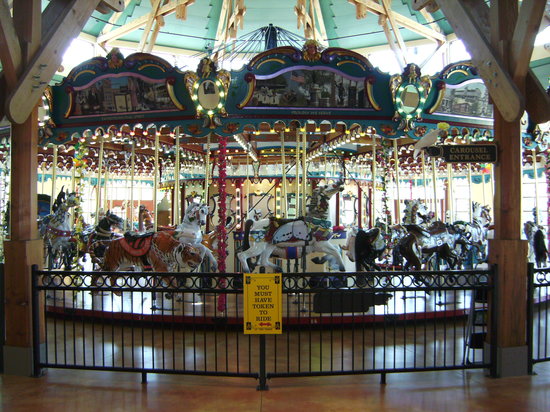 Philadelphia Toboggan Company #6 at the Kit Carson County Fairgrounds in Burlington, Colorado. Originally purchased for Elitch Gardens in Denver it came to Burlington in the early 1920's. It still has its original paint and the original Wurlitzer Monster Military Band Organ. It is open from Memorial Day to Labor Day and rides are still 25 cents. As a bonus it is also open on the first Sunday in December when it is decorated for Christmas and they play Christmas music on the organ. https://www.kitcarsoncountycarousel.com/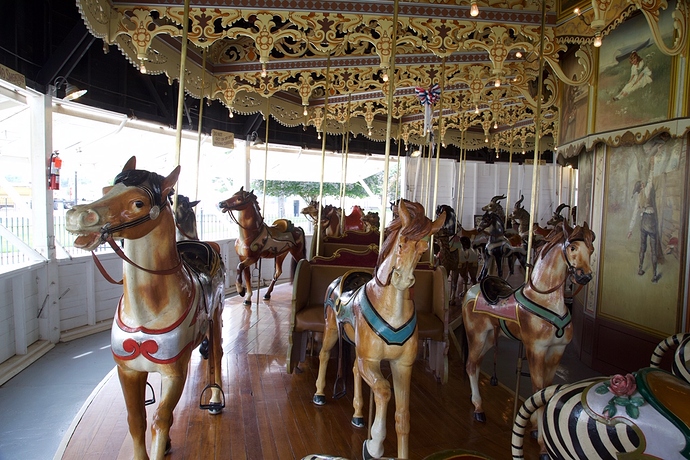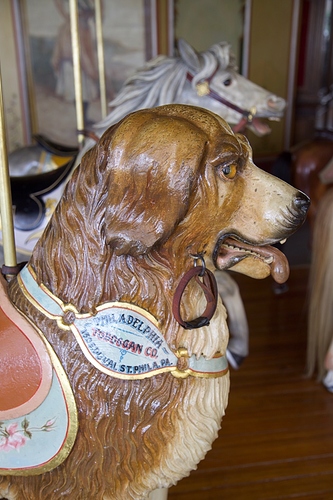 You are correct, that's why its nicknamed "The Queen city".
The park and carousel doesn't have the same feel as it did when I grew up there as a kid. It was a vibrant park with big trees, playgrounds full of kids and snow cone stands, but time has passed, the city is in serious decline, and in my opinion, that takes away significantly from the carousel experience. Its still a landmark, but the experience just isn't the same anymore.