Across the globe, from small villages to sprawling metropolises, you can find a bar, tavern, or local watering hole to drown a few sorrows. However, not all bars are made the same, many offer a bit more than a cold one. Some are historical centers that have been around for centuries, others offer surroundings that are truly one of a kind. With that said, let's toast to the new year with some of the most unique bars the world has ever seen!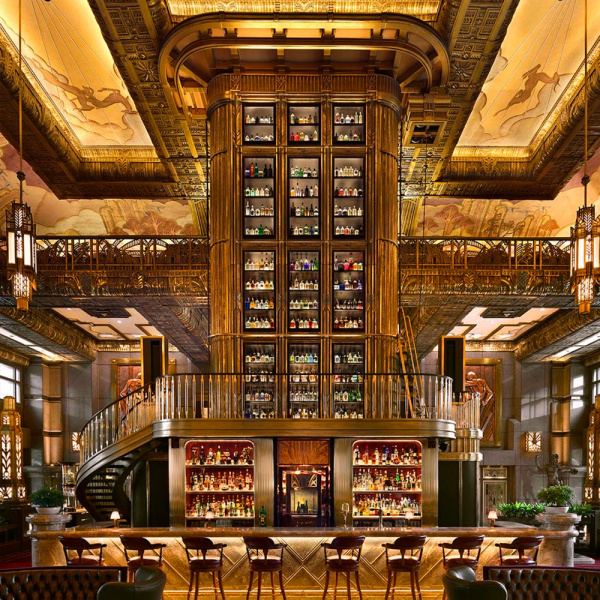 (Image: Dayana Rizal/Public Domain)
When in Ridgedale, Missouri travelers can experience a true watering hole at the Bat Bar in the Lost Cavern Cave. Located in the Ozark Mountains, visitors to the Lost Canyon Cave & Nature Trail can travel along the scenic Eagle Pass, then journey into the cave to enjoy a cocktail while viewing a gorgeous waterfall. If you fancy subterranean trappings and happen to be in Nottingham, then stop by the city's oldest hotel, the Mercure Nottingham City Centre George. Twenty-six feet below the hotel is the Lost Caves Bar. It's uncertain why these grottos were created, but they have been transformed into a unique haunt to enjoy a glass of gin from your sandstone chair. Perhaps you're not in the mood to navigate a cave or venture underground for a drinking experience. Perhaps you're just looking to have an adult soda somewhere you never thought you would. If that happens to be your muse, then head over to The Washhouse in Manchester, England. What appears to be a laundromat with limited equipment actually houses a secret bar. However, be sure to call ahead to book the one mysteriously large washing machine inside as space is limited. These are just a few bars around the world that offer much more than a cocktail. Now we'd like to see a few of your favorites.
In the thread below, tell us about some of the bars you've visited over the years whose decor or location was a truly unique experience. Where was the bar located and what made it so special? Why did you decide to venture inside, were there any other unusual trappings in the bar? Any interesting spirits or history? Tell us about it! Be sure to include any pictures you have or can find. Your response and photo may be included in an upcoming round-up article on Atlas Obscura!