Across the globe exists magnificent displays of architecture and craftsmanship that were created not only to leave future generations in awe, but to honor those destined to spend eternity inside. These amazing tombs and mausoleums were also seen as status symbols, sending their eternal inhabitants off to the afterlife with the same level of pomp and circumstance they enjoyed in life.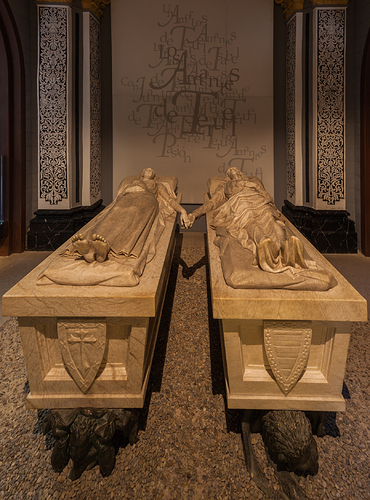 !
(
Image: Diego Delso/Public Domain)
After the fall of the Saadi Dynasty, the Saadian tomb housing the remains of the dynasty's most important figures was sealed shut. Once the tomb was rediscovered, inside were columns made of Italian Carrara marble, gold fixtures, a garden, and some 66 princes interred among other royal figures. Inside the Monastery of Alcobaça, sits an ornate sarcophagus, adorned with magnificent religious carvings. There lies Inês de Castro, the crown prince of Portugal's lover. After his father had her executed, Prince Pedro had Inês placed in a lavish tomb inside the monastery. Upon his death, he was also interred in the monastery. Far from the pyramids of prominence in Egypt, reside a few pyramids that were of equal importance to members of the 9th-century Xia Dynasty. These hive-shaped constructions are believed to house the imperial remains of the Xia Dynasty, whose kingdom all but vanished at the hands of the Mongols. These are just a tiny, almost microscopic, sampling of the marvelous tombs and mausoleums across the globe that are macabre and magnificent. Now we'd like to see more!
In the thread below, tell us about a tomb or mausoleum you visited or researched that is simply unforgettable. Where is it located, and who was it constructed for? What were some of the most mesmerizing features, is there any unique history behind its existence? Be sure to include any pictures you might have as well, and drop in your Instagram handle. Your response and photo may be included in an upcoming round-up article on Atlas Obscura.