Across the globe there are magnificent, yet macabre, displays of bones. These range from the tombs of ancient kings and leaders, to the catacombs that snake their way beneath the streets of Paris. They can be awe-inspiring and stomach-turning all at once.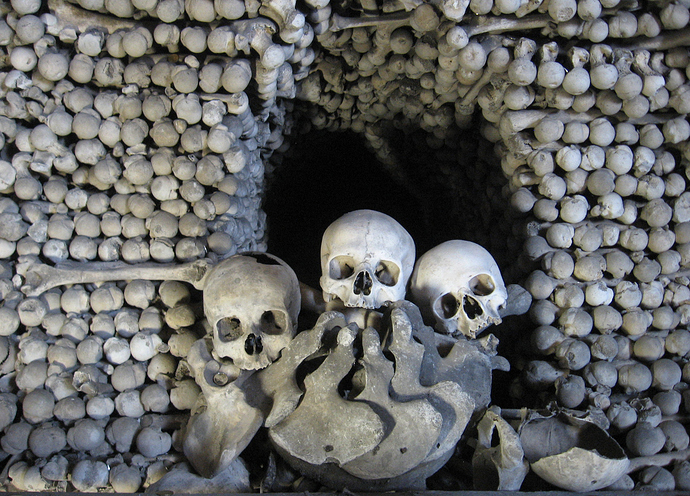 (Image: Jan Kameníček/Public Domain)
In Évora, Portugal, you can find the Chapel of Bones, a 16th-century church where every wall and pillar is covered with skeletal remains. Deep in the heart of Czechia is the Sedlec Ossuary, commonly known as the "Bone Church," where a chandelier comprised of human bones hangs over visitors as they venture through the church. And it's not just human remains that get all the attention. At the Basilica of Santa Maria e San Donato in Venice, Italy, massive rib bones hang from one wall, purported to have belonged to a dragon slain by Saint Donatus. These are just a few of the places around the world where morbidly fascinating displays of bones take center stage, but we want to discover more!
Catacombs, tombs, churches, museums. In the thread below, tell us about some of your favorite places where bones are on display (although let's leave the dinosaurs out of this one). Where is it located, and what's the history behind the display? Be sure to include any pictures you might have as well, and drop in your Instagram handle. Your response and photo may be included in an upcoming round-up article on Atlas Obscura. Tis the season, so let's see those places with incredible displays of bones!