Where is this?! I am going to Ronda soon!
The tiny town of Casey, Illinois, along highway 70 about an hour from Indiana, is home to 7 of the world's largest things (verified by Guiness) and a bunch of other big stuff. Golf tee, knitting needles, crochet hook, wind chimes, mailbox, rocking chair, wooden shoes. My family discovered it by accident a few years ago and we return once in a while to see what they have added.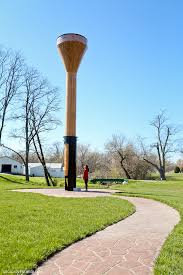 Next time you're in Tulsa, pack a picnic lunch and head for the Blue Whale
- everybody's favorite concrete critter located north of town in Catoosa on Route 66.
Lucy the Elephant in Margate NJ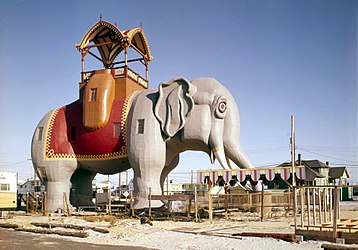 So driving around rural Saudi Arabia recently, and they love the big stuff. Some are really obscure, some are horrendous, occasionally there is real talent. Mostly totally sincere. This is the cream of the crop. Sorry if it's too many - this seems like the right place for them.
On Rt. 202 North,south of Flemington NJ are 2 oversized Adiromdack chairs painted bright yellow. Yellow is my wifes favorite color and I jokingly offered to steal one for her.
The chairs appear at 8 seconds in the video…
How is it possible that you included the world's largest frying pan in Long Beach WA and neglected the world's largest razor clam (that spits water for a quarter) standing right next to it: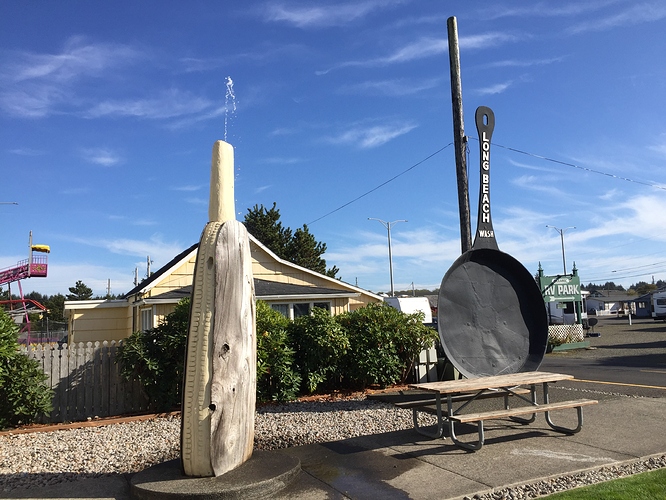 Also, right across the street at the amazing Marsh's Free Museum (home of Jake the Alligator Man) there are a pair of the world's largest chopsticks right in front: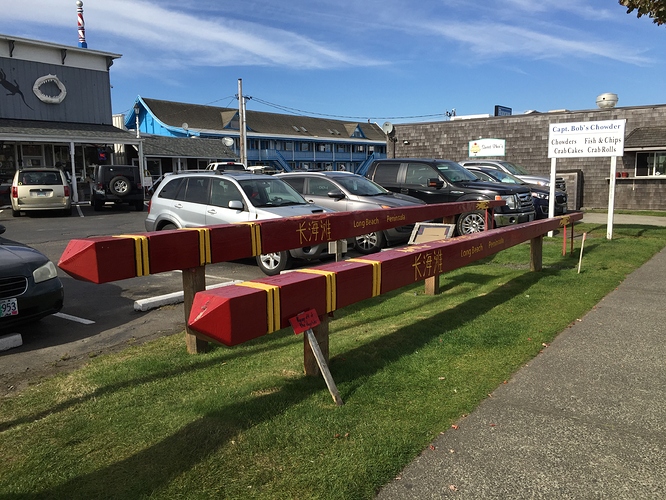 In addition to the world's largest bison in Jamestown ND and the sculptures on the Enchanted Highway posted by another reader, I-94 also hosts Salem Sue, the world's largest cow in New Salem ND: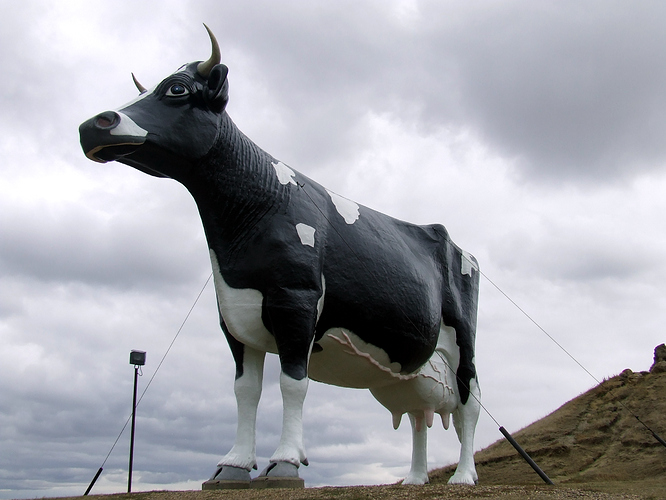 As well as Sandy, the world's largest sandhill crane in Steele ND: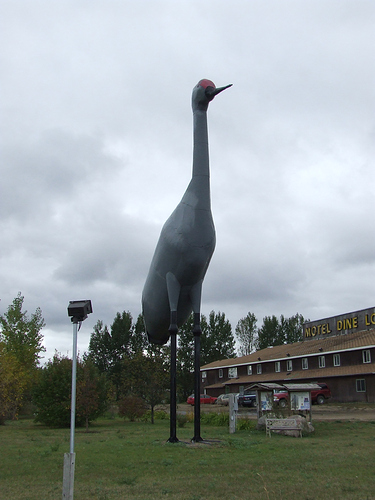 They could very well be. I do know that school groups on field trips could get their water containers filled up with soda if they wanted it and lots of kids had Coleman jugs.
My mom wouldn't let us stop there either, so when on a business trip as an adult, I finally went there. What wonderful tacky souvenirs! I brought some home with me, including a Confederate flag that was only used as a curtain and the house was back a long lane, so nobody ever saw the flag.
South of the Border has (or had, when I was a kid) world-class fireworks for sale - DEFINITELY something worth shopping for!!
Ahhh how could i forget about that. They were everywhere!!
Mexico doesn't have such a tradition for "roadside big things" but oddly enough most that I can think of are in the city of Pachuca. It's not a particularly touristy place so I think a lot of these are attempts at driving up interest.
I was unable to find pictures of it but a local specialty is "pastes", the Mexican-ized version of the Cornish pasty, brought over by miners a couple centuries ago. A paste chain has a maybe 10-meter tall inflatable effigy of their miner mascot which they sometimes pop up outside their shops.
My favorites though are these guys (I mean to write an entry on them but I unfortunately don't have the right pictures for it):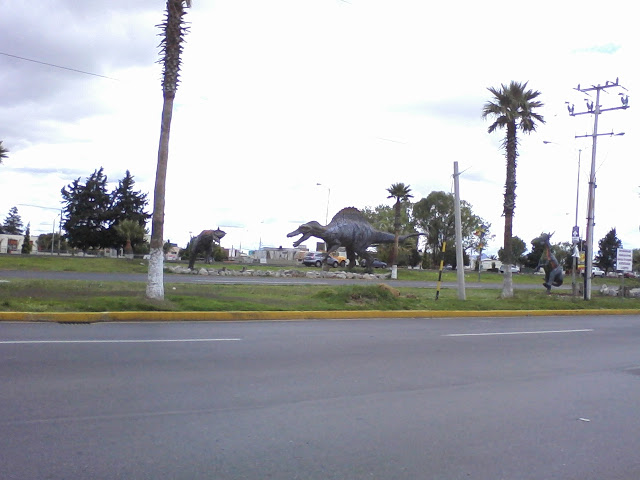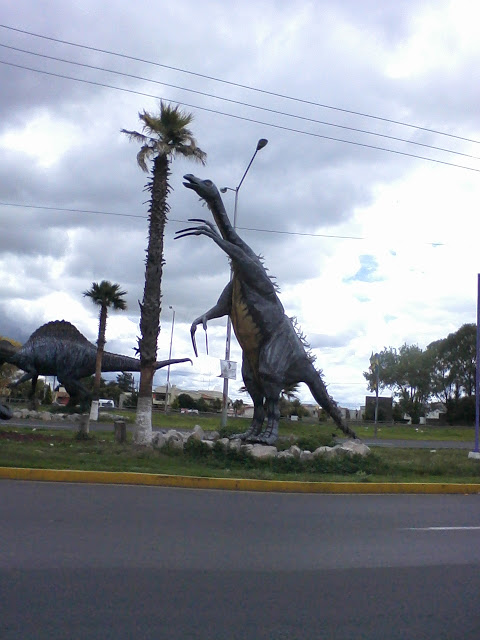 They're located right on the median strip of the main highway connecting Pachuca and Mexico City and in front of the local Children's Museum, which has an outdoor "Dinopark". As far as I know neither Pachuca nor its state of Hidalgo have a particularly strong paleontology record so they're there basically just to promote the local Children's Museum and its outdoor "Dinopark", both across the road from the dinos.
Can anyone think of any other place with "realistic" (in a Jurassic Park way, no feathers and all) dinosaurs in the middle of the road?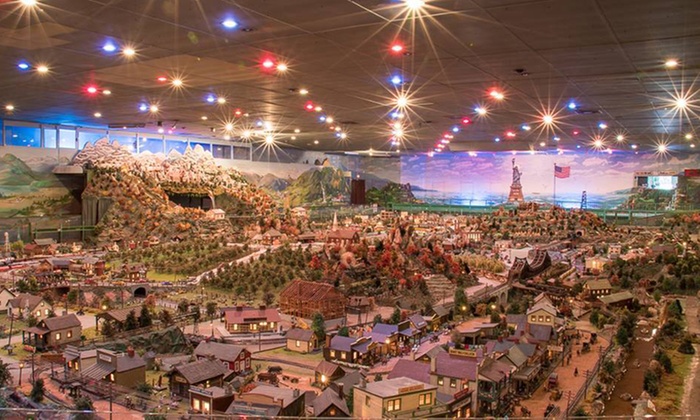 Roadside America, Shartlesville PA. The Big Little Thing, this miniature village fills an entire skating rink and was the lifetime work of one man. It has towns, suburbs, urban housing, Native American villages, stores, churches, circuses, trains running throughout, sunsets, warmly-lit houses, twinkling street lights, and Kate Smith singing 'God Bless America". What else could you ask for?
I would love to know how many hours went into this. I wouldn't have the hand-steadiness to build one house lol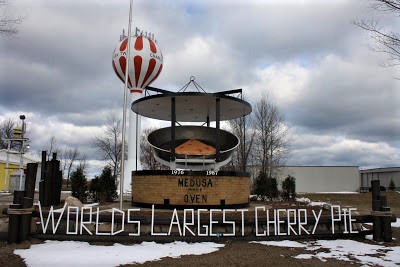 World's Largest Cherry Pie - Charlevoix, Michigan