Those other photos look like they were perhaps from the shell factory?
@killthecod1 What an awesome, awesome collection of snow globes! Thanks so much for sharing! I'll have to go back to look again, so far I love the Jetsons globe, Graceland and many from European countries… they're all charming. I have always wanted to collect vintage snow globes from places I have visited. Your collection inspires!!!
@J_Ginsberg Great guess! I have been to The Shell Factory (love that place!) but this grouping of photos were actually taken at the Florida Citrus Center which you pass by on the way out of the state.
Ahhh - I have passed it many times but not yet stopped there. I do plan to check out one of the O.J. tours…
@J_Ginsberg I'll bet those citrus tours are fun and delicious! As for the Florida Citrus Center, it gets mixed reviews online so I'm assuming the experience varies quite a bit depending upon expectations. I found it to be plenty kitschy and they do offer a variety of gifts, novelties and food items. I can't personally vouch for quality of the citrus they sell — although I keep my expectations of such places fairly low. It's an easy little pit stop off the highway, if you have extra time and the need to pick up some last minute Florida swag.
I love this. I actually think people vastly underestimate the usefulness of clipboards.
I love it! My sticker collection has some souvineer stickers thrown in too, but it's on an ikea book case so I've still got lots of room on it. It's not as portable though.
My friend has two gallon-size Ziploc bags of restaurant matchbooks from places she's been.
I have 35 years worth of travel magnets on IKEA magnet boards in the laundry room. Inexpensive, easy to tuck in a packed suitcase, and fun to look at while folding.
Very nice and personal. Seems like a very specific collection, I don't think I'd find many people who do this.
I also do this. I'm mostly curious about the stamps and the postmarks. Often I write about how I felt at that particular time I decided to pick up a postcard, which serves as an alternative for me to writing on my journal because I can't always be bothered to take a big notebook out. Also, there is something romantic about sending mail today when not everyone wants to do it anymore.
Me, too! I love special cancellation stamp marks.
A treasure chest, which enables to do alternating exhibitions…

…postcards

…flags

and key chains!

I have Scandinavian blue & white plates that need a home. Would you like them?
Thank you so much fir your generosity, but I think my wall is filled up. Actually, the collection has spilled over into the Kitchen an Breakfast 'room as well. I appreciate the offer, though.
Hi friends. I came across this page and realized that this shop might be something you guys might enjoy. As I too collect miniature landmarks.
Hope this helps on your collections.
Website: miniatureworldlandmarks.com
I'm late to the party but anytime I see a Zoltar Fortune Machine, I have to put a dollar in it. I have a couple of the paper fortunes from my travels and keep them in my wallet.
I love a good old fashioned Fortune Machine! A totally underappreciated variety of mechanical curiosity.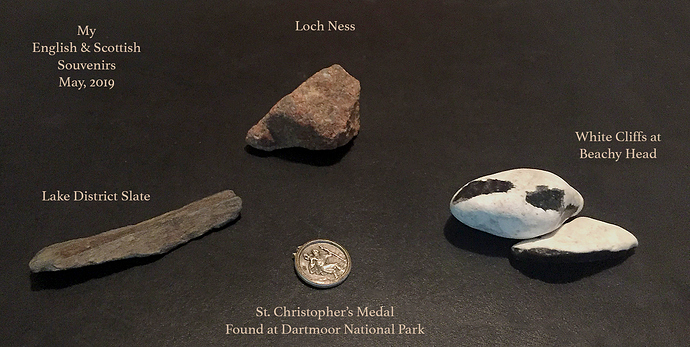 I've always collected photographs instead of too many tourist things, but I do also like to collect a few small rocks from special places, to be able later on to touch the reality of each place and so remember it. Here are a few things I picked up on my recent trip through England and Scotland. These were small enough to pocket without carrying a lot of weight.
You can see my real souvenirs, my professional photographs, and a television pilot travel program I made from the trip, here: