Thanks—can't decide if to do a trip for each rock, or one grand world-wide swoop. :?)
We also collect refrigerator magnets, which we keep on the side (not front) of the fridge. They hold notes and the like, and also indicate when the dishwasher load is clean. We have so many at this point, we rotate them out, about 8-10 at a time. The rest are in a bag in a cabinet. Every time we swap for a new batch, we're reminded of our adventures as a family.
Christmas ornaments, whether traditional or something else, like a key chain, that will hang nicely from a tree. These collectables are made even more special because they are only displayed once a year and, as we hang them, we are reminded of where we have traveled together
We collect patches, as well. Years ago I found some very large, velvet, decorative pillow shams (with pillows) in the "scratch and dent" section at IKEA. They had a few dings, but those were quickly hidden. Once I had enough patches to arrange, I sewed them to one side (in progress photo, below). I hand-stitched them using matching floss. Now I'm working on the other side. As we collect them, the patches-in-waiting are stashed in a baggie inside the case.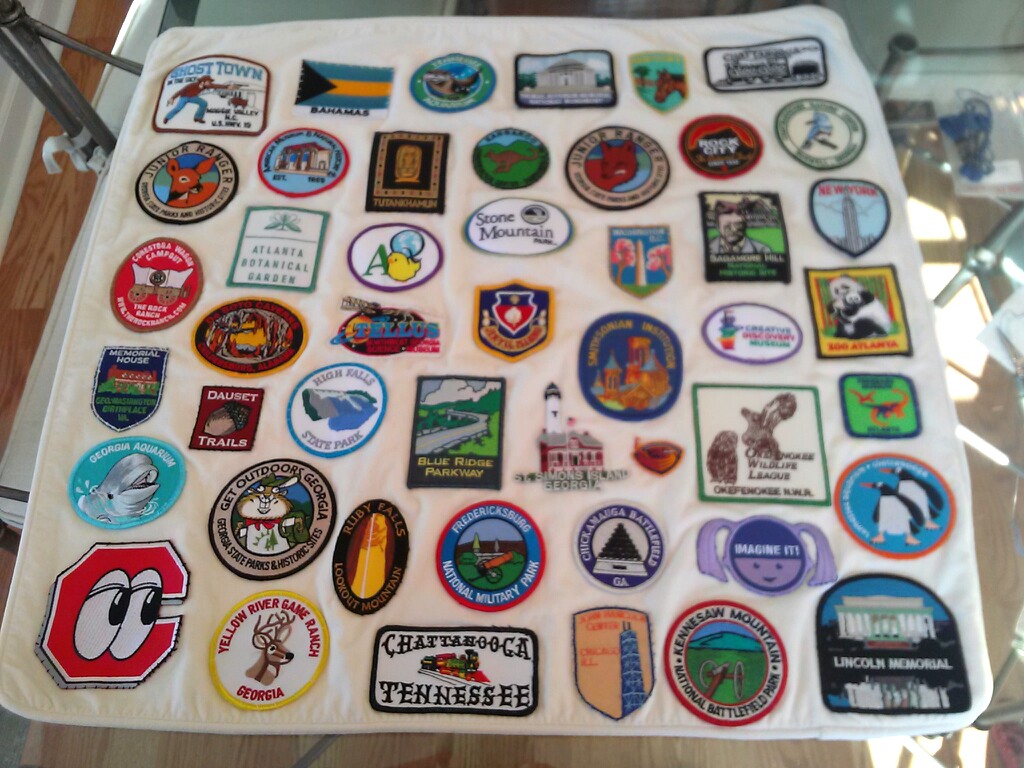 I also collect floaty pens from travels. I do find them hard to display well. Any ideas?
Paula
I have been collecting postcards for 55 years. My collection began with postcards that friends and family picked up as souvenirs, and I started to add cards from my own travels as I grew up. Now my vacation is not complete unless I come back with at least 100 postcards! You can see in the photo of a portion of my collection that I also collect art and political postcards as well.!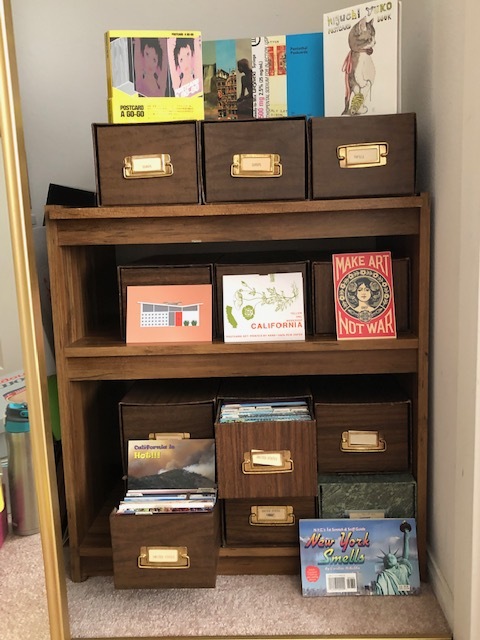 I collect hiking and camping related patches and have been sewing them on a custom etsy quilt I designed for about six years that I display on the wall.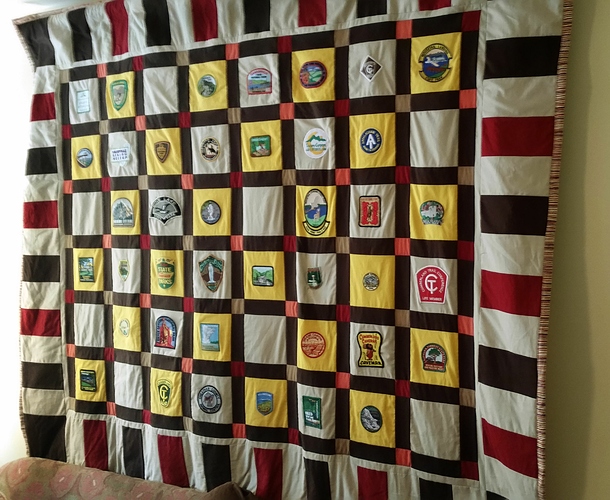 Lapel pins! If I can't find a pin at the location I will often get a magnet and put an adhesive square behind it to attach it to my woven hanging.
My guest room, "Number Six," houses my collection of Yellowstone Park memorabilia and Wyoming souvenirs. I designed the room to hold the collection as well as to resemble a travel court motel room circa 1950. I have maps, albums, postcards, a hatbrush, rings, watch fob, matchbooks, plates and shotglasses, a thimble and many bears of various types as well as some one-of-a-kind souvenirs like a National Parks Songbook and an actual automobile pass.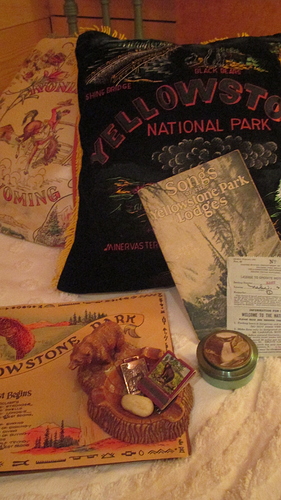 My friend Mac made his patch collection into a really neat quilt.
Over 400 lapel/hat pins on a cork board. Old and new. See the Atomium from the 1958 World's Fair in Brussels (upper left quadrant) and the medallion for climbing the Great Wall of China (lower right quadrant). Blue Angels jet in the top right corner and every state in the Union.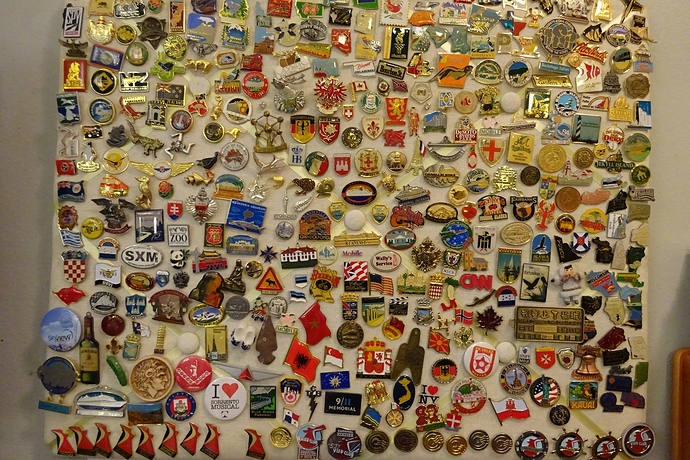 Aw that sounds awesome. I love the idea of periodically swapping out your family memories to keep them all fresh!
That's a terrific display idea! Those look awesome.
This theme room sounds incredible. I'd love to see more pics!
Jewelry either rings or pendants. Two of my favorites are a rhodochrosite ring from Colorado and a Mexican Fire opal ring from Cozumel. Another favorite is a Petoskey stone pendant from Michigan.
Hoping to get some amber from the DR on my next vacation.
Since I was 5, I've collected souvenir buildings from every place I have been. Getting a model of the buildings or monuments I've visited helps me remember what I did on that vacation or even exploring that certain place. Over the years, it has grown into quite a large city, and sometimes family or friends have gotten me buildings from their travels as well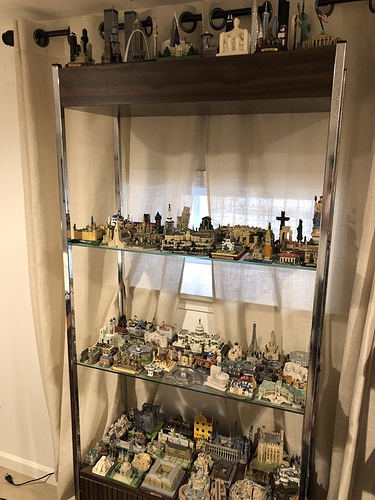 Super cool you have kept a collection going this long, Kudos.
What made you started in collecting buildings?
Thanks! I think what started it was my fascination with architecture and world monuments. I like the fact I can take a building back with me and appreciate it with the memories that it holds, even if I can't travel to the real thing that day. They do have a lot of metal building models out there—I prefer painted resin models as it makes my collection more colorful and feels more realistic.
I do the flattened pennies also!
Masks! I've been collecting masks for some time, from all over the planet. They reveal so much about a culture, either by what they try to hide, what the wearer attempts to be seen as, or accomplish. I have around 50 so far.
China, Malaysia, Thailand, Alaska, Mexico, Morocco, Japan, Philippines, USA, Italy, Russia, Hawaii, Indonesia . . .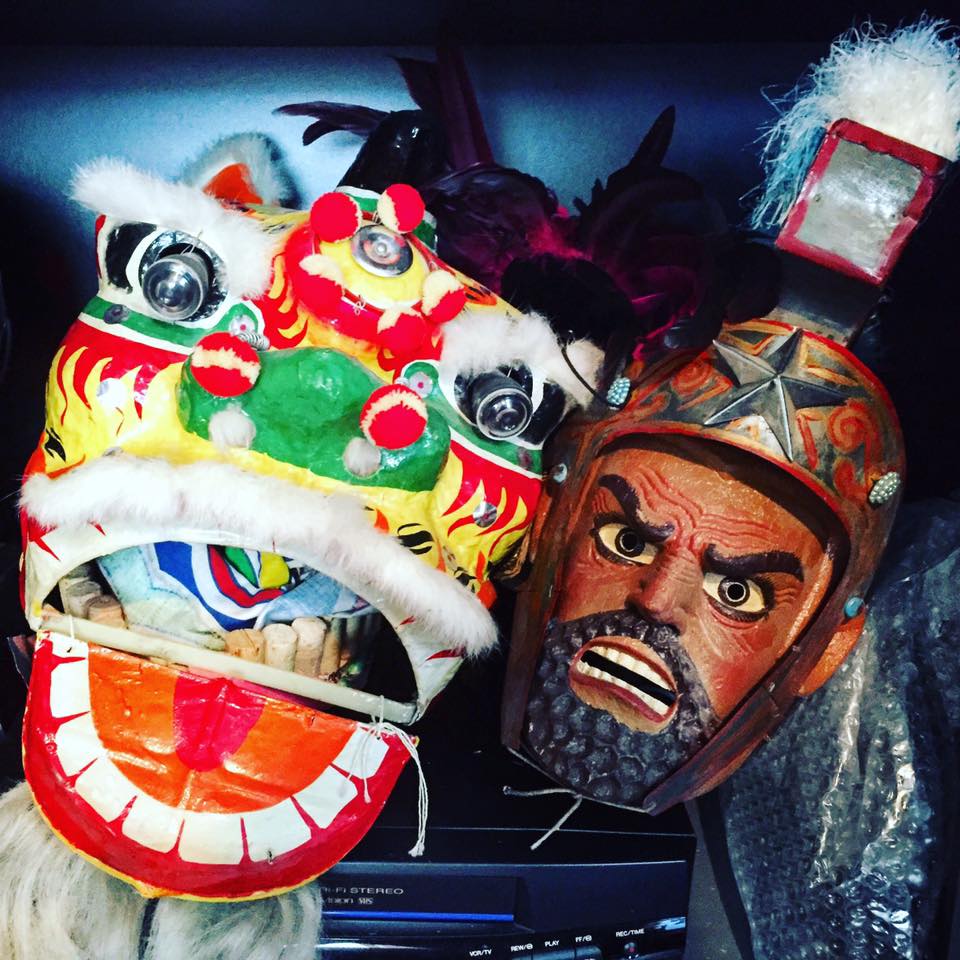 .
Not sure if this link will work, but here are some on my Facebook page:
https://www.facebook.com/media/set/?set=a.10151079627814836&type=1&l=38a01cabf8