This is lovely! I'm going to move this conversation to the larger conversation about travel souvenirs!
OOO! Rare honey is such a great idea!
I collect miniature building and monuments also. Wish I had started many years earlier, but fun to create my own skyline now. More than in this pic, need to photograph them someday!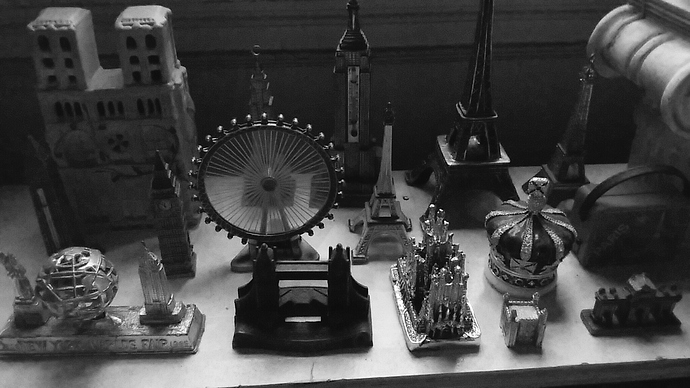 Wow this was fun reading what others collect in their travels… I love that I am not alone!!! I am a collector by nature and I have collected fridge magnets until the poor thing was covered (now gone as it was to busy). I also have a few pressed pennies but they are not common to find in the world but they are fun to find. Back a long, long time ago in the 1970's I collected silver charms but they fell out of style and the bracelet was put away. Zip forward in time into the 2000's and I am divorced, kids grown up and traveling again and I thought I wanted to bring something home from trips that was not to hard to find, not heavy (weight is always a consideration). Silver charms were the answer so I continued to buy them but an intervention was required as the collection outgrew my bracelet. I moved all my charms over to a silver necklace that I place each charm on a link. I love it and when I wear it is always a conversation starter. They are all so unique and create a vivid memory of all the places I have been and I love it.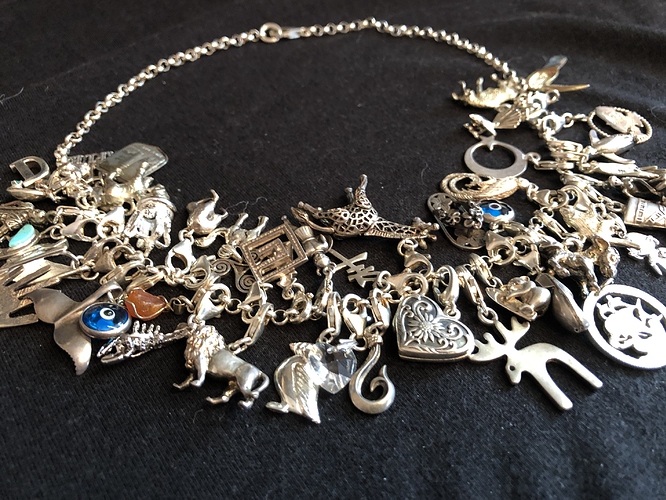 I happen to collect souls which are difficult to capture in a photograph…What else can I provide???
Depending on the journey: I like to collect natural items from the shoreline vs. manufactured items. The latest additions were smooth river stones from a lake in the Otago region of the South Island of NZ, an abalone shell from a river running thru a coastal winery in the Marlborough region, and smaller clam and mussel shells from the North Island, with a sprinkle of black iron sand from the beach where "The Piano" was filmed. They keep me connected to the place as well as the memories of the hiking, wine tasting, birdwatching and other activities from those areas.

Closer to home: I've collected sand dollars and fossilized shark's and megaladon teeth in Baja California Sur, near Ojo de Liebre lagoon, where gray whales (the oldest whale species on the planet) migrate every winter.

!
One year I also found a whale's fossilized ear bone.
When I do purchase items, I ask shopkeepers for unusual, traditional, local, and/or hand-made items. Pawn shops and second-hand stores are the best sources of these things- something may not be popular with locals, but offers a unique reminder of a region's culture and history.
In Santiago, Chile, I found an ornate mate gourd, with a stylized metal straw, in a second-hand shop.
In Baku, Azerbaijan, along the traditional Silk Road, I explained to a pawn shop owner I was looking for items unique to the region. He went to the back room, and returned with a Muslim prayer stone in a small hand-woven fabric bag, made of silk and gold thread. Also a similar bag, smaller in size, that contained kohl- a traditional eye-liner for women.
These meant little to the locals, but I was intrigued.
He then opened an academic book on traditional Central Asian textiles, published in the former Soviet Union in the 70s, with color plates showing similar fabrics from the 19th century. He wrote me a receipt, verifying the items were "household goods" and not valuable artifacts (they had been turned in from an estate sale) and we had a good talk about the collapse of the USSR and what that meant for his country.
I enjoy thinking of the people and circumstances that lead me to these items, as much as the stones, fossilized teeth, and silk-bags themselves.
Black iron sand is found on volcanic, vs coral reef, islands.
It's fairly common on the beaches in Hawaii and New Zealand.
Yes- it's hot to walk on. But easier to remove - just use a magnet.
Interesting…I never considered that my black samples were high in iron content. Mine are all volcanic in origin i.e. the beach just below Mt Pele in Martinique and along the coast of Ponte del Gada in the Azores. I'll have to check them with a magnet.
I collect Floridiana, both physical and photographic. There's something irresistible and utterly nostalgic about traveling up and down the east coast to Florida. Ever since I was small I've loved the deliciously indescribable feeling of stopping at kitschy roadside truck stop souvenir shops, especially those located south of the border. I mean, who can resist bubblegum "oranges", praline candy and shell jewelry? I know I can't!
The first image is a vintage sterling silver charm bracelet I created for my mom who fondly remembers the summers she spent in Florida as a child. The bracelet includes a butterfly wing charm, a crate of oranges charm, Walt Disney World charm, Busch Gardens charm, Kapok Tree Restaurant charm and a tiny bottle charm that's filled with real orange blossom perfume. The remaining photos are from a recent road trip.

Over the years, we collected many different things, including Harley-Davidson t-shirts, souvenir spoons (once had 500+ of those, mostly in shadowboxes), Hard Rock Cafe guitar pins, plus a few shotglasses (especially the blue glass ones). A house fire destroyed all of that a few years ago. We now already have a healthy collection of keychains and refrigerator magnets, though…
Postcards from the edge, um, postcards from wherever I've travelled. I always send myself a postcard with details of that particular trip, from the hotel and room number to museums, monuments, local attractions, restaurants and shoppes I went to. It serves as a lovely reminder of the trip and I like to look forward to receiving the postcard in the mail.
(I was going to wait until I was able to take a picture of the postcards but it's already been 3 weeks and I'm away again on another trip so I thought, after a flight that had an alarming landing, I'd better just publish and be damned.)
Books
I like getting them because after I get back I have something more I can learn about the place with then
Last Crusade : the Epic Voyages of Vasco DaGama (Lisbon, Portugal)
Estates: An Intimate History (Birmingham, England)
Henrik Ibsen's Enemy of the People (Oslo,
Norway)
Colected works of H. C. Andersen in (Odense, Denmark)
Redcoats along the Hudson in (Quebec, Canada)
I have several items from State Fair of Texas.
Including a pendant from 1907 with state Fair information on it.
I also have a contractors badge from the 1936 State Fair of Texas Centennial Exposition.
It is a contractors badge numbered 98.
Is there anyone who collects State Fair of Texas memorabilia?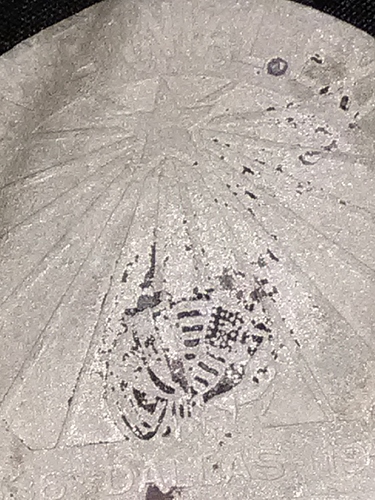 Oooo, state fair memorabilia is a really neat focus for a collecting.
that's so cool, what a solid collection.
What's the tall building at the back? Is it that white & glass tower in New York on 57th street behind the Plaza Hotel? I couldn't find it's name.
Reminds me of Last Week Tonight
I try and save admission tickets and maps, especially for museums and attractions. I've been setting up my home office and can finally pull everything out of the boxes and ziplock bags, some are memories from 20 years ago. So great to see them again.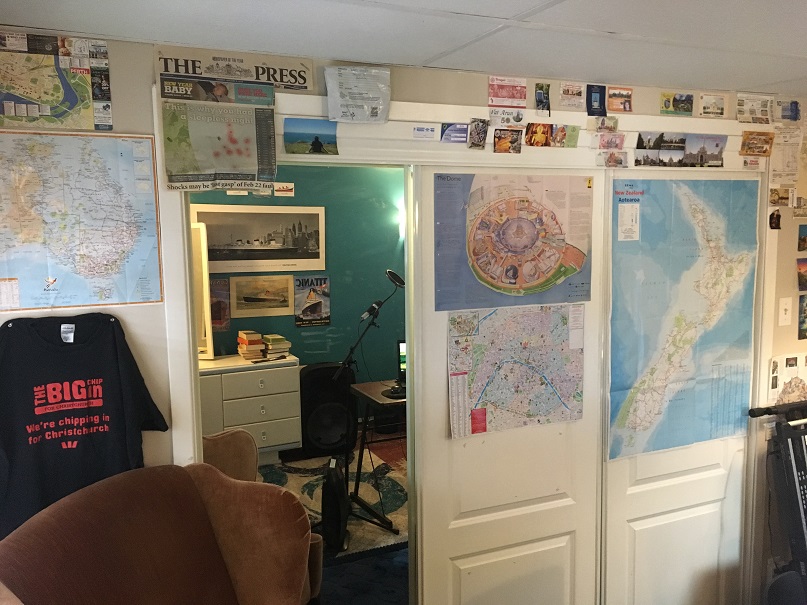 Bonus points if you can identify the building in the middle!
The Avengers' Triskelion?
I had to look that up… good guess!
It's the site plan map for the Millennium Dome in London, during that one fateful year it was open as an exhibition. I was fortunate to be in London on a school trip at the end of January, 2000.
I remember that the building was certainly impressive, and the show written by Peter Gabriel was good, but the exhibits were kind of soulless and an excuse for corporate branding, so no big surprise it wasn't very popular.