I've been trying to focus on art from local sources. Embera baskets from Panama, or prints from Mexico or Cuba.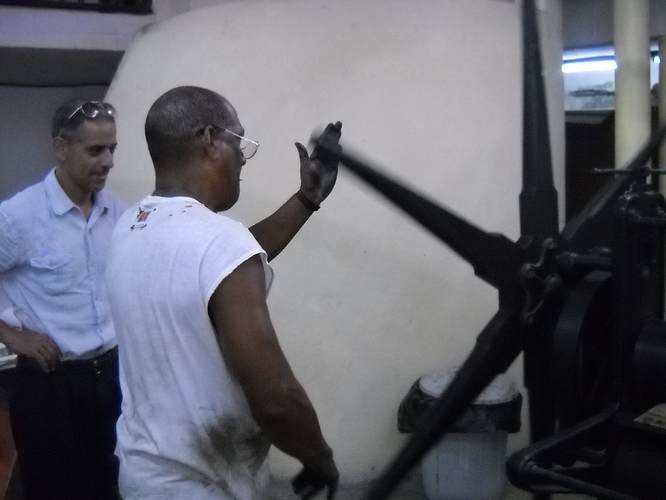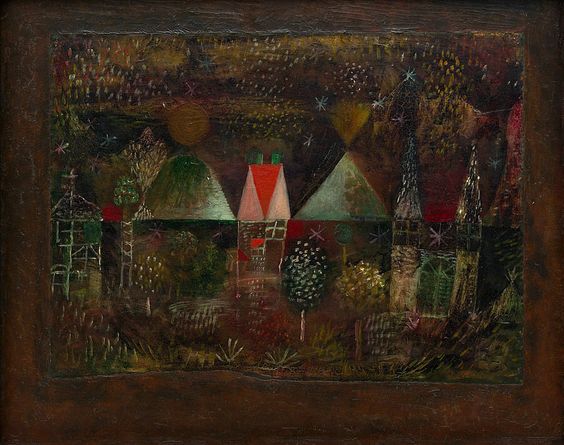 Tea Towels. I'll get a picture when I'm home. They're not too expensive, won't break, have multiple uses, and make me smile when I pull them out of a drawer. And there's a certain charm to when they start to get worn a bit.
Definitely rocks! I brought one the size of an ostrich egg home from Iceland. Customs guy commented that my luggage was so heavy, it felt like rocks were inside. I replied, "There are."
Also used books…not about the place, just cool used books. I remember where I bought all of them that were from trips.
I have numerous tchatchkes from various travels, but I've always been partial to my silly little Eton cat.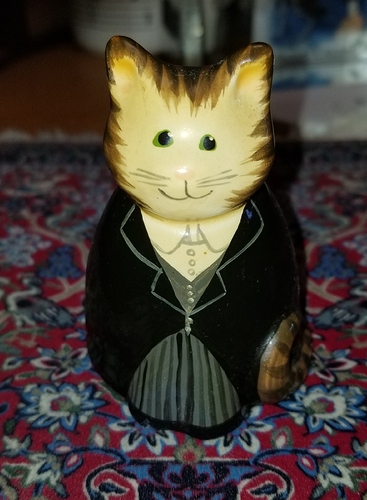 Refrigerator magnets and coffee mugs. But I'll focus on the magnets. My husband came up with the idea to buy magnet boards and hang them to display above our counter seats. We've gotten a lot of compliments on them.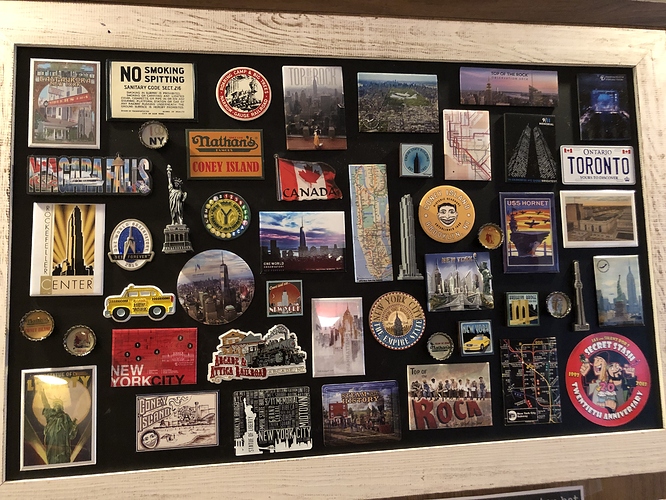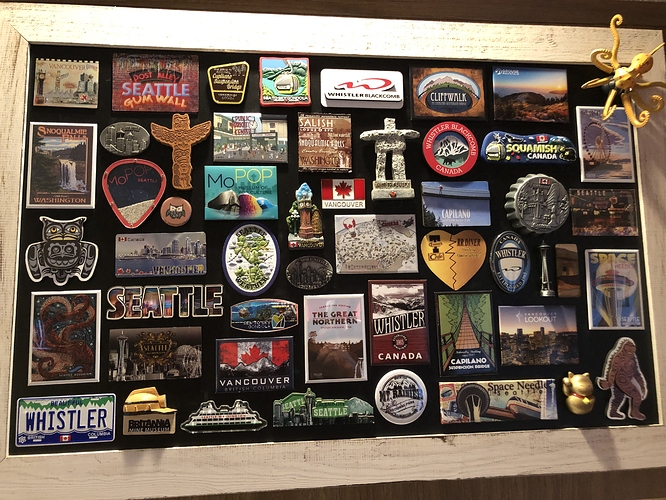 Since I was 13, I began collecting shot glasses. My first ones are from Mt. Rushmore and other Black Hills sites. I still search them out everywhere I go and friends and family often contribute to the collection. Sadly, though, it seems fewer places sell them. Also, in some parts of the world where drinking is forbidden or frowned on, they are tough to find, so my definition of "shot glass" has to be adjusted. I still grab a few from places I have been to more than once resulting in duplicates. My collection is 200+ strong from at least 10 countries, no idea how many states, and 5 continents. Highlights include a glass sitting between the antler of a jack-a-lope, from Walldrug, SD, a ceramic longhorn skull, from Texas (more of a cup, but supposedly labeled shot glass), and a pewter "Stein" from Fez, Morocco.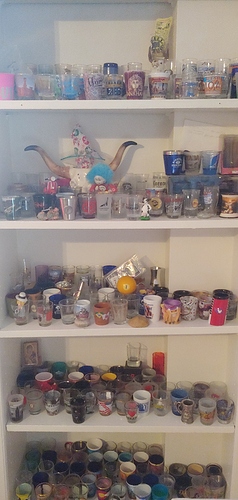 Thanks!
I used to collect t-shirts, but soon realised that they take up a lot of space, and they're not really my style anymore. So now I've started collecting lapel pins and buttons. I hope to someday have a wall of them
Tacky spoonrests. They are displayed in my kitchen as the International Tacky Spoonrest Museum. Follow it on Facebook!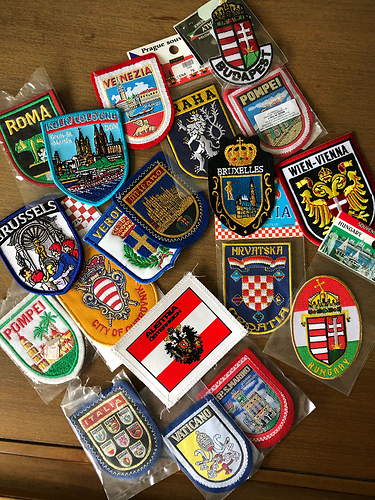 I try to always get a patch of the country and city. These are the ones that aren't sewn on to anything at the moment … we were putting them on our bags but I think we will be replacing them in the not-too-distant future so I have been holding off until we figure that out. My husband likes the city ones, I like the country ones.
I like to pick up books of local ghost stories. I usually luck out and find a copy signed by the author, since they often live in the area.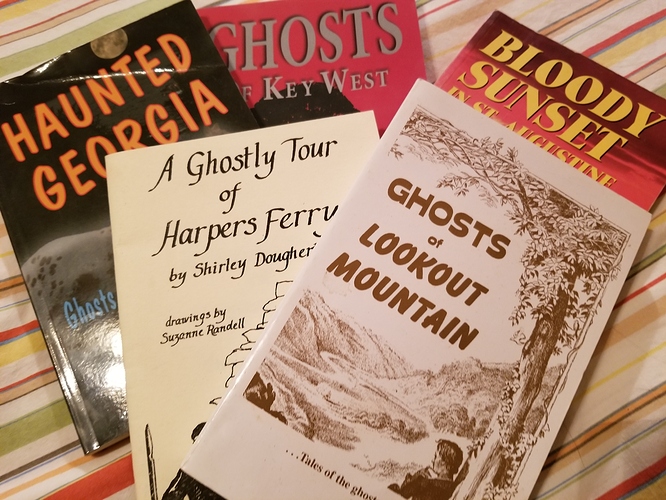 Part of me wishes that I'd committed to something like this when I initially began traveling more extensively, but I didn't. As an amateur photographer, though, I do take A TON of pictures, especially in the age of digital. For me, I connect more with the image of a place/time/emotion than with a coffee mug. Plus, less clutter in my house.
I started out collecting some type of trinket that reminds we of the place I've visited. Belgium I got a statue of Mannekem Pis, 3 marble pyramids in Egypt, a beer stein in Germany, a statue of a rooster in Portugal etc. I would display them in my bookcases. Fortunately, I travel quite a bit and I finally stopped getting the trinkets. I then switched to playing cards …I've since given most to my adult son who has shoe boxes full of them. I collect sand when I can a put in antique bottles. I really just take photos most of the time now. But, I've recently started going to outside markets and buying a little piece of jewelry or picking up something made locally.
Oooh ooh - I might have to steal this idea for my Tacky Salt & Pepper Shaker collection. Or has someone already done that?
I collet magnets, too. In my apartment I have rental door frames, so I put them there. Lovely to remember special spots.
For the most part, I don't collect physical items of any kind - they'd just clutter the house, and I don't love spending money on things with no real use. I have recently decided that my home bar should have a souvenir shot glass from each place I've been that has a strong association with spirits or cocktails, but not everywhere I've been, just specific places (like Vegas, New Orleans, etc.)
I have a much nicer way of commemorating, remembering, etc, everywhere I've been: I write yelp reviews of everything. That way I'm helping other people, it doesn't cost anything (other than the price of the food/drinks I ordered, which I would have done anyway), I don't have to schlep any trinkets home, and I can look back at all the awesome places I've been, whenever I want, online.
(Extra bonus, I'm also yelp elite, so I get invited to nifty yelp parties a few times a year. :p)
My wife collects pins and magnets, though - I don't totally understand it, but she seems to enjoy it. I like my way more, though.