When Wendy's was Of Ohio

Wonder if they made it anywhere
I was just about to post this as a topic!
Crazy Gideon commercials were such an assault on the senses that they lapse into punk rock video art. Between the accent of unknown origin and the crappy sound mixing, it's just an incomprehensible man screaming at you for 30 seconds. When Crazy Gideon's closed, I stopped watching TV.

Tom Raper RV, Richmond, IN, I-70 Exit 149A

Richart Auto Mall

The Red House where black people and white people buy furniture. High Point, NC
Numerous people from Baltimore have told me about this

Your description was spot on. Why did he think crossing over into such anger would be persuasive? IDENTIFY WITH YOUR ABUSER AND BUY MY ELECTRONICS
Rochester, NY - the Great Great House of Guitars ( or the HOG) as it's known. Late night weekend commercials featured lots of fast cuts, fan participation and repetitive catch phrases (at Easter "I'm the real Easter Bunny…Hop Hop"…at Christmas "Don't give Baby an Ugly Sweater".) Brothers Bruce and Armand Schaubroeck started selling records in the mid 1960s, but opened their huge disorganized store full of guitars, music, albums, CDs, posters and all things Rock & Roll in 1974. They are still there to this day. YouTube
1978 House of Guitars Commercial
"Mr. Raper, our market research shows that the public might respond to…a different business name…"
"What?! It's my dealership! I named it after me!"
"Like a stage name…"
"That name's been in my family for generations!"
"Yes, but…"
"How else would they know they're buying a Raper RV?!"
"You see, especially RVs…"
"Who wants a Raper RV?!"
"Sir, please step away from the window…"
"Kemp Mill Records breaks its own records!" Everyone I grew up with in the Maryland suburbs of DC in the 1970s and '80s remembers these ads. Also, remember… records?
The McDonald's in Yass, New South Wales was always good for a laugh on the long drive from Melbourne to Brisbane.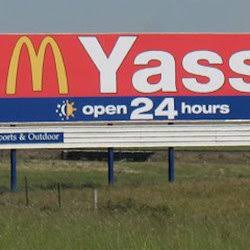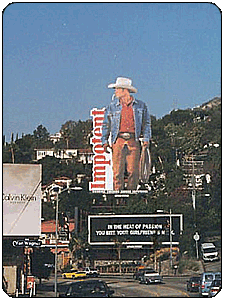 The most memorable advertising sign in my life was the Marlboro man cigarette ad that used to stand outside of Gregory, Texas, on FM35 on the south side of the road between the intersections of Texas state highway 181 and FM361. What was unique was that it always had 2 to 3 arrows piercing the sign each time I drove by it–which made me chuckle!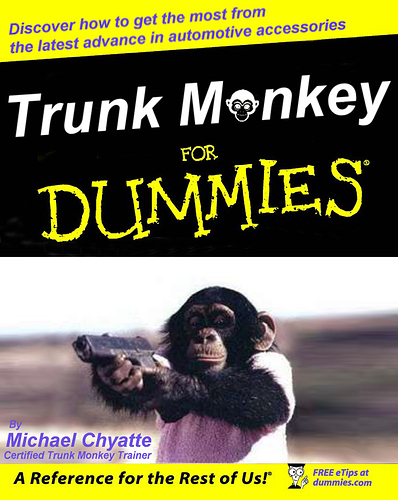 Or how about the Trunk Monkey commercials up in New England? Don't know about them? Look them up on YouTube and be prepared to belly laugh!
I'm sure there have to be examples of this elsewhere, but I always chuckled getting of the turnpike in New Stanton Pa.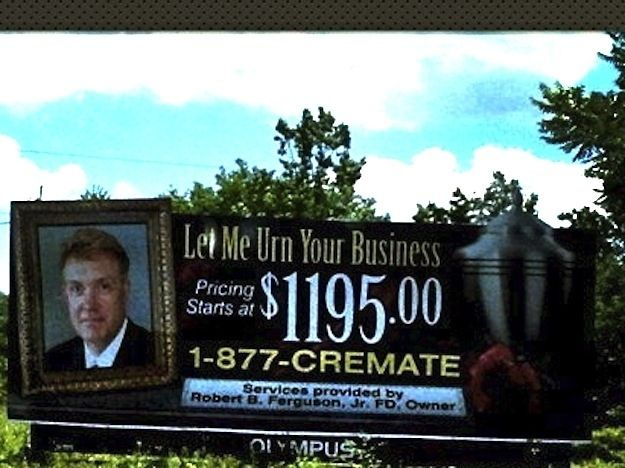 Donna and the Wolfman were a father/daughter duo in the Atlanta area with really memorable commercials in the 80's. Their furniture stores are still around!
Merchant's Auto in Hooksett, Nh has great radio ads! They do wacky voices, impressions, and funny stories in them. Whoever they have working on them does pretty good impressions of all the US presidents since Bush senior! They're pretty well known/loved in NH.
There's a billboard outside Salina Kansas for the "Second Friendliest Yarn Store in the Universe".
This implies that:
They are familiar with the entire universe and it's yarn market.
Somewhere, in the universe, there is a yarn store that is more friendly.
They are principled enough to not DARE to claim to be the friendliest.
The friendlier yarn store is so friendly, they have no hope of overtaking them in friendliness.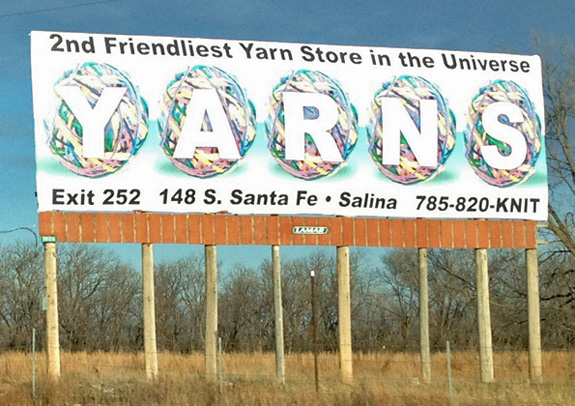 Does anyone remember "Cal Worthington and his dog Spot?" Each ad featured Mr. Worthington in a white cowboy hat walking through his car dealership with a different animal that was very definitely not a dog. I remember ones where he was riding a cow, carrying a parrot, I think one with a cheetah or a tiger or some other kind of big cat.
Long before digital anything, color TV or computer graphics perhaps one of the most iconic TV ad campaigns of all time burst forth in the 1950's on small screen black and white VHF sets all over the 5 boroughs of New York City. At least 3 of the 7 then available TV networks showed them . I speak of course of Burt and Harry Piels. Simple Black and white line drawing animation for Piels Beer written by and voice over by Bob and Ray, stars of radio comedy famous for their deadpan, quirky and totally hilarious skits. "Urban Legend" is a just title for this pair and part of NY folklore.
Piels was a local NY beer brewed in Staten Island with nothing to recommend it and a small market share. With the introduction of Burt and Harry circa 1952, sales took off. The brewery eventually folded and is unremembered, but Burt and Harry went into the record books. Just do a internet search to see grainy B&W reruns. They even have a listing in Wikipedia.
OK, Pittsburgh area, you know the drill:
Plus, it's not Christmas season here until this starts playing: