My favorite is by no means imposing, but I like it because of the story behind it:
The fountain is located at the town square in Peñuelas, Puerto Rico. It depicts the legend of the river surrounding the town that served as a meeting place for lovers. Among them were a young Spanish woman named Anés who was in love with an Indian named Guay. However, Anés' family didn't approved of the relationship and tasked a young military man to kill Guay. He also was in love to the Spanish woman (although they had no relationship), so he didn't hesitate to accept and was confident it would boost his chances to win her over.
During one of the couple's meetings by the river, the soldier fired and shot Guay who fell on the river. What the soldier didn't expect was for Anés to jump in to save her true love. The soldier alerted her family, but by the time they returned, they were both dead. Their bodies hugging under the clear waters.
The town's priest at the time named the river Guayanés (their combined names) in honor to their unconditional love.
The fountain depicts the love birds, divided by a string of water, a plaque nearby narrates the legend (in Spanish).
Anés on one side: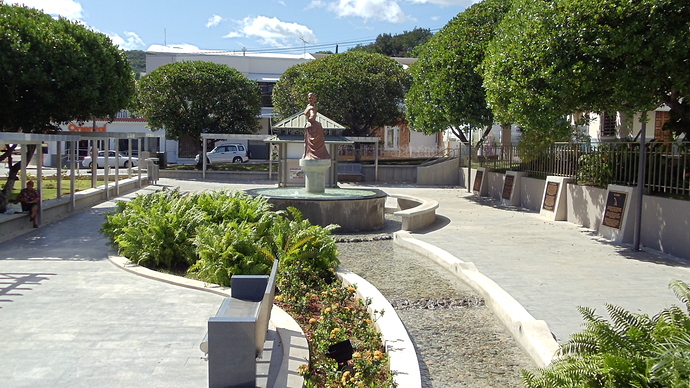 Guay on the other: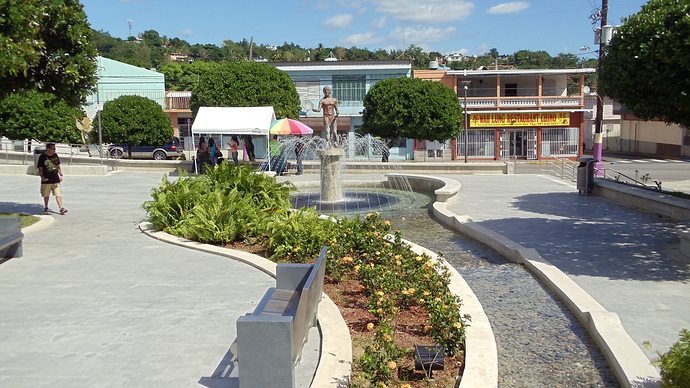 The plaque: