I'd love to learn that skill too , the problem is finding the time though and light pollution
I love this topic of discussion! It's dear to my heart as I've spent the last few years delving into and attempting to master a rare skill- traditional freehand silhouette cutting. For anyone that might not be familiar with the craft, silhouette portraiture in the form I practice is very specific to the 18th/19th Centuries…the artist has a subject sit for just a few minutes, while cutting out the shape of their profile using scissors and thin black paper. The tricky part being that there is no drawing, tracing or digital alteration involved in the process. Once I started making silhouettes, I simply could not stop and I've been at it 'professionally' for about 3 years. I operate an online shop and I cut silhouettes live at museum functions and modern events. I love playing a small part in keeping what's largely considered a 'dead art' alive and well.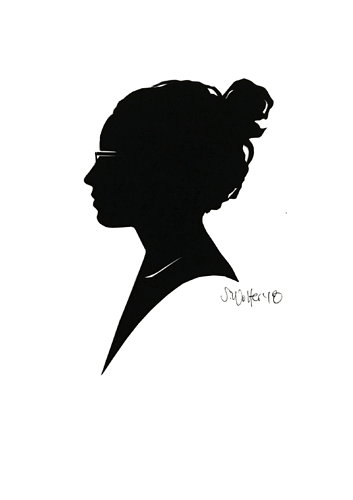 Wow, this is gorgeous!
What an incredible skill ! I have to ask , what inspired you to learn this skill ? I mean was it anything in particular ?
I've actually had a couple piano gigs accompanying silent films and loved it. The most memorable one was for a screening of a William S. Hart movie in the cowboy star's former home. It's a really unique set of musical demands. Part improv, part composition, part high-wire act. Next year, I'm actually planning on doing a project with a friend of mine who does live Foley effects for radio plays (another antiquated talent) where we'll accompany old cartoons.
I want to learn to play the theremin. I have an electric theremin. Now I need to sit down and actually learn.
I was going to write that too. I've got one. Hardest goddamn thing I've ever tried to play. Some great YouTube tutorials, though.
Thank you! It was a combination of things…I've always loved silhouettes, visually. My grandparents had some hanging in their house and I remember fixating on them at an early age. I collected antique silhouettes (still so, in fact) as a teenager, and when I was 17, I saw someone cut a silhouette freehand. It blew my mind and I'd wanted to teach myself how to do it ever since then.
It's not rare, but I'm working on (not quitting) learning to play an instrument. This time guitar.
That's such a cool idea! It reminds me of one of my favorite episodes of one of my favorite shows, Star Trek: Deep Space Nine, where Captain Sisko decides to rebuild a centuries old star ship with his son to prove how ancient aliens could have made interstellar contact, and… oops. Sorry. Nerdstorm.

Animal tracking! That's one of those skills that I always ASSUMED I would be good at, but have not a single idea of how I would do it. Impressive.
Wow! This is super cool. Do you have a link to your shop?
I would love to learn how to build a guitar. I've been tempted by luthier classes but they are all rather expensive… maybe some day!
Thank you, Eric! Yes, here's my website…it'll direct you to my shop, social media, etc. Thanks for asking
www.silhouettesandsuch.com
It's definitely an interesting skill , and I bet it takes a lot of patience and an eye for detail.
A question , when you say antique do you mean like 19th / 18th century ?
It actually strikes me as somehow like photography in capturing something of the person in life that can remain long after life.
Semaphore. No reason whatsoever.
Have you seen this one from a while back @tundrabunny?

I reckon that you would be good at it Eric , is pretty easy when you get the hang of it , identifying the species and how recent the pugmark was etc. But then there are levels / final details to it which I would love to master , like being able to tell what the gender or individual identity of the animal is.
Clara Rockmore is an amazing figure! Did a little piece on her a couple of years ago.