I would like to see some colorful leaves and also get some Halloween vibes in.
I tried to find this place once when I was in the Catskills, but the address was wrong. It looks like someone added directions that lead you on a hike to the site. Looks perfect for the fall.
https://www.atlasobscura.com/places/overlook-mountain-house-ruins
Why would a place called the "Overlook" be creepy. Oh, riiiight …
A friend of mine did Overlook hike, in December, in the snow. She said it was strenuous but very worth it.
The hike up to Surprise Lake in New Jersey is excellent, and it has a dense hemlock grove at the end, but that's the creepiest part; creepy in a poetical sense, I suppose.
The ruins of the Cornish Estate near Cold Spring is a solid venue to go and watch the sunset while telling scary stories.
One of the especially creepy things about Overlook Mountain ruins is the multiple warnings that the site is crawling with snakes.
In terms of creepiness, the Dolls Head Trail in Atlanta gets my vote (a distinctly Blair Witch feel to it), but probably a bit too far south for the magic of fall foliage. There are some great secluded paths throughout the Jersey Pine Barrens, which is said to be the home of the Jersey Devil…
Oooh, I've always wanted to have a Jersey Devil encounter.
I was going to suggest this one! Overlook is an awesome hike, it's about 10 minutes from where I grew up. And at the base of the hike is an incredible Tibetan monastery. You can tour it, and they offer free meditation classes sometimes as well.
The directions on that page are correct. It's a really popular spot, so on a nice day you'll see lots of other hikers. And at the very top there's an amazing fire tower you can climb for a breathtaking view of the whole mountain range.
The ruins are definitely the creepiest part of the hike, though. Also look out for rattlesnakes!
Not creepy per se, but climbing the fire tower @ArielAzoff mentions is not for the faint-of-heart. While perfectly safe, it is vertigo-inducing. My photo of the fire tower :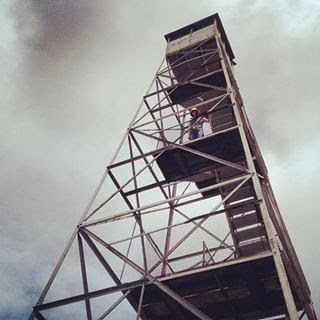 Yeah, I didn't think I was afraid of heights but that climb is scary for sure.
That's an awesome photo, @tylercole !
I saw several rattlesnakes on Overlook, they were hanging out right next to the trail- made for a good bonding moment because everyone was warning each other about them!
Also try climbing that tower in really high winds, that gets a little freaky too.
The Appalachian Trail west of Pine Grove State Forest in Pennsylvania. There is an AT Museum/hiker hostel at the west end of the State Park. From there you can do a loop day hike to an area of ruins along Tom's Run that among other things served as a prisoner of war camp in World War II and is in the vicinity of the 'Babes in the Wood Murders'. Either on your way out or back be sure to take the Sunset Rocks overlooks route.