What about coquis ?
Can I put a cavelike tunnel in here? I always loved walking through Jhaishan Tunnel. Watching the sea water go back and forth and listening to the classical music they pipe in (no, really) was always peaceful.
Why, yes! I believe that DOES qualify!
That's insanely beautiful. I don't anticipate getting to Morocco anytime sadly.
Coquis are nocturnal, haven't seen any in the cave but sometimes one will appear by our windows at night. You mostly hear them rather than see them.
Škocjan Caves in Slovenia are the most dramatic and breathtaking I have ever seen. Visitors are in for such a treat! There are two routes…try for both but if you only have time for one, do the route that is mostly within the cave system rather than outside.
I have 2.
Skocjan Caves in Slovenia. Makes you feel like you're Indiana Jones or one of the Goonies. So many different parts to it. But the greatest is when you finally enter to the main canyon. It's epic.
And Salina Turda. Space-goth fantasy. Insane.
I would like to introduce some caves in Brazil:
Nice you meet you Brazilian caves. What are they called, and where are they?
3 caves:
Gruta de Maquiné
Gruta da Lapinha
Gruta Rei do Mato
The three are in Minas Gerais State, north of Belo Horizonte City
If you ever find yourself in Cuba…

These beauties are on my to do list when I get back to Brazil , where are they Minas Gerais or Sao Paulo ?
Caves are in Minas Gerais State, north of Belo Horizonte City
Didn't get to them last time around even though I was passing through Minas , but soon I'll see them
If you've never been to Marianna Caverns located about an hour outside of Tallahassee, FL you are truly missing out! I guess the official name is Florida State Caverns but we've always known it as Marianna Caverns.

Exploring Actun Tunichil Muknal in Belize is a surreal experience for sure. It holds Mayan skeletons and broken bits of pottery within its depths. Plus, exploring the cave (via a guided tour) is a ton of fun.

Ohio Caverns is not technically a cave, but I've loved it all my life. It's located in West Liberty Ohio, open year around naturally (pardon the pun), and home of the Crystal King, which is considered to be the largest and most perfectly formed white stalactite in the world. Their guides are very friendly, and once when I took my kids during a slow day they took us on tour of a section that was closed off to their usual tours, which was awesome. I also love their gift shop, which has a great selection of items for rock and gem hounds at fairly decent prices. It's a great place to spend some time.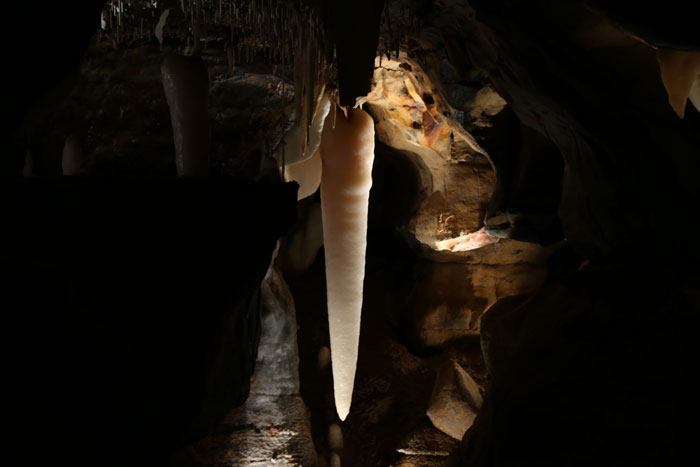 Well, being from Kentucky, one would expect me to say "Mammoth Cave", but no. While Mammoth is a great cave, my favorite is Sac Actun, in Quintana Roo, Mexico (near Tulum). This cave has been linked with several others (Dos Ojos and Nahoch Na Chich) and is now considered to be the largest underwater cave system in the world. It was much smaller when we dove it back in 1996, but damn, was it beautiful. One must realize that this cave was dry during the ice age and was heavily decorated with stalactites and stalagmites at that time, but with the thaw at the end of the ice age, the caves were flooded and since (mostly) certified cave divers can enter, the cave has not suffered the damage people do to unflooded caves. Another favorite is Diepolder II in central Florida near Tampa, a dive requiring trimix (He, N2, O2) because of depths over 300' and fairly long decompression times (it takes a good part of the day to do the dive). Another was Madison Blue, not the Madison Blue State Park (which is also a nice cave system) just off of I-75, rather the one over closer to Tallahassee. You had to get the sheriff to come unlock the place after proving you were fully trained to dive in U/W caves.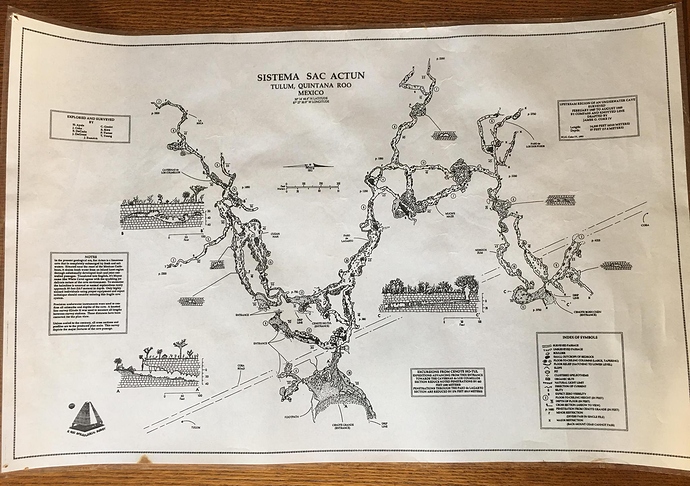 I have enjoyed visiting the Kartchner Caverns near Tucson, AZ, partially because they are pristine and unmarred by graffiti and other damage from tourists.
I also enjoyed a visit to the Cango Caves near the town of Oudtshoorn in South Africa. I think the first cave system I ever visited was Oregon Caves near Cave Junction, OR.