Caves are in Minas Gerais State, north of Belo Horizonte City
Didn't get to them last time around even though I was passing through Minas , but soon I'll see them
If you've never been to Marianna Caverns located about an hour outside of Tallahassee, FL you are truly missing out! I guess the official name is Florida State Caverns but we've always known it as Marianna Caverns.

Exploring Actun Tunichil Muknal in Belize is a surreal experience for sure. It holds Mayan skeletons and broken bits of pottery within its depths. Plus, exploring the cave (via a guided tour) is a ton of fun.

Ohio Caverns is not technically a cave, but I've loved it all my life. It's located in West Liberty Ohio, open year around naturally (pardon the pun), and home of the Crystal King, which is considered to be the largest and most perfectly formed white stalactite in the world. Their guides are very friendly, and once when I took my kids during a slow day they took us on tour of a section that was closed off to their usual tours, which was awesome. I also love their gift shop, which has a great selection of items for rock and gem hounds at fairly decent prices. It's a great place to spend some time.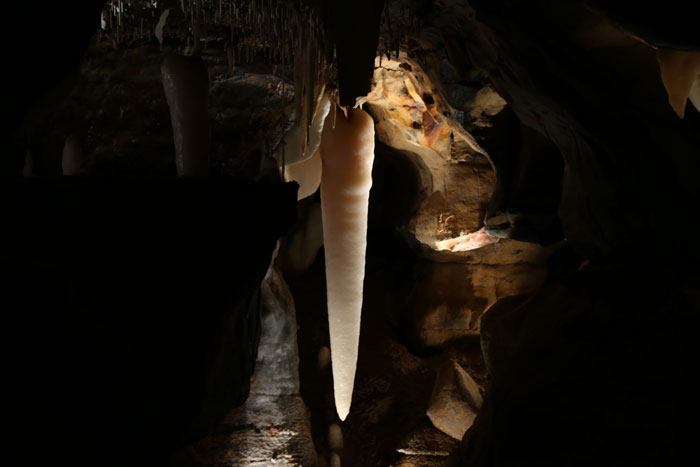 Well, being from Kentucky, one would expect me to say "Mammoth Cave", but no. While Mammoth is a great cave, my favorite is Sac Actun, in Quintana Roo, Mexico (near Tulum). This cave has been linked with several others (Dos Ojos and Nahoch Na Chich) and is now considered to be the largest underwater cave system in the world. It was much smaller when we dove it back in 1996, but damn, was it beautiful. One must realize that this cave was dry during the ice age and was heavily decorated with stalactites and stalagmites at that time, but with the thaw at the end of the ice age, the caves were flooded and since (mostly) certified cave divers can enter, the cave has not suffered the damage people do to unflooded caves. Another favorite is Diepolder II in central Florida near Tampa, a dive requiring trimix (He, N2, O2) because of depths over 300' and fairly long decompression times (it takes a good part of the day to do the dive). Another was Madison Blue, not the Madison Blue State Park (which is also a nice cave system) just off of I-75, rather the one over closer to Tallahassee. You had to get the sheriff to come unlock the place after proving you were fully trained to dive in U/W caves.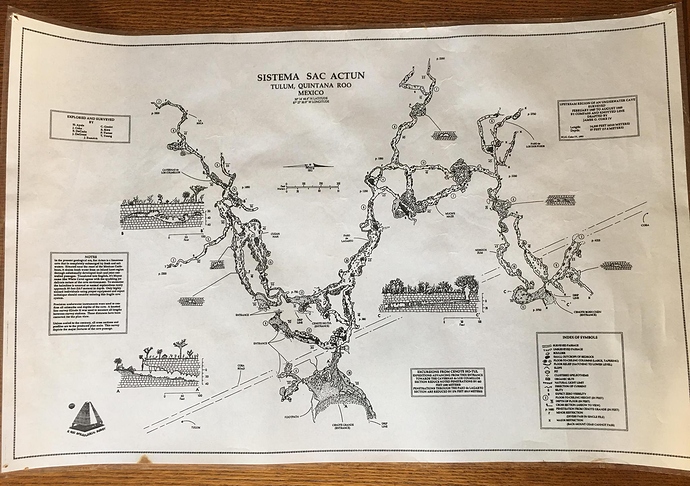 I have enjoyed visiting the Kartchner Caverns near Tucson, AZ, partially because they are pristine and unmarred by graffiti and other damage from tourists.
I also enjoyed a visit to the Cango Caves near the town of Oudtshoorn in South Africa. I think the first cave system I ever visited was Oregon Caves near Cave Junction, OR.
Ape Cave beneath Mt. St. Helens. A lava tube almost a mile long where you are scrambling over and around lava boulders. It has no lighting except what you bring with you.
There's a lovely little cave in New Zealand - easily accessible from State Highway 73 near Castle Hill, South Island. (Highway 73 takes you from Christchurch to the West Coast via Arthur's Pass.)
The precise location is 43°11'46.8"S 171°44'29.9"E
The place is called Cave Stream Scenic Reserve and the cave is accessible at all times for free, but do check the warnings as it can flood in wet weather. Follow the signs on the downhill path to the cave's exit (you ascend against the stream - it's safest that way).
You'll need a good torch and a change of clothes, as you're likely to get soaked up to the waist as you ascend the waterfalls (that's the best bit!) I took my 7 year old daughter through, she coped just fine!
Oh wow. Cave maps might be a new area of fascination for me.
Viðgelmir, Iceland! I had the great honor of working as a geological guide at the Fljótstunga artist residency in 2015, and these lava tubes hold a different kind of magic than many of the other caves discussed so far.
While it lacks the spectacle of mineral deposits in limestone caves, and while there is no life to speak of within the cave except for lichen and fungus, the truly astonishing qualities of Viðgelmir are due to the fact that the cave is not changing, with a few manmade exceptions. It is essentially a time capsule that has been immobilized by volcanic processes that finally came to rest over a thousand years ago and haven't stirred since. As far as lava tubes go, it is the longest yet discovered in Iceland, and lies within the Hallmundarhraun lava field, not far from Surtsellir, the largest lava tube by volume in all of Iceland!
It is as scientifically stimulating as it is imaginatively fertile, and one can't help but recall, standing in the open cave mouth, the creation stories from the Edda : one gets a visceral sense of the primal void that existed out of time in which the collision of fire and ice put life and consciousness into motion; the ancient race of frost giants; the emergence of the gods; their laying waste to the giants in the early days of Creation. And, perhaps most of all, how the gods then created the world out of the butchered corpse of Ymir the frost giant. Clearly there remains a powerful, living sense of antiquity in this stunning museum of a cave.
That said, it was formed around the year 930 CE from a series of fissure eruptions about thirty miles to the northeast, which continued to erupt for only two to three years, spilling down a glacial valley, layering and layering upon one another in awesome processes of thermal erosion, in what is essentially one brief frame in an unfolding geological film.
Visiting the area, it is clear that the cave only became exposed when the ceiling of the lava tube collapsed under its own weight and revealed its secret interior. Lava flowing on the surface was more exposed to wind, rain, and snow, and so it slowed and cooled before the still-molten lava flowing beneath it, which continued to flow and eat out at least a mile in length into previously solidified basalt. This is what Viðgelmir is—cannibalistic lava melting cavernous spaces within its parent lava flows.
Archeological evidence—such as torches, string, woolen sacks, fish and sheep bones, and tiny globules of centuries-old tallow wax from early Icelandic settlers spattered along parts of the cave floor—suggest that people knew about and utilized the cave (for protection from elements and food preservation) a few short decades after the eruptions ended that produced the Hallmundarhraun, the third largest lava field in Iceland, in the mid-10th century.
Perhaps most intriguing of all was a cache of treasures found, several decades ago, hidden in a chamber in the cave wall large enough for a person to climb into and seek shelter. In it were found—seriously—the remains of a fire, some bones, and a leather pouch containing a freshwater pearl necklace, which most likely originated in mainland Scandinavia or Europe. The pouch and pearls are being kept under careful atmospheric conditions in a museum in Reykjavik, and the bones (belonging to sheep) were carbon dated to roughly the year 1000 CE. Speculation and theories on this cave dweller abound; among the leading possibilities is that the fugitive was a woman accused of witchcraft, seeking refuge from the wider world in this cave, as Iceland had yet to undergo Christianization on a societal scale. This story remains one of Viðgelmir's greatest mysteries. One can only imagine what this person, and a select few others over the years (including myself, when I camped out deep inside the cave for a day and a night, performing upon myself a psychology experiment of sorts!) would've experienced when their light source went out. No room to get into it here, but phototransduction, and a perceptual phenomenon known as the "dark current," are endlessly fascinating results of putting yourself in a lightless environment for an extended period of time. Who would've thought a lava cave steeped in Viking lore and bizarre geological conditions can also be the stage for a (crude) neuroscience experiment!
One of the most enchanting features of the cave is the ice formations, known by some as Ice Elves. Where they are found, sandwiched between two large rock falls where the cold air gets trapped, is known as Ice Elf Valley. Because the cave temperature fluctuates very minimally, the elves often stay in the cave year-round. However, in warmer years, they might depart Ice Elf Valley during the summer months and retreat to the nearby Langjokull, Iceland's second largest glacier, returning to the cave when autumn arrives.
Land ownership has changed since I worked here, and the ecotourism in the lava field has been expanded, but if you're in Iceland and want yet another opportunity to behold the island's awesome geological reputation, it is well worth getting off the beaten path and paying for a guided tour. Because the cave lies on private property and the original landowners installed, in the early 1990s, a wrought iron gate (straight outta Moria) to regulate entry in the cave, these guided tours are, in fact, your only way to see the inside of the cave.
Goða ferð, fellow adventurers! Thank you for indulging this lengthy and impassioned report, and enjoy my photographs of this truly spectacular cave!
No, I can not seen in my visit.
Thank you for the incredible response! I had the pleasure of exploring one of Iceland's lava tubes a few years back, and it was as incredible as you say!
One of the coolest tours I've been on (no pun intended) was actually into man-made caverns in Langjökull glacier in Iceland. I wasn't sure what to expect, but if you tell me I'm walking on 1990s snow and show me frozen leftovers of a volcanic eruption, I'm likely to be a happy camper.
Edit to add a link to the AO article.
The descriptions you posted are beautifully written and the photos are absolutely incredible ! Thank you for the sharing them!
I can well see why the Vikings would find the cave bojh mythologically and spiritually significant, it is spellbingly lovely.
I really want to visit Viðgelmir one day.
Thank you. I guess it should be noted that these photos are a little bit dated (2015) and that the cave probably looks different now. I think a boardwalk was installed… At any rate, I hope you're able to get there one day!